McMurray's illegal immigration claim is only part of the story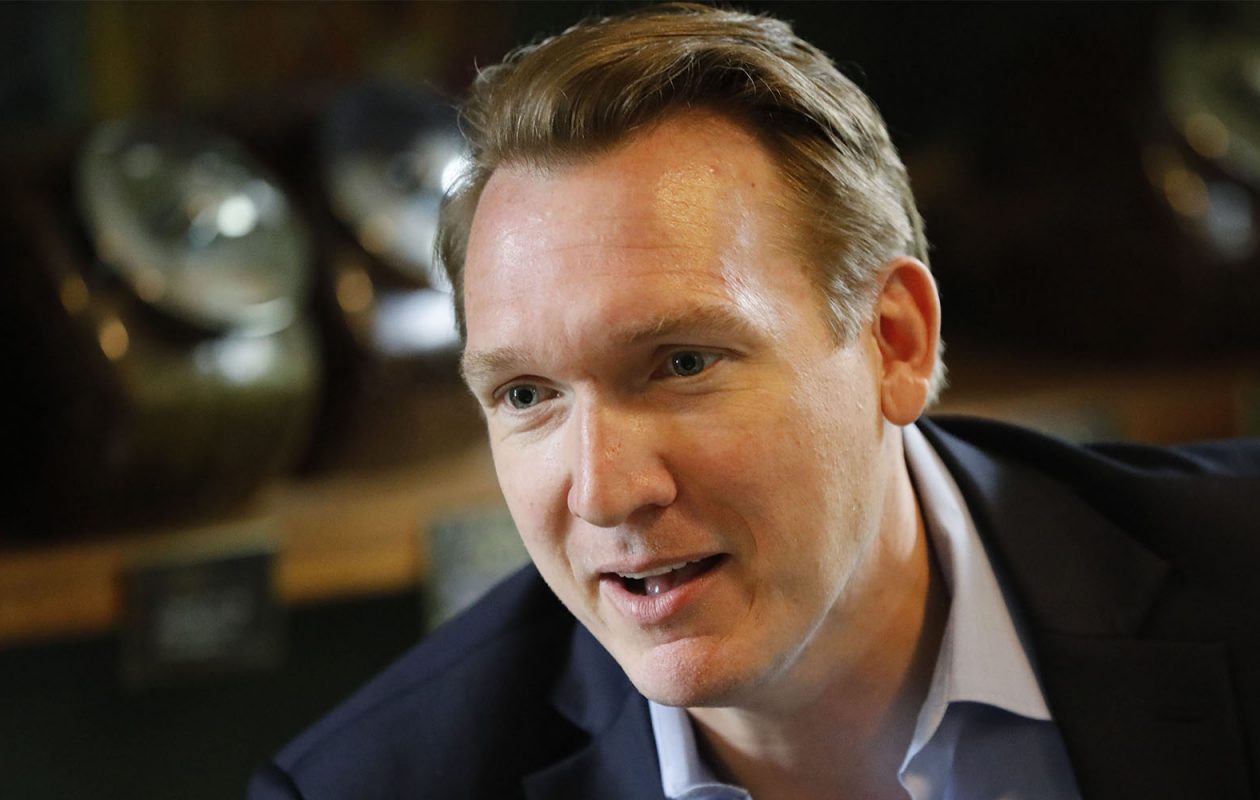 Democrat Nate McMurray, who is campaigning for a second time for the 27th Congressional District seat, made a claim recently about illegal immigration during the Obama administration.
"Under Barack Obama illegal immigration dropped to a 50-year low (look it up)," he said in a post on Twitter.
Immigration continues to be a topic that Americans care about and candidates talk about, so we wanted to see if McMurray is correct. His instruction to "look it up" struck us as an invitation for a factcheck.
What the Grand Island supervisor meant by "illegal immigration" remains unclear. His spokesperson did not clarify it for us. Demographers who study immigration look at data from several sources to get a sense of how many people cross the border illegally and how many enter legally but then overstay their visas. They also look at how the population of people who live in the United States without authorization changes over time. That number rises and falls as more undocumented immigrants enter the country while others die, become citizens or leave the country.
McMurray responded to a Twitter user asking for evidence of his claim, and he tweeted the link to a report from the pro-immigration Center for Migration Studies.
In the report, "The U.S. Undocumented Population Fell Sharply During the Obama Era: Estimates for 2016," author Robert Warren found that the population of undocumented people fell to 10.8 million in 2016, Obama's last full year in office, the lowest level since 2003.
The report does not go back 50 years. It does show that the undocumented population was once much lower. Using data on 18 countries that account for 88 percent of the undocumented population, the report shows that in 1990, the undocumented population was 3.5 million, and in 2000 it was 8.6 million.
Another study, from the nonpartisan Pew Research Center, found that the population of unauthorized immigrants peaked in 2007, before Obama took office, at 12.2 million and fell to 10.5 million in 2017, just after he left the presidency.
The U.S. Department of Homeland Security uses a different methodology to count the number of unauthorized immigrants, and it estimates that on average, that number grew by 70,000 people every year between 2010 and 2015. DHS estimates that 12 million unauthorized immigrants were living in the United States in January 2015, compared to 11.5 million in January 2014 and 11.6 million in January 2010, according to a report published in December.
Not a perfect measure
We interviewed five people who study immigration trends, some from think tanks with different viewpoints on immigration and others who conduct research but do not take positions on policy. Many of these experts use government data on apprehensions of people who are in the United States without authorization to measure illegal immigration, though they warned that data is not a perfect measure.
The U.S. Department of Homeland Security reports that yearly apprehensions of aliens, which the department defines as people who are not citizens or nationals, was as low as 462,388 under Obama in 2015. The highest number of apprehensions during Obama's presidency was 889,212 in 2009. This figure includes apprehensions by U.S. Border Patrol and administrative arrests by Immigrations and Customs Enforcement. Before 2015, the department recorded lower apprehensions 44 years earlier. In 1971, 420,126 apprehensions were recorded. After Obama left office, the number of apprehensions fell lower still. In 2017, President Donald Trump's first year in office, apprehensions fell to 461,540.
The U.S. Border Patrol also reports its yearly apprehensions, which is a subset of the Department of Homeland Security data. Apprehensions at the border during the Obama administration were also lowest in 2015, at 337,117. Before 2015, apprehensions at the border were lower in 1971, with 302,517. In 2017, border apprehensions fell to 310,531.
What is at a 50-year low, according to Jeffrey Passel, a senior demographer with the nonpartisan Pew Research Center, is apprehensions of Mexicans at the southwest border. However, Passel said that though apprehensions of Mexicans at the southwest border are falling, research from Pew shows that people who have likely overstayed their visas have made up a large majority of unauthorized immigrant arrivals since 2010.
Several demographers warned that apprehensions are only a rough indicator of illegal immigration, and not just because apprehensions do not reveal the precise number of people who crossed the border without permission and stayed. Research published in January from the Center for Migration Studies found "visa overstays have significantly exceeded illegal border crossings during each of the last seven years."
Jessica Vaughan, director of policy at the Center for Immigration Studies, which favors low immigration, said there are problems with comparing apprehension data over the last 50 years because of changes in the way U.S. Border Patrol deters illegal border crossings. Decades ago, the same people tried several times before they crossed, she said. She also said that the statistics on the number of apprehensions represents events, not people, and that the same person could be apprehended several times.
When we followed up with McMurray's campaign for further evidence of his claim, his spokeswoman, Nicole Hushla, said that McMurray had heard the statistic on the MSNBC program "Morning Joe." Further questions we had about whether McMurray was talking about apprehensions of undocumented people at the border or about the undocumented population living in the United States were not answered.
Experts we spoke with gave mixed opinions about whether McMurray's claim is accurate.
Warren, who formerly worked for the Census Bureau and has written many research papers that have been widely cited, said in an interview that he believes McMurray's claim to be "generally correct," based on the same apprehension data.
"Actually, if someone wanted to quibble with the statement, undocumented immigration probably was lower in the late 1960s and early 1970s than it was in the later part of the Obama administration; it was higher from the mid-1970s to the later part of the Obama administration – about 40 years," he said.
Some experts said McMurray's claim is largely correct, based on apprehensions of people seeking to enter the country illegally, particularly of apprehensions at the southern border. Those figures, however, do not include visa overstays, a large source of illegal immigration.
"If you define it to mean the size of the unauthorized immigrant population, that's not accurate," said Michelle Mittelstadt, director of communications at the Migration Policy Institute, which supports liberal immigration policies. "The size of the unauthorized population overall in the U.S. was at near-record highs during the start of the Obama administration and while it tapered off somewhat, the population remains vastly larger than it was 50 years ago."
A researcher with the Federation for American Immigration Reform, which supports Trump's immigration policies, noted the size of the population of unauthorized immigrants under Obama. Even when illegal immigration was lowest under Obama, that population was still approximately three times larger than it was in 1990, said Spencer Raley, the federation's senior research associate. Raley also believes that the size of this population is underestimated because the government has trouble collecting accurate data.
Our ruling
McMurray tweeted that during the Obama administration illegal immigration dropped to a 50-year low.
Nothing in the data we reviewed shows that to be true.
During Obama's eight-year presidency, apprehensions of people who were in the country without authorization dropped to levels not seen since 1971. Apprehensions are not a precise measure of how many individuals enter the country and stay when they are not authorized to do so, and they do not include people who overstay their visas. But immigration researchers do use this data to make estimates about illegal immigration.
But even if McMurray had said apprehensions, his statement would have still been problematic. In November 2014, Obama said, "Overall, the number of people trying to cross our border illegally is at its lowest level since the 1970s." PolitiFact found his statement to be Half True. While PolitiFact found Obama to be correct on the sheer numbers of people caught trying to cross the border in 2013 and the 1970s, experts noted that Obama created an imperfect comparison because the border situation was far different in 1970 than in 2013. In the 1970s, it was easier for people to make multiple attempts or excursions illegally across the border.
Demographers use the size of the population of illegal immigrants residing in the United States to measure trends in illegal immigration. This population was much lower decades ago, based on available data, than it was during the Obama administration, though some studies show that this population fell during the last 10 years.
We rate McMurray's claim Mostly False.