Dubious claims from both sides during North Carolina special session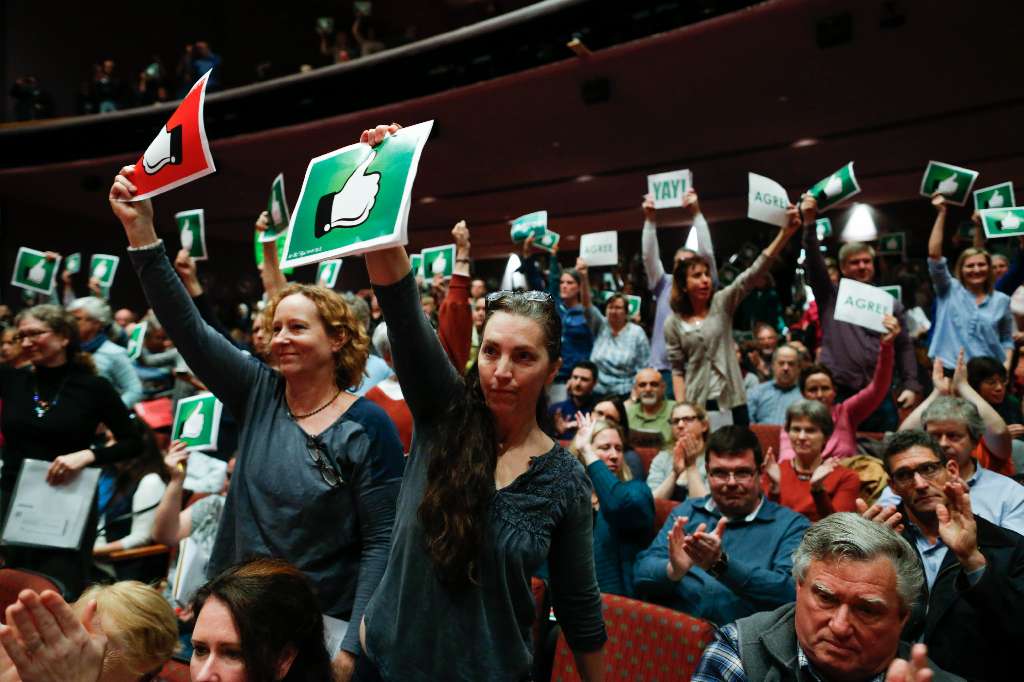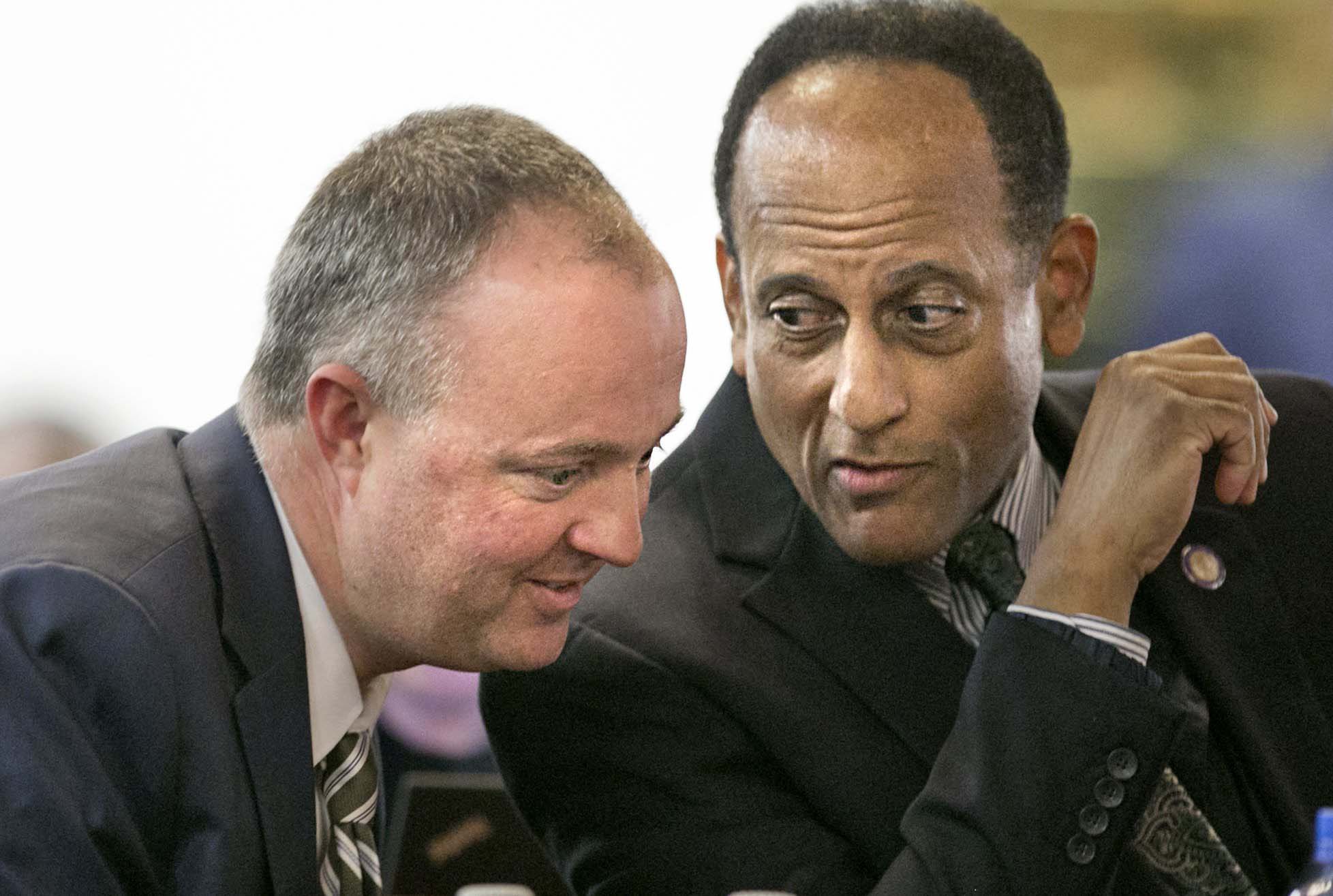 Dubious claims from both sides have been flying back and forth in Raleigh.
A special session of the North Carolina General Assembly last week was largely devoted to stripping power from the governor's office and Democrats. As hundreds of people protested at the Legislative Building, Republican legislators pushed through two proposals– just weeks before Democrat Roy Cooper is set to be sworn in as governor – that will reduce Cooper's power to influence education policy, election decisions and more.
Outgoing Gov. Pat McCrory signed both bills into law.
The controversy could end up in court, Cooper has warned.
Some constitutional experts have said it might be difficult for Cooper to show the legislature has improperly intruded on his turf.
Meanwhile, State Board of Education Chairman Bill Cobey, a Republican, contends that changes to authority over K-12 education could be unconstitutional. And the state's only living former Republican governor other than McCrory, Jim Martin, also cast doubt on some of provisions the legislature and McCrory passed.
But Democratic legislators have gone a step further than Cooper, Cobey or Martin. They're saying the entire special session was unconstitutional.
Republican legislators, meanwhile, said the large protests have been full of out-of-state troublemakers, who were paid to come here.
Unfortunately for both sides, neither has very convincing evidence to back up their claims.
Typically at PolitiFact we give claims a rating on our Truth-O-Meter. In both of these cases, however, there are still too many unknown factors for that. But it's still worth exploring why it's probably not wise for people to repeat these claims unless new evidence emerges.
An unconstitutional order?
Normally, the governor calls for a special session. That's what happened when the General Assembly returned to town last week for a special session on disaster relief, in which lawmakers gave out funds in response to flooding in the east and fires in the west.
But then the legislators decided on their own to stick around for more, calling themselves into an additional session to take up the changes to state government.
That's uncommon, but the N.C. constitution says it can be done if 60 percent of both the House and the Senate agree. Republicans control more than 60 percent of both chambers, and their call for an additional special session received enough votes despite Democratic opposition.
So why are Democrats saying it was an unconstitutional move?
Rep. Larry Hall of Durham, the top Democrat in the N.C. House during the special session, made the claim several times Thursday and Friday. And Rep. Darren Jackson of Wake County – who will be the new top Democrat in the House going forward – even filed a formal protest challenging the session's constitutionality.
No one is arguing they didn't have the required number of signatures.
Instead, Jackson said Republican leaders received the required signatures a day or two before they called the session – which is backed up in part by photo evidence – and so they violated the constitution by not acting immediately.
"The constitution is very clear," he said. "They didn't have a choice. Once they had three-fifths of the names, they had to do it."
Republican leaders have said they didn't get the signatures until Wednesday. But even if Jackson's right does that really make it unconstitutional, and not just sneaky?
The state constitution says leaders of the House and Senate "shall convene the General Assembly in extra session … upon receipt … of written requests" to call a special session.
However, The wording regarding the timing is vague. It does not include a time frame, the word "immediately" or any other timing mandate. "Upon receipt" is the only instruction given other than "shall" – which in the legal world can mean "must" but can also have more vague meanings including "may" or "should."
So we asked a dozen legal experts about the phrase "upon receipt." Does it have an implied meaning of "immediately after," or does it just mean "after," or maybe something else?
In stark contrast with the Democrats' confidence, there's no consensus in the legal community.
"I have no idea," said Michael Curtis, a law professor at Wake Forest University who co-wrote the textbook "Constitutional Law In Context."
Curtis later added that, constitutional questions aside, the state is headed down a questionable path.
"Part of a healthy democratic culture is to accept the legitimacy and function of an opposition party and of its voters," he said. "North Carolina is facing a crisis of undermining the cultural basis of democracy."
But that doesn't help us with the legal question at hand. Unfortunately for the Democrats' claims, other legal scholars were just as stumped.
"I doubt a law dictionary will help us here," said Michael Gerhardt, a UNC-Chapel Hill law professor and nationally recognized constitutional scholar.
He's right – Merriam-Webster defines "upon" simply as "thereafter." And the main source of legal definitions, Black's Law Dictionary, has no entry for either "upon" or "upon receipt."
The group LawProse, which trains attorneys on legal writing, agreed that the phrase doesn't have a solid legal definition – and its general counsel declined to provide one for us.
Gerhardt said the language in the state constitution is vague enough that Democrats could face an uphill battle trying to prove their point.
"I think it (is) defensible to read the language as not imposing any particular time frame," he said. "So the onus or burden would be on the Democrats to support their construction."
In other words, we'll have to wait to see if the courts weigh in, and the argument from the Democrats is far from guaranteed to win.
Furthermore, it's worth noting that the legislature was engaged in a different special session at the start of the week. The second one on Wednesday began just after that first one ended.
The Raleigh News & Observer reported that after passing the disaster relief bill to close the first special session, "Legislators immediately issued a proclamation convening a new special session."
Out-of-state protesters?
Large crowds showed up to protest Thursday night and Friday afternoon. But even before lunchtime on Thursday, when the crowd was much smaller, Republican leaders were already questioning its legitimacy.
"It's 'Professional Union Protestor from New England' day at #ncga," the official Twitter account for the N.C. Senate's Republican caucus tweeted, after a Greensboro reporter tweeted a photo of the crowd.
Later, Senate Majority Leader Harry Brown doubled down on the claim. "Many of the so-called protesters were from states other than NC and were being paid by national progressive groups to be there," he wrote on Facebook.
The trope of the professional out-of-state agitator has been used – falsely – by many politicians in recent years, including claims PolitiFact has looked into from Scott Walker and pro-Donald Trump bloggers.
Now, there's no way to prove there were zero "professional union protesters" in town. No one was going around to check IDs and bank accounts.
But there's also no evidence we've seen that any were here. We also asked Brown's office and Senate leader Phil Berger's office for proof, but we didn't hear back.
Police arrested 17 people on Thursday, ranging in age from 28 to 86. All of them were from North Carolina. Another 43 protesters were arrested Friday. Again, all were from North Carolina.
Furthermore, multiple videos of the protests don't give any clues as to the identity of other protesters. No one can be seen wearing clothing that would give away where they're from – no shirts or hats featuring city names or sports teams, just a lot of monochrome sweaters and jackets.
Without a shred of evidence either for – or against – the claim, it's hard to assign a Truth-O-Meter ruling. But it's very easy to remain skeptical of the claim, as well.