Stand up for the facts!
Our only agenda is to publish the truth so you can be an informed participant in democracy.
We need your help.
I would like to contribute
"Last year was one of the deadliest years ever for law enforcement officers."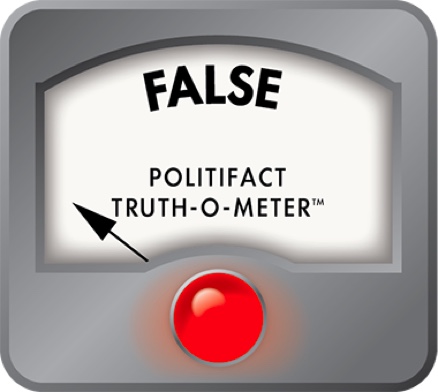 Was 2016 'one of the deadliest years ever' for police officers in the US?
Announcing his support for a national pro-police bill, North Carolina Republican Sen. Thom Tillis cited an eye-catching statistic.
Only a few years in U.S. history, he said, were more deadly for police than 2016.
"Last year was one of the deadliest years ever for law enforcement officers, a stark reminder that these men and women go to work every day not knowing whether they'll return home safely to their families," Tillis said Friday, when he co-sponsored the bill.
"Our law enforcement officers risk their lives to protect ours, and the Back the Blue Act will enact new laws that offer them much-needed support and will make criminals think twice before targeting them," he continued, in an official press release.
The Back The Blue Act proposes several notable changes.
It would create stricter penalties for people who assault police officers, making it a federal crime subject to mandatory minimum sentences and, in some cases, the death penalty – which would fulfill a campaign promise President Donald made about cop-killers.
It would also limit people's ability to sue police officers for abuse. And for those who could still sue, the bill cuts down on how much money they could receive if the police are found guilty.
However, the crux of the claim Tillis made to support the bill – that "last year was one of the deadliest years ever for law enforcement officers" – is not accurate.
Whether you look at total deaths, or violent deaths only, or the percentage of officers killed, the numbers show 2016 was actually one of the least deadly years in modern history.
"It's still more dangerous to be a cop than it is not to be a cop," said Seth Stoughton, a former police officer who now researches anti-police violence and teaches at the University of South Carolina's law school. "But … to say that this is the most dangerous time for officers is just woefully uninformed."
After we asked what numbers Tillis was citing, his office didn't defend the claim but did question why we would fact-check him.
"Losing one police officer is one too many," Tillis spokesman Daniel Keylin said. "... Senator Tillis will continue to do everything in his power to support North Carolina's law enforcement community and recognize the daily sacrifices they make."
In the past, Tillis has advocated for criminal justice reforms like less harsh sentencing laws – in North Carolina and nationwide.
Total deaths
One way to measure how deadly a year has been for police is to look at the total number of deaths.
Another is felonious killings, which is the term for the killing of a police officer by a criminal while in the line of duty.
Felonious killings are what people tend to think of when they hear about a deadly time for law enforcement. They make the national news – ambushes, traffic stops gone bad, a suspect getting the upper hand in a fight.
Those are included in the number of total deaths, which also includes on-duty accidental deaths like car crashes, heart attacks or falls, and off-duty deaths from causes like illness or suicide.
In a previous fact-check, we looked into a comparison of Prohibition and the War on Drugs, which claimed they've been equally deadly for police. We ruled that Mostly False.
Here's an graph, from that previous fact-check, of total annual police deaths from 1900 to now:
It shows that fewer officers died in 2016 than most other years in the 20th and 21st centuries. More police officers died in 1916 (164) than in 2016 (143).
So by that metric, Tillis is way off.
But what about violent deaths?
Felonious killings
Data specifying the number of police officers killed by criminals started in the 1970s, which is also when the War on Drugs began.
And again, Tillis is wrong. 2016 saw 66 officers shot, stabbed or otherwise killed by a criminal – which is less than half the number of killings in several other years.
"Senator Tillis is way off," Stoughton said. "It is an unmitigated tragedy that 66 officers were feloniously killed in 2016, but that number is nowhere near the historic high."
In fact – and this is good news for current officers – 2016's violent death toll was about 10 deaths below the average for the last half-century.
Even though more police were killed in 2016 than in much of the 2000s, there were fewer officers killed last year than in nearly every year in the 1970s, '80s and '90s.
Rate of killings
When we consider the percentage of officers killed, the decline in anti-police violence is even more striking – from more than 30 deaths per 100,000 officers in the late 1970s, to around 17 in the 1980s, to about 6 or 7 now.
"We have close to twice as many officers and half as many deaths," Stoughton said.
There's no authoritative count yet on the number of police officers in the United States in 2016, so it's impossible to calculate an exact rate.
But it's safe to say Tillis is almost certainly wrong by this measure, too.
We know 66 officers were killed in 2016, and we know there were at least 635,000 officers in the U.S. in 2015.
So unless half of the nation's cops (or more) were laid off last year, there's no way the rate of officers killed in 2016 would even be at the low end of the violence in the late 1970s and early 1980s.
Instead, if the number of police officers rose by a few thousand in 2016, as happened in the few years prior, the rate for 2016 would be about 10 officer deaths per 100,000. If that happens, then 2016 will have been more deadly for police than other recent years, yet still safer than any year between 1975 and 1995.
Our ruling
Sen. Thom Tillis, a North Carolina Republican, said a new pro-police law is needed because 2016 "was one of the deadliest years ever for law enforcement officers."
That's wrong. In fact, 2016 saw a below-average number and rate of officer deaths compared to the last half-century. The 66 officers killed in 2016 pales in comparison to the 1970s and 1980s, and wasn't much different from the typical year in the 1990s, either.
We rate this claim False.
Browse the Truth-O-Meter
More by Will Doran
Support independent fact-checking.
Become a member!
In a world of wild talk and fake news, help us stand up for the facts.