Hazleton wasn't half-Latino when Lou Barletta was re-elected mayor. He said it was.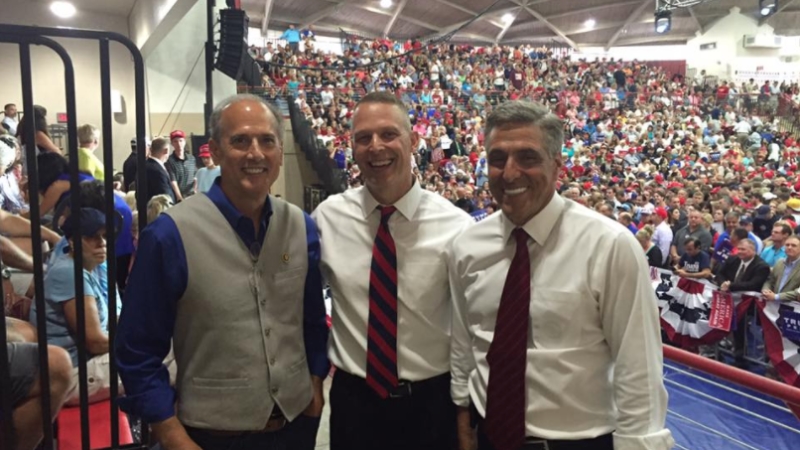 In an interview with Fox Business Network's Stuart Varney on June 7, Republican Congressman and U.S. Senate candidate from Pennsylvania Lou Barletta claimed that he won re-election as mayor of Hazleton, a city in northeastern Pennsylvania with a large Latino population, while also serving as the driving force behind a heavily scrutinized crackdown on undocumented immigrants there.
"The city that I was mayor of was 50 percent Latino, and I won with 90 percent of the vote, and I was standing up for legal immigrants. Legal — keyword — legal immigrants," Barletta asserted.
Barletta was on the program to discuss, among other things, a federal court's ruling against the Trump administration's plan to penalize Philadelphia for its sanctuary city policy by docking its federal funding. Barletta, a Trump supporter, has been an outspoken critic of U.S. immigration policy, sanctuary cities and the Democratic Party's approach to dealing with millions of immigrants who entered the country illegally. This includes the approach of his Democratic opponent for the U.S. Senate seat, longtime incumbent Bob Casey.
But is Barletta's claim that he won re-election by a landslide in a majority Latino city in the midst of a high-profile crackdown on undocumented immigrants accurate?
By the numbers
There are a few things to consider with Barletta's claim: First, did he win with 90 percent of the vote?
Yes, if you round up slightly. According to archived Luzerne County elections records, Barletta won 89.05 percent of the vote when he was re-elected mayor of Hazleton in 2007. Barletta was the only major party candidate on the ballot and appeared as both the Republican nominee and the Democratic nominee after winning the Democratic nomination with a write-in campaign.
Barletta first won election in 1999 with 65 percent of the vote and won re-election in 2003 with 68 percent of the vote, according to the Hazleton Standard-Speaker, which pulled results from their archives to provide to Politifact Pennsylvania.
Second, was the city half Latino at the time?
No.
According to Census data, Hazleton's Latino population grew from 1,132 or 4.84 percent of the city's overall population in 2000 to 9,454 or 37.31 percent of the total population in 2010.
In 2007, the last time Barletta was re-elected as mayor before being elected to U.S. Congress — and the only time he was re-elected mayor with anywhere near 90 percent of the vote — the city's Latino population was under 37 percent.
It's unclear how many of those Latino residents were eligible or registered to vote, or how many of them did vote. According to a 2017 report in the Washington Post, the town never studied the number of undocumented immigrants living in Hazleton. Philly.com,in 2016, reported an unnamed "veteran police official" estimated 10 percent of the city's Latino population was undocumented.
And while Census data are not infallible as a gauge of demographic makeup, Barletta's claim that Hazleton was 50 percent Latino at the time of his re-election is not supported by a more reliable source.
Barletta spokesman David Jackson offered the following response:
"Even if you think that legal immigrants only made up 'nearly 40 percent'' of the population of Hazleton in 2006, to garner 90 percent of the vote, many of them had to have supported his policies. This is anecdotal, but we're talking hard numbers here."
There was also no empirical evidence provided by his campaign to support the implication that support for Barletta's Illegal Immigration Relief Act, which threatened Hazleton landlords and employers with fines for housing or hiring undocumented immigrants, helped propel him to victory.
"The fact that he won with such a high proportion of the vote at a time when the ordinance was so prominent in the news is evidence in and of itself that it was not received as negatively as it is being portrayed," Jackson added. "I don't think he made the statement that the ordinance was the driving factor in his re-election, but by any measurement, a 90 percent re-election win is a mandate to continue the policies an elected official had begun."
Worth noting: the 89.05 percent of the vote Barletta received in winning re-election in 2007 represents just 89.05 percent of the votes cast, not 89.05 percent of the city's population or 89.05 percent of overall registered voters.
There were 3,964 total votes cast in the Hazleton mayor's race in 2007 and 3,530 of those went to Barletta. Hazleton's total population was roughly 21,000 at the time.
Today, the city is more than 50 percent Latino and that number continued to grow even during the controversy over Barletta's Illegal Immigration Relief Act. The ordinance drew a lawsuit before being struck down by a federal court.
Our ruling
Barletta's claim that he won re-election with 90 percent of the vote in a majority Latino city while driving a crackdown on illegal immigration there misstates the size of Hazleton's Latino population at the time and the timeline involved.
Barletta was re-elected mayor of Hazleton with roughly 90 percent of the vote in 2007 but the city was not majority-Latino then. It is now.
And while Barletta's crackdown was certainly popular with some in the city at the time, and unpopular with others, it's unclear what role it played in his 2007 victory.
We rate this claim Mostly False.