Raúl Castro's file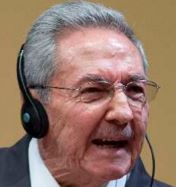 Raúl Castro is a Cuban politican who has been President of Cuba since 2008. Castro was a rebel commander in the Cuban Revolution in the 1950s, and served in multiple leadership positions under his brother, Fidel.
Our Raúl Castro feeds
Recent statements by and about Raúl Castro

Human rights groups beg to differ

Says there are no political prisoners in Cuba.
— PolitiFact Global News Service on Tuesday, March 22nd, 2016
Recent stories featuring Raúl Castro
A look at Rep. Rob Wittman's claim that Obama thanked Cuban president for criticizing the U.S.
All eyes were on Havana this week as President Barack Obama made his historic trip to Cuba, including those of the fact-checkers. Here are some of our recent fact-checks about U.S.-Cuba relations.