Heather McGhee: Less than 1% of 1% give $200 or more to campaigns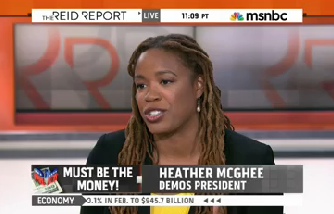 The U.S. Supreme Court decision to throw out a key campaign donation limit unleashed a wave of predictions that the domination of big money will only increase. What the court did on April 2 was say a single donor can give to as many candidates, party funds and political action committees as he or she might desire. Limits are still in place for how much you can give to any individual candidate -- $2,600 -- or a state party -- $10,000 -- and so forth, but so long as there are campaign committees you want to support, you can keep on giving.
Before the court's ruling, there was an overall cap of $123,200.
Heather McGhee, president of Demos, a group that believes too much political and economic power lies in the hands of too few people, said the McCutcheon vs. FEC decision makes a bad situation worse.
"We have a large donor dominated system," McGhee said on MSNBC. "Less than 1 percent of 1 percent of the American population has given an amount over $200."
If McGhee is correct, then that's a tiny sliver indeed. It would mean 0.01 percent of the public gives over $200 to political campaigns. With a population of about 314 million, that translates into 31,400 people or roughly the population of Juneau, Alaska.
The Center for Responsive Politics has tracked federal campaign donations for many years. According to their latest data, 366,000 people have given $200 or more so far in the 2013-14 election cycle.
That's about 10 times more than 31,400.
It's worse news for McGhee if you look at the 2012 election. That year, over 1.2 million people gave $200 or more to a federal candidate, a party, or a PAC. As a percentage, that's 0.4 percent.
When we brought this to the attention of the people at Demos, spokesman Alex Amend faced up to the gaffe.
"Heather misspoke — the correct percentage of Americans giving over $200 to political campaigns is 0.12% of the population," Amend said."However, the accurate number still does the job. A tenth of 1 percent is still a minuscule percentage of Americans contributing over $200 in an election cycle."
Bob Biersack, a veteran of the Federal Elections Commission and a senior fellow at the Center for Responsive Politics, agreed. The percentage is "still a pretty small number," Biersack said.
The data support McGhee's broader point about the role of big donors. In 2012, that very small percentage delivered about two-thirds of all the money that came from individual donors.
Now, giving $200 doesn't necessarily mean you are wealthy. You might be a person of moderate means who is very passionate.
But the Sunlight Foundation, a group that presses for more campaign finance disclosure, cut the numbers another way. Looking at all federal donations, they found that almost 30 percent came from just about 31,000 people.
That's pretty much McGhee's 1 percent of 1 percent.
And the median donation in this group? Over $26,000, or more than half the median family income in the United States. These people were not of modest means.
"The wealthy have always had big impact," Biersack said. "The recent changes have simply reinforced and extended their advantage."
The big donors shade strongly Republican. According to the Center for Responsive Politics, among those giving $10,000 or more, 39 percent of the money went to Democrats and 55 percent went to Republicans.
Our ruling
McGhee said, "Less than 1 percent of 1 percent of the American population has given an amount over $200." McGhee way overshoots the mark. At that donation level, the more accurate statistic is a tenth of 1 percent. McGhee's staff acknowledge the error.
The data do support her bigger point that big donors dominate the campaign system.
But McGhee used very precise numbers for rhetorical effect. And she got those numbers wrong by at least a factor of 10.
We rate the claim Mostly False.