Rachel Maddow says Obama's proposed immigration action on 'same scale' as one by George H.W. Bush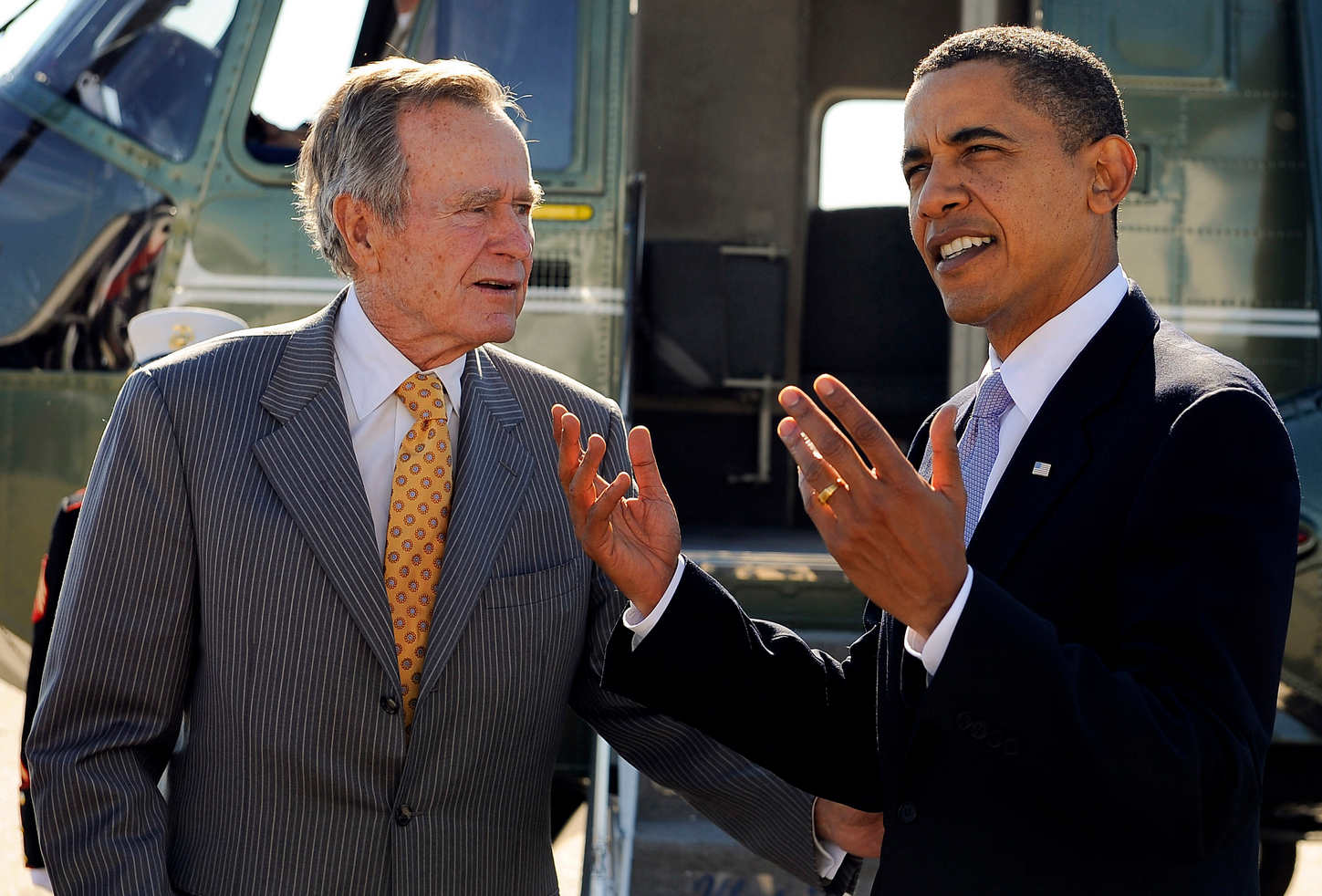 Editor's note: After reviewing new information about differing estimates of the scale of President George H.W. Bush's 1990 immigration order, we have changed the rating of this fact-check from True to Mostly True. Our original fact-check is archived here.
President Barack Obama's unilateral move to lift the risk of deportation for millions of undocumented immigrants has so incensed rank-and-file Republicans, their leaders are actively tamping down potential cries for impeachment. MSNBC host Rachel Maddow said that sort of outrage is "bogus," and she went to the history of the immigration debate to prove it.
In 1990, President George H. W. Bush, a Republican, by executive action forestalled deportations for about 1.5 million illegal immigrants -- or, at least, that was a widely reported estimate at the time of the announcement. Maddow said that represented about 40 percent of the total undocumented population in 1990.
"The executive action that president Obama is contemplating would also apply to about 40 percent of the undocumented population in this country," Maddow said on Nov. 17, 2014. "So it's roughly on the same scale." (The quotation used in our initial fact-check had slightly different wording but the same meaning.)
We know there's a vigorous debate about whether the current move has the same legal standing as the executive actions taken by Bush, and by President Ronald Reagan, for that matter. Our focus here is simply on the numbers that shaped the debate at the time the two policies were announced. (A hat tip here to Vox for their work on this.)
The count for Obama
According to reports at the time Maddow made her claim, Obama planned to announce plans to stop deporting the parents of children who are U.S. citizens. We saw a couple of estimates of how many people that would affect. The Pew Research Center said about 3.5 million. The New York Times put the figure at 4 million. Citing White House sources, the New York Times said an additional 1 million people would be touched by other facets of the new policy, giving a total of 5 million. That's very close to the Migration Policy Institute's estimate of 5.2 million.
Since there are about 11.4 million undocumented immigrants, Obama's order was expected to change the rules for between 30 and 40 percent of total population.
Again, this is based on reports. But that's all that Maddow would have had to go on when she made her comments.
The count for Bush
For an apples-to-apples comparison, we wanted to look at the number of immigrants who were expected to benefit from Bush's action.
Bush's order aimed to ease a predicament created by a 1986 immigration reform law. The law took people who had been in the country for at least five years and put them on a path to legal status. But it did nothing for parents, children or spouses who didn't qualify, even if someone else in the immediate family did.
That created a scenario where families could be split up. When Congress failed to change the law, Bush did it on his own in 1990 under the banner of "family fairness."
A few days after this fact-check initially appeared, the Washington Post Fact Checker cast doubt on the 1.5 million figure, to the claim by White House Press Secretary Josh Earnest that Bush "expanded the family fairness program to cover more than 1.5 million unauthorized spouses and children. This represented about 40 percent of the undocumented population at the time." (See the Fact Checker's article here.)
To recap what the Fact Checker reported, on the day of the policy announcement Feb. 1, 1990, the Immigration and Naturalization Service said it could affect as many as 100,000 people. The article then noted how the estimate grew over the ensuing weeks. This suggested the 1.5 million figure was wildly inflated.
However, on Feb. 21, 1990, the Immigration and Naturalization Service commissioner Gene McNary testified before a House committee that the number could reach and even exceed 1.5 million
Here's the exchange between McNary and then-Rep. Bruce Morrison, D-Conn.
Morrison: Mr. McNary, you used the 1.5 million IRCA relatives who are undocumented but who would be covered by your family fairness policy. Do I have that number right?
McNary: Yes
Morrison: Under your recent administrative order, these people essentially are here to stay, with work and travel privileges. Isn't that right?
McNary: We think you are right as to the 1.5 million being here. There's an estimate of another 1.5 million that would come as a result of this change in definition.
The New York Times, quoting McNary, reported that the move would affect about 1.5 million people. In 1990, there were about 3.5 million undocumented immigrants. By these numbers, being bruited about in the popular press, Bush's policy would potentially touch the lives of about 40 percent of the total.
It's important to note that the Fact Checker was looking at a different question than we were. The Fact Checker looked solely at the numbers for Bush, not a comparison of scale between Bush and Obama.
What we see when we look at these reported estimates is a range, from 100,000 to 1.5 million.
Marc Rosenblum is deputy director for immigration policy at the Migration Policy Institute. Rosenblum said that while there was some confusion about the projected impact, the larger figure carried a great deal of weight.
"Administration officials at the time testified that the 1.5 million number was in play at the time the family fairness policy was implemented," Rosenblum said.
He noted that the actual number never reached that level because Congress later changed the law, which made it unnecessary for people to apply for special treatment.
By the way, Reagan also used executive action to address the same problem, but it wasn't as far-reaching as Bush's.
To be clear, Obama's proposal would affect more people overall, but Maddow was clearly talking about scale. Also, Maddow was comparing the political response to the numbers that appeared in the mainstream press at the time. Those numbers may have been wrong in retrospect, but they were what politicians back then were likely to read.
Our ruling
Maddow said Obama's proposed executive action on immigration policy is roughly on the same scale as one taken by Bush. Both measures unilaterally lifted or would lift the risk of deportation for certain undocumented immigrants. Current estimates of the impact of Obama's policy are that it would touch about 40 percent of the undocumented population. In 1990, administration estimates of how many people might be affected by Bush's policy were also in the neighborhood of 40 percent. Estimates at the low end of the scale would have pushed it well below 40 percent.
There is some uncertainty here because the 1.5 million number, though widely reported at the time, did bounce around. But the Bush administration seemed to think it was offering a significant, wide-scale program at the time.
So we rate Maddow's statement Mostly True.