Fox News analyst correct: Impeachment inquiry is following rules by questioning witnesses in private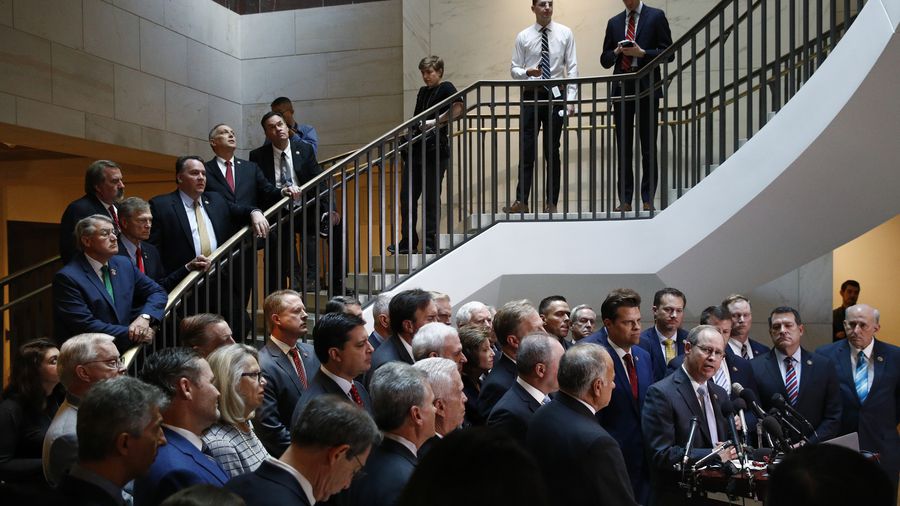 Republicans recently stormed a hearing in the Democratic-led impeachment inquiry targeting President Donald Trump to protest the fact that witnesses are being questioned in private.
The next day, Fox News political commentator and legal analyst Andrew Napolitano sought to correct them.
Before even being asked a question, Napolitano began his Oct. 24 appearance on "Fox & Friends" with a statement about the hearings being led by U.S. Rep. Adam Schiff, D-Calif., chairman of one of three House committees holding the hearings.
"I read the House rules," the former New Jersey judge said. "And as frustrating as it may be to have these hearings going on behind closed doors — the hearings over which Congressman Schiff is presiding — they are consistent with the rules."
He's right.
Impeachment 101
Democrats launched the impeachment inquiry following a whistleblower's report suggesting that Trump withheld U.S. military aid from Ukraine to pressure the country into investigating his political rival, 2020 Democratic presidential candidate Joe Biden.
A president can be impeached if his or her acts are inconsistent with their presidential duties, whether or not it violates criminal law. It is the job of the House to decide whether there's enough evidence to show that Trump committed an impeachable offense. First, articles of impeachment would have to pass the full U.S. House of Representatives with a simple majority. Those articles would then be sent to the Senate for a trial. A two-thirds Senate vote is required to convict — that is, remove — the president.
Impeachment is part of the U.S. Constitution. But the rules and procedures for an impeachment are not written in the Constitution, or in a statute; they depend largely on historical precedent.
Napolitano's position
After making his statement on "Fox & Friends," Napolitano went on to explain that the impeachment inquiry rules were adopted in 2015 by House Republicans and allow for initial interviews of witnesses to be done in secret, much like a criminal case is presented to a grand jury. Any formal impeachment hearing, he added, would have to be done in public, as would a Senate trial.
When we asked a Fox News representative for information to support Napolitano's statement, she sent the following from Napolitano:
"The House rules permit committee chairs to hold closed hearings on matters of national security or intelligence. Diplomatic matters implicate both national security and intelligence. The rules also permit standing committees – as opposed to the full House – to issue subpoenas. As well, they permit interviews of witnesses in secret in order to determine if they are credible enough to present in public."
Heritage Foundation senior legal fellow Hans von Spakovsky told us that according to the House of Representatives' House Practice book, "an impeachment is normally instituted by the House by the adoption of a resolution calling for a committee investigation of charges." And no such resolution was done in this inquiry.
But the day after Napolitano's interview, a federal judge in Washington ruled that the impeachment inquiry is legal.
And Napolitano's statement was not about in the inquiry generally, but whether interviews can be done in private.
Experts agree with Napolitano
Frank Bowman, a University of Missouri professor of law and author of "High Crimes and Misdemeanors: A History of Impeachment for the Age of Trump," told us the hearings are not "secret" in that they are open to members of the three House committees (roughly 100 lawmakers), along with their staff. Bowman pointed us to the 2015 House rules that allow for the private questioning of witnesses in impeachment inquiries.
The rules say House meetings shall be open to the public except when a committee or subcommittee, in open session and with a majority present, "determines by record vote that all or part of the remainder of the meeting on that day shall be in executive session because disclosure of matters to be considered would endanger national security, would compromise sensitive law enforcement information, would tend to defame, degrade, or incriminate any person, or otherwise would violate a law or rule of the House."
Jeffrey Engel, founding director of the Center for Presidential History at Southern Methodist University and co-author of "Impeachment: An American History," underscored the House's wide latitude.
He told PolitiFact that from a constitutional standpoint, "the House can choose whatever rules it wants for impeachment hearings—just as the Senate will be able to do the same for its trial, relying on precedent but not bound by it."
One more point before we close.
When Republicans controlled the House, its Benghazi committee held nearly all of its hearings behind closed doors, Allan Lichtman, American University history professor and author of "The Case for Impeachment," noted to us. He also pointed out that in the final House report on the matter, then-Rep. Trey Gowdy, a South Carolina Republican, said:
"The committee's preference for private interviews over public hearings has been questioned. Interviews are a more efficient and effective means of discovery. Interviews allow witnesses to be questioned in depth by a highly prepared member or staff person. In a hearing, every member of a committee is recognized — usually for five minutes — a procedure which precludes in-depth in-depth focused questioning. Interviews also allow the committee to safeguard the privacy of witnesses who may fear retaliation for cooperating or whose work requires anonymity, such as intelligence community operatives."
Our ruling
Napolitano said: "I read the House rules. And as frustrating as it may be to have these hearings going on behind closed doors—the (impeachment inquiry) hearings over which Congressman Schiff is presiding—they are consistent with the rules."
House rules give House committees wide latitude in how to conduct impeachment inquiries and they allow for witnesses to be questioned with only members of the committees and their staffs present.
We rate Napolitano's statement True.