Sen. Sheldon Whitehouse says 2014 is on track to be the warmest year in modern history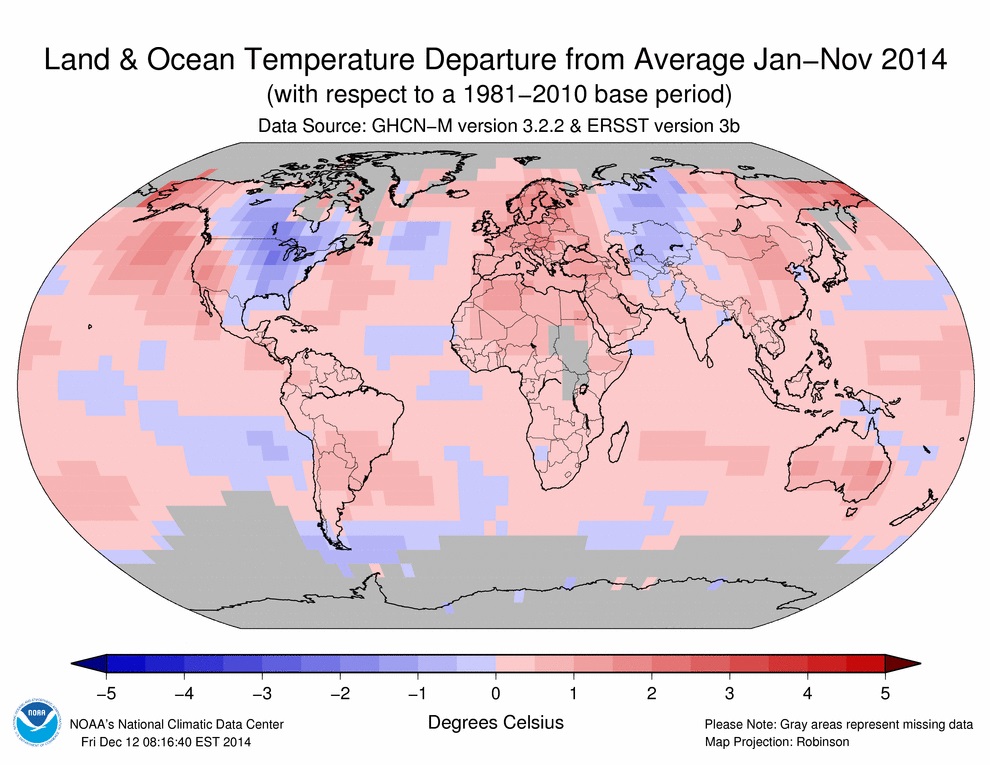 The seasons may change, the weather may shift, but U.S. Sen. Sheldon Whitehouse keeps trying to get his colleagues to, as he puts it, wake up to the threat of climate change.
As naysayers insist that global temperatures haven't warmed since around 1997, a claim that has validity only because the time around 1997 was an exceptionally warm year, Whitehouse took to the floor of the Senate on Dec. 17 to report that 2014 was shaping up as the warmest in modern history.
"January through November 2014, the year so far, were the hottest first 11 months of any year recorded. So unless something dramatic changes in December, 2014 is on track to be the hottest year since we began keeping records back in 1880. That would mean that 14 of the warmest 15 years on record are the 14 years of this century."
PolitiFact usually doesn't deal with predictions, but we thought we'd see if the 11-month numbers for 2014 were as Whitehouse described.
When we contacted his office, spokesman Seth Larson sent us to the November "State of the Climate" report from the National Oceanic and Atmospheric Administration (NOAA). In addition to monthly data, it looks at figures from the past three months, the year to date and levels of both Arctic and Antarctic sea ice.
It reports, "The first 11 months of 2014 was the warmest such period on record, with a combined global land and ocean average surface temperature of 1.22 degrees F. (0.68 degrees C.) above the 20th century average of 57.0 degrees F. (13.9 degrees C.)."
That's a land-ocean surface average of 58.22 degrees F. (The margin of error for these measurements is plus or minus 0.18 degrees F., which means the actual temperature could be as high as 58.4 or as low as 58.04.
The previous record -- 58.02 degrees F. -- was set in 2010.
The biggest reason wasn't the surface land temperatures, but it was the increase in the surface temperatures in the oceans, where the first 11 months of 2014 were the warmest on record. Many scientists say that a lot of excess heat from heat-trapping carbon dioxide is being stored in the oceans.
NOAA hasn't released its December temperature numbers yet, but the Japan Meteorological Agency has. It has concluded that 2014 broke all records going back as far as 1891.
It may not feel like global warming is a problem when below average cold is sending a collective shiver through much of the United States. But the U.S. makes up only 6 percent of Earth's land mass and less than 2 percent of its surface area.
Whitehouse reported the data accurately. We rate his claim as True.
(If you have a claim you'd like PolitiFact Rhode Island to check, email us at [email protected] And follow us on Twitter: @politifactri.)