Fact-checking attacks on the DREAM Act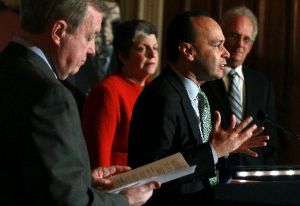 The DREAM Act, providing a path to permanent citizenship for children brought to the United States by illegal immigrants, is on the agenda for possible action in the final days of the Democratic-majority 111th Congress, though opponents of the proposal--among them U.S. Rep. Ted Poe, R-Texas--have amped up efforts to defeat it.
The Development, Relief, and Education for Alien Minors Act would allow children brought to the United States illegally to obtain permanent legal status if they complete two years in college or the military.

Several versions of the act are kicking around in Congress, but under the version introduced in March 2009, people under 35 who arrived in the United States before the age of 16 and have lived here at least the last five years would be able to apply for legal permanent resident status on a conditional basis if they have obtained a U.S. high school diploma or GED. That conditional status would be upgraded to permanent after six years if they successfully complete at least two years of college or military service and if they maintain "good moral character."
Under the latest version, Senate Bill 3992, introduced Nov. 30 by Sen. Richard Durbin, D-Illinois, undocumented residents would become eligible for its benefits if they're younger than 30, have been brought to the United States at age 15 or younger and have lived here for at least five years prior to the measure becoming law.
Also, such a resident must spend 10 years in the United States as a "conditional non-immigrant," during which he or she must complete two years of higher education or serve in the military. One year before the 10-year period is up, "conditional non-immigrants" may apply to become a permanent resident.
Applicants must be of "good moral character," have not committed a felony, have not persecuted someone based on race, religion or nationality, engaged in voter or marriage fraud and must submit to a background check and physical exam, among other hurdles. After three more years, the permanent resident is eligible to become a naturalized citizen.
PolitiFact teams in Washington, Florida and Texas checked out three claims from opponents of the measure.
The first is from a conservative group called RightMarch.com, whose president warned in a message posted to Conservative Action Alerts that the Dream Act "would give amnesty to over two million illegal aliens." In July, a nonpartisan Migration Policy Institute analysis of the DREAM Act concluded there are about 2.1 million people who would be potentially eligible for citizenship. Because of the educational requirements and other factors, however, the institute estimated that subsstantially less than half of that number would ever achieve permanent legal residency through the bill. And PolitiFact National rated the RightMarch.com claim False.

PolitiFact Texas looked into Poe's claim that "after you complete two years of post high school education or two years of military service you are eligible for citizenship. Once a citizen, this paves the way to bring the rest of their extended family to the United States." We found that Poe's summary of the bill skips over many other stipulations that an undocumented resident must satisfy before becoming a citizen. The proposed process would not be rapid, nor would the outcome be assured. And while someone who ultimately achieves citizenship could sponsor some family members to move here (parents, children, grandchildren, spouses, siblings, nieces and nephews, if they're minors), it doesn't mean they could bring in all the rest of their extended family (grandparents, aunts, uncles, cousins and in-laws). We rate Poe's statement as Barely True.

And PolitiFact Florida examined a claim from U.S. Rep. Vern Buchanan, R-Fla., who supported his opposition to the DREAM Act by citing a study from a anti-illegal immigration group, which concluded that illegal immigration costs Florida taxpayers nearly $4 billion a year. But the report, prepared by the Federation for American Immigration Reform, relies on numerous estimates and is too suspect to consider credible. In fact, the nonpartisan Congressional Budget Office warned specifically against trying to put dollar figures on the costs associated with illegal immigrants because of the large number of unknown variables -- including exactly how many illegal immigrants reside in Florida. We rated Buchanan's claim False.
Click on the links to see our full reports on each claim.