We're No. 1!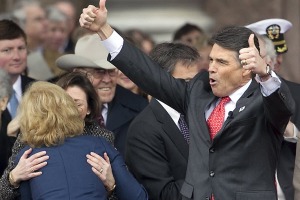 Calling Texas No. 1 in anything can make a powerful point, whether you want to boost the state or highlight shortcomings.
In a Jan. 27 speech to the Texas Association of Business, Gov. Rick Perry said: "Texas has generated more jobs than any other state of the union over the past 10 years, has led the nation in exports for eight years running, and is home to more Fortune 1,000 firms than any other state."
We haven't checked the first two claims, but his Fortune reference was like a claim we checked in March. Shortly after winning the GOP primary, Perry said Texas has the "most Fortune 500 companies." That was True in 2009 (not to mention 2008 and 2006) when Texas had 64 Fortune 500 companies. Exxon Mobil topped the list, flanked by ConocoPhillips, AT&T and Valero Energy.
Other No. 1-ranking claims about Texas turned out to be less flattering to the Lone Star State.
In May, Linda Chavez-Thompson, the Democratic nominee for lieutenant governor, correctly said Texas has "the highest share of minimum-wage workers in the nation."
At the Texas Democratic Party convention in June, Carol Morgan, a Texas House candidate, said: "We're No. 1 in child hunger." We rated that True, although after she made the claim our rank improved: we're now a close second to Arkansas.
And earlier this month, we rated True economist and New York Times columnist Paul Krugman's statement that Texas leads "the nation in the percentage of residents without health insurance."
Other claims about rankings don't have Texas as tops — for better or worse.
In November, Washington state Gov. Chris Gregoire fired back when Perry tried to woo Washington businesses to Texas. Washington state "has consistently ranked in the top five in the Forbes list of best states to do business," she said. "Ahead of Texas." We rated that Half True: Since 2007, Washington has ranked in the top five states, pushing ahead of Texas for three of the past four years.
In February, Bill White, the Democratic nominee for governor, said Texas' "graduation rate ranks 43rd out of 50 states." We rated that True.
Funny thing about rankings; they get revised and re-aired year after year. Count on more ranking-related fact checks in the future.