Senate debate over, now the Truth-O-Meter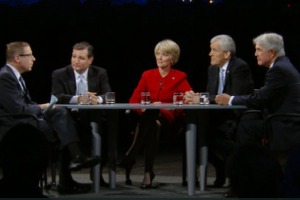 Four GOP U.S. Senate hopefuls jockeying to succeed the retiring Kay Bailey Hutchison tried to prove their conservative bonafides during a Texas Tribune candidate forum Wednesday.

Former Texas Solicitor General Ted Cruz, Texas Railroad Commissioner Elizabeth Ames Jones, former Texas Secretary of State Roger Williams, and former Dallas Mayor Tom Leppert fielded questions on issues that have rallied conservatives lately, including intrusive government, the federal debt ceiling and whether they'd vote to repeal the health care law championed by President Barack Obama. (Unequivocally, yes.)

We'll be watching as their campaigns kick into gear — and those of any, ahem, others who may join the race. In the meantime, we looked back at statements PolitiFact has previously checked that align with four claims the candidates made at the forum.

Jones: Earmarks are "a very small percentage of the budget."

Jones called the funding for local projects symbolic of wasteful federal spending but in calling out their small footprint on the budget, she echoed U.S. Sen. Richard Lugar of Indiana who last year said that cutting earmarks doesn't "reduce spending." PolitiFact rated that Mostly True, finding that while earmarks push spending upward, eliminating them won't directly reduce spending so much as re-direct it. In the context of the entire federal budget, earmarks came to roughly $15 billion out of a $1.4 trillion deficit in 2009.

Cruz: In 2008-9, "more jobs were created in the state of Texas than all the 49 states combined."

We've checked a handful of claims concerning Texas' job growth, giving Gov. Rick Perry two Trues for saying in September that Texas "created more than 850,000 jobs, more than all the other states combined" and for his February claim that "Texas added more jobs in 2010 than any other state." From the time Perry took office in January 2009 through June 2010, the state saw a net gain of 853,400 jobs. Last month, however, we rated Half True the Texas Public Policy Foundation's claim that the state "created more jobs than all the other states combined" in the last five years. Forty states saw jobs created in those years, though they had more job losses.Also, two states gained more jobs, by percentage, than Texas in those years.

Jones: "We have one of the highest corporate tax rates on the globe."

In May, former New Mexico Gov. Gary Johnson said the United States has "the highest corporate income tax in the world right now." PolitiFact gave this a Mostly True, dinging Johnson for failing to say corporate income tax rate. PolitiFact also noted that several other countries ranked ahead of the U.S. when including other taxes paid by businesses, such as the the cost of employee taxes borne by the employer.

Williams: "We've got 51 percent of the people paying (taxes), 49 percent not."

In April, House Majority Leader Eric Cantor of Virginia, said there is "a situation in this country where you're nearing 50 percent of people who don't even pay income taxes." PolitiFact Virginia rated that True. Among individuals and couples that either filed a return for tax year 2009 or would have if they had earned enough income, slightly more than 50 percent had no income tax liability.