Cruz cruises, Perry closes, Davis 10th--Abbott out of running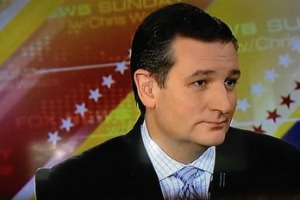 We rated as False Texas U.S. Sen. Ted Cruz's claim that President Barack Obama had promised amnesty to illegal immigrants. That fact check proved to be our most-read online item in July, giving Cruz a victory over other officeholders.
See all of July's top 10 Texas Truth-O-Meter articles to the right.
More particulars:
At No. 2, our finding as Pants on Fire the claim by Gov. Rick Perry that illegal immigrants had committed over 1,100 homicides. Another check of a Perry statement -- his incorrect reference to every person caught at the border hailing from a terrorist state -- placed No. 4 for the month.
Sticking around from earlier in the year and the month's No. 3 reader favorite was our check of the U.S Census Bureau's declaration Americans must answer its surveys by law -- a statement that KOKE-FM talk leader Bob Cole brought to our attention.
Our reviews of two claims by Democratic U.S. Senate nominee David Alameel drew sizable reader interest. His Pants on Fire statement about Sen. John Cornyn dodging the draft was the No. 5 reader fave and Alameel's False reference to having lived in an impoverished colonia ranked ninth. (Our March look into a statement by another Democratic Senate aspirant, Kesha Rogers, placed No. 8 among July reader favorites. We rated as Half True her claim Obama was responsible for "the assassination of at least four American citizens" in drone strikes.
In July, we wondered about Glenn Beck's mention of the (previously unreported) rape of a 9-year-old girl in Austin by someone who had been deported several times. Half True, we concluded. Such a man, from Mexico, was arrested for allegedly fondling a girl near Fort Worth. That fact check was our No. 6 most-viewed piece.
We rated False a claim by state Sen. Dan Patrick about inner-city schools having 40 percent to 50 percent dropout rates; that story was the seventh-most-read article of the month.
State Sen. Wendy Davis told fellow Democrats in June that her November opponent for governor, Attorney General Greg Abbott, had lost in court four times in recent days. Mostly True. Our dig into his setbacks placed No. 10 in July's trove.