Rick Perry doubles down on people from countries with terrorist ties crossing border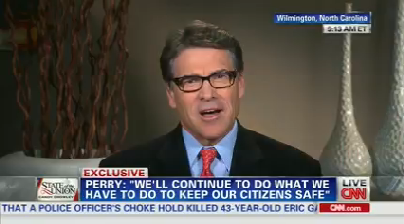 In an interview Sunday, Gov. Rick Perry suggested the U.S.-Mexico border needs more protection against a record-high number of illegal immigrants coming from terrorist havens.
Perry, who is considering a 2016 presidential run, appeared on CNN's State of the Union to talk about President Barack Obama's response to the crisis in Israel and the situation along the U.S.-Mexico border. (The Austin American-Statesman's Jonathan Tilove's account of his remarks appears here.)
Standing by his recent decision to ramp up state spending on border operations following an influx of children from Central American countries, Perry said: "I'm the governor of the state of Texas. My citizens' safety is what is foremost here. And it hasn't got anything to do with anything other than those numbers of individuals who are coming across the border. And when you think about the idea that some of them are from countries that have substantial terrorist ties, whether it's Pakistan or Afghanistan or Syria, we are at historic record highs with individuals being apprehended from those countries," Perry said.
Perry's office didn't provide figures to back up his "record" claim nor did PolitiFact find any, ultimately rating his statement Pants on Fire.
See that fact check here; we're posting other recent border-related fact checks -- including an earlier flawed Perry claim about border-crossers hailing from countries with terrorist ties -- to the right.