Evan Smith incorrectly says last Anglo-majority Texas high-school class graduated in 2014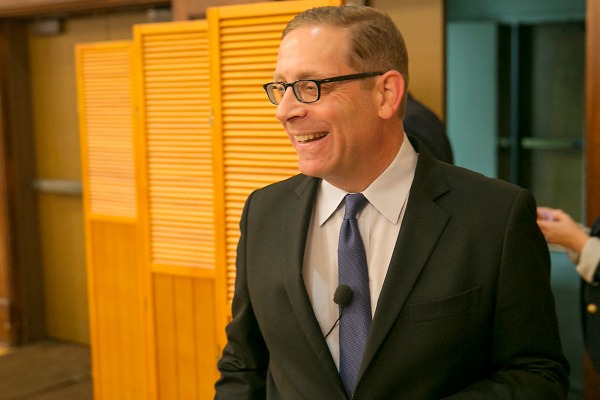 Stressing the changing population of Texas, the Texas Tribune's CEO pinpointed 2014 as a milestone year perhaps troubling to historically dominant residents.
As quoted in The New Yorker magazine, Evan Smith noted first that the Republican-led Legislature this year allocated a fresh $800 million toward border security. "White people are scared of change," Smith went on, "believing that what they have is being taken away from them by people they consider unworthy.
"But all they're doing is poking a bear with a stick," Smith told Lawrence Wright for an extensive July 2017 story on Texas government and politics. "In 2004, the Anglo population in Texas became a minority. The last majority-Anglo high-school class in Texas graduated in 2014. There will never be another. The reality is, it's all over for the Anglos."
Whether anything is over, for anyone, strikes us as a factually uncheckable opinion. It's otherwise old news that Anglo, or white, residents haven't made up the majority of Texans for a while. But did the last majority-white high school class graduate as recently as 2014?
A reader asked us to check Smith's 2014 claim, noting it could be read to mean there are no longer any high schools where white students make up a majority of graduates. Asked about that notion, Rice University's Steve Murdock, former director of the U.S. Census Bureau, told us by email: "There are of course schools where this is not true such as some suburban schools and some rural schools in the Panhandle and other areas where the residents are still disproportionately non-Hispanic white."
For our part, we checked regional figures for high school completion in 2015, the latest year of state-posted data. That year, white students comprised more than half of high-school seniors and graduates in East Texas (Education Service Center regions rooted in Huntsville, Mt. Pleasant and Kilgore) and the Wichita Falls and Abilene areas of West Texas. Across Texas, in contrast, some 109,200 white students made up 32 percent of the state's 339,026 12th-graders and 102,000 white graduates accounted for 34 percent of the state's total 302,262 graduates, the figures indicate.
Separately, Smith told us by email that he wasn't trying to tell Wright there are no longer any white-majority senior classes in the state. Asked why he specified 2014 as a statewide turning point, Smith said he believes he relied on information from Murdock or possibly the Texas Education Agency.
State data
Next, we asked the education agency about Smith's claim. Spokeswoman Lauren Callahan pointed us toward agency-posted high-school completion data indicating that the last time white students comprised even a plurality of the state's public high-school graduates was 2010. That year, according to the data, there were 109,887 white high-school graduates and 106,514 Hispanic graduates -- though the state's 135,212 Hispanic high school seniors (not all of them graduating) outnumbered the 119,938 white seniors.
Back in time
In our subsequent review of agency figures, we didn't spot a recent year when white students comprised a majority of seniors or graduates.
As far back as 2003, 125,262 white high-school seniors amounted to 47.5 percent of all the state's 263,571 seniors, according to the agency. In 2015, the latest year of posted counts, 109,200 white seniors comprised 32.2 percent of 339,626 seniors.
With help from Lloyd Potter, the San Antonio-based Texas state demographer, we looked further back. Potter pointed out TEA reports on enrollment including a 2003 report stating that in 2000-01, 111,781 white students accounted for 50.7 percent of the state's 220,324 high school seniors and in 2001-02, 113,108 white students broke out to a smidge more than half of the state's 226,177 12th-graders. In 2002-03, 117,100 white seniors comprised 49 percent of the state's 238,699 seniors, the agency later reported.
Notably, Smith was more specific by declaring 2014 the last time white students comprised the majority of high-school graduates.
According to the TEA's counts, in contrast, white students most recently comprised the majority of Texas public high school graduates in 2003. That year, the agency says, 112,460 Anglo students made up 50.7 percent of the state's 222,021 graduates. The next year, agency figures indicate, 112,495 white students made up 49.1 percent of the state's 229,133 graduates.
We circled back to Smith with these date findings. He said of his quoted claim: "If it's wrong, it's wrong."
Our ruling
Smith said the last majority-Anglo high school class in Texas graduated in 2014.
To the contrary, there remain some Texas high schools with a majority of white students in 12th grade or among graduates, we found, while for all of Texas, state-collected counts show the latest year that white students comprised the majority of public high-school graduates was 2003. White students last accounted for the majority of public high-school seniors in 2001-02.
We rate this claim False.
---
FALSE – The statement is not accurate. Click here for more on the six PolitiFact ratings and how we select facts to check.