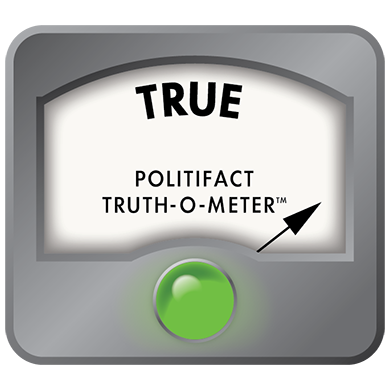 "Since 2011, we have documentation of 1,671 dead bodies we have recovered in Texas, many in Brooks County."
— Dan Patrick on Tuesday, April 16th, 2019 in a press conference
Dan Patrick says the remains of 1,671 migrants have been discovered in Texas
By Madlin Mekelburg on Tuesday, April 23rd, 2019 at 5:00 p.m.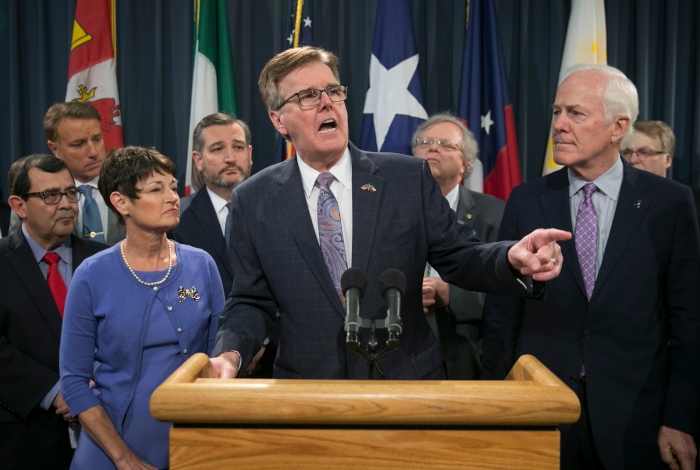 Lt. Gov. Dan Patrick joined other Republican lawmakers from Texas at a news conference this month criticizing Democratic lawmakers for ignoring reports of violence at the U.S.-Mexico border and a rise in illegal immigration.
Patrick said the media is part of the problem is not giving enough coverage to tragedies like human trafficking or people dying as they attempt to enter the country.
He said ranchers on the border have discovered the remains of more than 1,000 migrants on their properties — evidence of the current crisis at the border.
"Since 2011, we have documentation of 1,671 dead bodies we have recovered in Texas, many in Brooks County," Patrick said. "Look at the photos. Skeletons. It looks like something we'd see in a Third World country where there has been some civil war in the dust. There are thousands and thousands and thousands more out there. These are just the ones we've seen, on millions of acres."
Press reports have detailed the perilous journey many people attempt to make as they cross the border and the grisly fate that sometimes awaits. News outlets have also captured what happens after bodies are discovered, as researchers attempt to identify the individuals.
But is his claim about the number of bodies discovered since 2011 accurate?
Border Patrol data backs Patrick's claim
Alejandro Garcia, Patrick's spokesman, pointed us to data maintained by U.S. Customs and Border Patrol that show deaths recorded in the Southwest border region every year from 1998 to 2018.
The majority of the recorded deaths are cases where the remains of an individual suspected of entering the country illegally succumbed to exposure to extreme heat or cold while attempting to traverse vast ranchlands with few water sources and were discovered near the U.S.-Mexico border, according to a CBP spokesman.
This report does not include individuals who died while in CBP custody or who died during an apprehension. It also does not include deaths that occurred at ports of entry or detention facilities.
Between 1998 and 2018, there were 7,505 deaths recorded across the entire U.S.-Mexico border, according to the report. Of those, 3,125 were in Texas. There were also 244 deaths in the El Paso sector, which includes the city of El Paso and the entire state of New Mexico.
But Patrick's claim looked at a more limited timeframe: bodies discovered since 2011.
From 2011 to 2018, CBP data shows that there were 2,773 bodies discovered along the entire border. Of those, 1,641 were in Texas. There were also 30 in the El Paso sector.
What about Brooks County?
Patrick said many of these deaths are recorded in Brooks County, 942 square miles directly north of the border county of Hidalgo. The county is covered by ranchlands and includes live oaks, mesquite, brush and cacti.
From 2009 to 2019, there have been 642 bodies discovered in the county, according to data provided by the sheriff's office.
These numbers are included in the CBP numbers that look at the entire border, according to Maggie Saenz, the administrative assistant at the sheriff's office.
Brooks County is considered one of the deadliest places for people crossing the border illegally. A 2017 New York Times investigation found that migrants travel through the brush in this county to avoid busy Border Patrol traffic checkpoints in Hebbronville and Falfurrias.
When people try to hike around the checkpoints, often without enough food or water, they die after encountering cold in the winter and heat in the summer.
Saenz used to help oversee recovery of the remains and helps maintain the office's tally of remains that have been recovered.
The number of deaths recorded in the county has been declining since 2012, dropping from 129 that year to as low as 48 in 2015. Since then, the number has fluctuated from 61 in 2016 to 52 in 2017 and 50 in 2018.
So far this year, the sheriff's office has recorded eight deaths, the lowest number reported for the first four months of the year since 2010, when three deaths were recorded from January to April and 20 were recorded for the entire year.
Remains discovered in Brooks County have made up more than 33 percent of all bodies discovered in Texas since 2009.
Recorded numbers don't tell the whole story
Law enforcement officers are not actively searching for bodies, but instead frequently receive phone calls from ranchers who see human remains on their property.
"They know what to look for, unfortunately, because they've had so many people die," said Lori Baker, an anthropology professor at Baylor University who founded Reunited Families, a program that helps government agencies recover and identify the remains of migrants found along the U.S.-Mexico border.
"All along the southern border, people have gotten used to the idea that they might find someone who didn't make it or who might be in distress," she said.
Baker, who has been working to identify migrant remains since 2003, said the numbers reported by CBP or even locally are a "drastic underestimation" of the number of people who die attempting to enter the country.
"Most of the individuals who die probably go unrecovered," she said, noting that animals can scatter remains, making it challenging to spot them on vast tracts of land.
There's also an issue with data collection generally, since no one government agency or group is actively working to find bodies. Limited resources locally prevent law enforcement officers from prioritizing this work and there has been little interest nationally in funding these efforts.
Other roadblocks exist in Texas, since a significant portion of land on or near the border is privately owned. This creates a host of problems when it comes to third parties searching for bodies, as landowners tend to prevent these groups from entering their property.
When they are allowed to enter certain properties, they run into another problem: the vastness of the land.
Baker said she has worked on a case since August of a woman searching for her mother, who reportedly died while attempting to cross the border in South Texas.
"We haven't been able to find her, even though the people traveling with her described where they left her," Baker said. "But it's on such a large ranch."
Baker said it's also possible that local entities are not reporting all discoveries of human remains to CBP, since there are no explicit requirements for them to share this information.
Some international groups — like the International Organization for Migration — also track these deaths, but their numbers are even lower than those reported by CBP.
Our ruling
Patrick said, "Since 2011, we have documentation of 1,671 dead bodies we have recovered in Texas, many of them in Brooks County."
U.S. Border Patrol has recorded this many deaths since 2011 in Texas and even more along the entire border. The number of recorded deaths has been declining in recent years.
These deaths do not paint an accurate picture of the number of migrants dying as they attempt to enter the country — the real number is likely much higher.
But Patrick's claim is right. Just 1,671 bodies have been documented in Texas and many of them are from Brooks County.
We rate this claim True.
---
TRUE – The statement is accurate and there's nothing significant missing.