Did Newt Gingrich pay a $300,000 'fine'?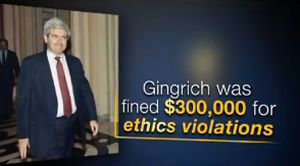 In politics, we've gotten used to seeing various euphemisms used to inflame debate. For example, there's "illegal aliens" vs. "undocumented workers." "Pro-life" vs. "anti-abortion." And the deep divide over "torture" vs. "enhanced interrogation."

We stumbled into another area controversy over definition in a recent fact-check of charges about Republican candidate for president Newt Gingrich. The super PAC Restore Our Future accused Gingrich of being "fined" $300,000 for an ethics violation in the 1990s. We checked the record and rated the statement True.

A short time later, we were contacted by an attorney who represented Gingrich during the ethics proceeding and who disputed that Gingrich was "fined" by the ethics committee. The lawyer said Gingrich had paid a "cost assessment."

"Based upon the actual language of the House Committee report itself, it is clear that Speaker Gingrich was only asked to reimburse the House $300,000 to offset some costs of the Committee's investigation. No fine was ever levied against the speaker," wrote J. Randolph Evans of the law firm McKenna, Long & Aldridge. He also criticized us for promoting our fact-check via Twitter.

"Any statement in any broadcast communication supporting the notion that Speaker Gingrich paid a congressional fine is wholly inaccurate, and should be characterized that way by PolitiFact. More significantly, in light of controlling authority on this issue, any additional publication by PolitiFact that supports the truth of such a statement will be considered knowingly false," he wrote.

Better go back over the claim to see what we missed.

First we turned to our primary source, the U.S. House of Representatives' "In the matter of Representative Newt Gingrich: Report of the Select Committee on Ethics," published Jan. 17, 1997.

Gingrich was accused of using a course he taught at Kennesaw State College for political fundraising. The course's organizers solicited financial support, promising that the project qualified for tax-exempt status. The ethics committee, however, concluded that the course was "actually a coordinated effort" to "help in achieving a partisan, political goal" -- something that would run afoul of its tax-exempt status.

As Evans said, the committee's official findings do not mention the word "fine." Instead the report recommends that Gingrich receive "a reprimand and a payment reimbursing the House for some of the costs of the investigation in the amount of $300,000."

Lawyers with expertise in political law told us that Evans had a point. The committee document, which was carefully worded, did not officially characterize it as a "fine."

But they also warned against interpreting the levy as merely a reimbursement. Our experts said it's hard to view it as anything but a penalty against Gingrich.

"I think it is fair to say that the $300,000 was assessed as a punitive measure, and there would have been no such assessment if the ethics committee thought he was free from wrongdoing," Kenneth A. Gross, the head of the political law practice at the law firm Skadden, Arps, Slate, Meagher & Flom. "It really is matter of characterization and even semantics. It was not a fine in a legal sense but a punitive measure."

Other experts we contacted agreed.

"I suspect that the committee never asks a person to pay $300,000 for its investigation costs if the result of the investigation was to find the person completely blameless," said legal commentator Stuart Taylor.

"The payment was meant to penalize Gingrich personally for lying to Committee investigators, so it could fairly be called a 'penalty' from a layman's point of view," said Brett Kappel, a counsel with the firm Arent Fox LLP.

It's also worth noting that the head of the committee that investigated and reprimanded Gingrich said at the time that, although the committee didn't officially call it a fine, she personally considered it to be a fine.

As the House was preparing to vote on the ethics panel's findings, the chair of the House ethics committee, Rep. Nancy Johnson, R-Conn., had this exchange with Katie Couric of NBC News:

Couric: "Do you view this $300,000 as a fine or to compensate for the cost of the investigation?"

Johnson: "Well, it can be seen either way."

Couric: "How do you see it?"

Johnson: "I see it personally as a fine."

Another view: The Congressional Research Service, in a 2005 report, said the sum paid by Gingrich "was not characterized by the Committee as a 'fine,' " but CRS did use the term "penalty" to describe it.

To cut through the semantic fog, we turned to Geoffrey Nunberg, a linguist at the University of California at Berkeley. He said it's fair for a media outlet to describe the fee Gingrich paid as a "fine" or to write that Gingrich was "fined."

"Some people distinguish fines and charges for costs, but the verb 'fine' is also routinely used as including costs," he said. He sent us several examples of courts noting that their fines included court costs.

"The implication that since the penalty charged Gingrich was not a 'fine' there was no imputation of guilt or violation of ethics rules is simply false: People are not held responsible for costs if the charges are found groundless," he said.

As it happens, there's a lot of precedent for media outlets calling the assessment on Gingrich a fine. When we looked through the Nexis news archive, we found these headlines:

Associated Press, House ethics committee votes to reprimand Gingrich, calls for fine, Jan. 18, 1997

CNN, House Votes For Reprimand And Fine For Speaker Newt Gingrich, Jan. 21, 1997

Baltimore Sun, Questions continue about how Gingrich should pay his fine; Some say speaker should pay proposed $300,000 out of personal funds, Jan. 21, 1997

USA Today, GOP fears Gingrich vote fallout; Concern over how speaker will pay fine, Jan. 22, 1997

Dallas Morning News, Gingrich's unresolved fine lingers as issue, March 20, 1997

New York Times, Gingrich to Pay Ethics Fine With Own Money and Loan, April 17, 1997

We reached Adam Clymer, one of the New York Times reporters who covered the case at the time. He noted that reporters back then also heard arguments that the financial penalty was not a fine.

"They made the same argument at the time, and we decided they were mistaken," he said. An archival search shows the New York Times both then and now has described the fee as a "fine."

In all, our archival search of all news sources found approximately 2,200 significant reports published between Jan. 17, 1997, when the committee announced the penalty, and Oct. 11, 1998, when final ethics charges against Gingrich were cleared. Of those 2,200, approximately 1,500 used the word "fine" or "fined." About 250 used the word in a headline.

Our previous report should have made clear that the House ethics committee did not use the term "fine" in assessing Gingrich $300,000; instead, the panel instead called it a reimbursement. However, we feel comfortable that the underlying point of the pro-Romney Super PAC ad that we originally checked remains valid.

The ad claimed that Gingrich "was fined $300,000 for ethics violations." While Evans, the lawyer who represented Gingrich, has a point that the levy was not officially called a "fine" by the ethics committee, we think a reasonable person knowing all the context would consider the levy against Gingrich to be a penalty.

The committee reprimanded Gingrich and assessed him a sum of $300,000. The chair of the committee said on national television that despite the panel's word choice, she personally considered it to be a fine. It is common in many legal settings for court costs to be included in fines. And an array of legal experts told us that the avoidance of the word "fine" in describing the payment does not suggest vindication for Gingrich; rather, they said, the payment was clearly intended to be punitive. We are republishing the item here with the revised ruling of Mostly True.