Get PolitiFact in your inbox.
"300,000 Floridians will lose their current health plans" because of Obamacare, a plan Alex Sink supports.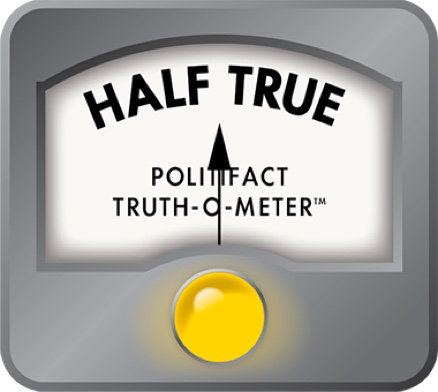 300,000 in Florida lose health plans? More to the story than that
Critics of the health care law like to throw around talking points that give the idea that the law will increase the ranks of the uninsured. The evidence, though, tends to contradict that.
That hasn't stopped political ads from continuing to push the point. The latest case: The race to replace the late U.S. Rep. C.W. Bill Young, R-Fla. Democrats are hoping to pick up the seat with Alex Sink, a former banking executive who's previously held statewide office as Florida's chief financial officer. Her opponents are David Jolly, a Republican and one of Young's longtime aides, and Libertarian Lucas Overby.
The National Republican Congressional Committee recently began airing ads attacking Sink for her support of President Barack Obama's signature health law. The ads begin with photos of Obama and House Democratic Minority Leader Nancy Pelosi.
"Alex Sink's loyalty is to them, not Florida. Why else would she continue to support Obamacare? 300,000 Floridians will lose their current health plans," the ad claims in part, concluding, "She's fighting for them. Not us."
The ad phrases its claim very carefully, but its statement still leaves out much of the story. And where does that 300,000 number come from anyway?
The number comes from 300,000 policyholders that insurance company Florida Blue identified back in October. That was when insurers were required to notify policyholders if their insurance plans didn't meet the rules for new plans requiring comprehensive coverage. The rules were intended to phase out "bare bones" plans that didn't include things like prescription drugs or hospital stays.
Florida Blue had 300,000 customers whose plans didn't meet the new rules. So Florida Blue sent them letters informing them that their plans would end and offering guidance on how to get signed up for a new plan.
"Florida Blue is proactively communicating to these members to help them understand how this transition affects them," the company said at the time. "Prior to their 2014 renewal date, each member will receive a letter that instructs them to contact Florida Blue to review their migration options. These new plans will offer members access to more comprehensive benefits in 2014."
We should note that there's a lot we don't know about these 300,000 policyholders. For example, some of them may have gone to the federal marketplace to buy insurance. If their income was below 400 percent of the poverty level (below about $94,200 for a family of four, for example), they would have gotten a subsidy to buy insurance. Some of these people may end up paying more but getting more robust coverage. It's unclear how many, if any, would simply stop buying coverage altogether.
Back in October, Florida Blue told PolitiFact Florida that it intended to work with customers to get them into new plans. Spokesman Mark Wright said that when it comes to getting new plans, "nobody is throwing anybody off a cliff."
We reached out to Florida Blue to see if it could tell us anything more about how the letters have played out. Spokesman Mark Wright said the company was giving their policyholders another year to keep their coverage after President Barack Obama asked insurers to allow customers who wanted to keep the old plans to keep them for an additional year. 
One final note: PolitiFact Florida rated a similar but not identical statement claim from Sen. Marco Rubio back in October. Rubio said, "300,000 people are going to lose their individual coverage because of Obamacare. Now those people next year, they don't have health insurance." PolitiFact Florida found that claim Mostly False because Rubio failed to fully explain the situation behind the number and wrongly insisted that the people wouldn't have insurance in 2014.
The NRCC's claim doesn't go quite as far.
Our ruling
The National Republican Congressional Committee said in an ad that "300,000 Floridians will lose their current health plans."
We know that the insurer Florida Blue had to end plans for 300,000 customers when their plans didn't meet the law's new requirements for health insurance.
But Florida Blue also said it intended to help its customers select and sign up for new health care plans, not leave them without options, and the customers got an additional year, if they needed it, to make a transition. The ad makes it sound as if people would lose their plans without any replacement. 
Overall, we rate the ad's claim Half True.
National Republican Congressional Committee, "Loyalty" ad, Feb. 12, 2014
PolitiFact Florida, Rubio says 300,000 will lose their individual health insurance coverage under Obamacare and won't be able to enroll in new plans, Oct. 25, 2013
Kaiser Health News, "Thousands of consumers get insurance cancellation notices due to health law changes," Oct. 21, 2013
Health News Florida, "Florida Blue cancels 300,000 health policies," Oct. 21, 2013
Florida Times-Union, "The truth behind the headline: 'Florida Blue to ax 300,000 policies,'" Oct. 24, 2013
Forbes, "More Americans in 3 states have their insurance cancelled under ObamaCare than have filed an exchange account in all 50," Oct. 24, 2013
PolitiFact, "Barack Obama promises you can keep your health insurance, but there's no guarantee,"Aug. 11, 2009
Miami Herald's Naked Politics blog, "Florida Blue: though we're canceling 300k policies, we're giving 'migrating' options," Oct. 24, 2013
Miami Herald's Naked Politics blog, "Who's to blame for 300,000 policy purge? Florida Blue or Obamacare or both?" Oct. 23, 2013
Miami Herald's Health Watch blog, "Consumers react to getting cancellation notices from their insurers," Oct. 21, 2013
Miami Herald's Public Insight Network, Letter to a consumer from Florida Blue, Accessed Oct. 24, 2013
CNN Transcript, Crossfire, Oct. 23, 2013
Health Care Policy and Marketplace review blog,"Week two of the Obamacare federal health exchange rollout -- no improvement," Oct. 17, 2013
Interview, Mark S. Wright, spokesman Florida Blue, Feb. 14, 2014, and Oct. 24, 2013
Interview, Jon Urbanek, Florida Blue, senior vice president of commercial markets, Oct. 24, 2013
Interview, Katherine Baicker, Professor of Health Economics in the Department of Health Policy and Management at the Harvard School of Public Health, Oct. 24, 2013
Interview, Gerard Anderson, Professor, director Center for Hospital Finance and Management Johns Hopkins Bloomberg school of public health, Oct. 24, 2013
Interview, Yevgeniy Feyman, a fellow at the conservative Manhattan Institute's Center for Medical Progress, Oct. 24, 2013
Interview, Timothy Jost, Professor of Law at the Washington and Lee University School of Law, Oct. 24, 2013
Interview, Chris Conover, Research Scholar in the Center for Health Policy & Inequalities Research at Duke University and adjunct scholar at American Enterprise Institute, Oct. 24, 2013
Interview, Alex Conant, spokesman for Sen. Marco Rubio, Oct. 25, 2013
Browse the Truth-O-Meter
More by Angie Drobnic Holan
Support independent fact-checking.
Become a member!
In a world of wild talk and fake news, help us stand up for the facts.