Ruh-roh! PolitiFact New Jersey on the Colbert Report!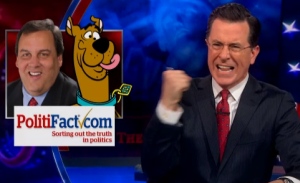 Stephen Colbert highlighted PolitiFact New Jersey's fact-check of Chris Christie on the Colbert Report on Tuesday night.
Referring to the in-depth (but tongue-in-cheek!) fact-check of Christie's claim that he watched Scooby Doo when he was 4, Colbert said "a new scandal has exploded that could derail Christie's ambitions. He was recently caught on tape blatantly lying to one of his constituents about his past."
You can read PolitiFact New Jersey's fact-check here.
You can see Colbert's segment here.