The Top Five: PolitiFact's most-clicked August items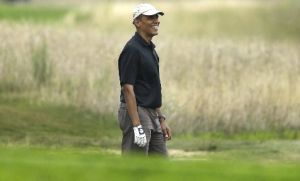 Fact-checks about President Barack Obama's family vacation, the federal budget and the United Nations confiscating guns captured PolitiFact readers' attention this month.
Here are our most-read reports for August.
1. Al Sharpton defends Obama family vacation, saying George W. Bush spent more time away. The MSNBC host said President Obama had taken 92 days of vacation compared with 367 for President George W. Bush at the same point in his presidency. Strictly looking at days away from the office, Sharpton was right. However, Bush vacationed at his family's Texas ranch and often worked there. We rated the claim Mostly True.
2. Eric Cantor says the federal deficit is "growing." Annual federal deficits are not growing right now, but unless policies are changed, deficits are projected to grow again in 2016 and beyond. Cantor made the statement while expressing concerns about entitlement spending, which is what drives those future deficits. We rated the statement Half True.
3. United Nations document shared on social media says civilian gun confiscation is in the works for United States. A bogus message said a United Nations working group has "adopted a proposed agenda" to enable member nations to "disarm civilians within their borders." But all evidence points to the document being a fake. We rated the statement Pants on Fire.
4. Democrats say Florida stripped insurance commissioner of power to set health plan rates. A letter from Florida's U.S. House Democrats said that Republican Gov. Rick Scott and legislators refused to allow the state insurance commissioner to "negotiate lower rates with companies or refuse rates that are too high." That's what they did in passing Senate Bill 1842, so we rated the statement True.
5. Is Ted Cruz, born in Canada, eligible to run for president? This question was reminiscent of fact-checks we've done on whether Obama was born in the United States, or if John McCain was eligible to run for president, given he was born in the Panama Canal Zone. It seems likely that Cruz, a Republican senator from Texas, is eligible, even though he was born in Canada, but the U.S. Supreme Court has never definitively ruled on the matter. We issued no rating.