Fact checking claims about low-income workers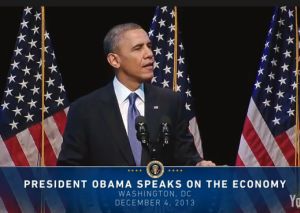 The plight of low-income workers has returned to the national agenda recently.
On Dec. 4, 2013, President Barack Obama gave a speech on income inequality at the Center for American Progress, a liberal think tank, in which he backed a minimum-wage increase.
Then Thursday, fast-food workers in 100 cities planned to strike.
We recently checked two claims about Americans at the bottom of the income scale.
In his speech, Obama said, "It's well past the time to raise a minimum wage that in real terms right now is below where it was when Harry Truman was in office."
We found that was correct for 1950, but incorrect for the other seven calendar years of Truman's tenure. So we rated it Half True.
We also checked a claim made in a Facebook post that "44% of homeless people are employed. Shouldn't work be an escape from poverty?"
It turned out that the meme -- created by a website called Occupy*Posters -- used data that was 18 years old, and the percentage who had a regular job was, at most, less than half of 44 percent. Still, this was the most recent data available, and some experts told us that a more generous definition of "employed" is defensible. On balance, we rated the claim Half True.