Facebook meme wrongly accuses GOP 2016 hopefuls on dinosaurs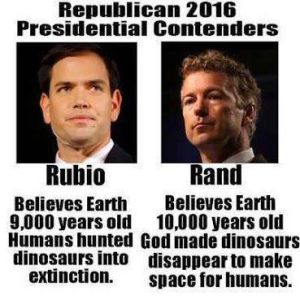 The Facebook group Being Liberal posted a picture March 10, 2014, featuring side-by-side images of Sen. Marco Rubio, R-Fla., and Sen. Rand Paul, R-Ky., looking somewhat sheepish. Bolded text under the images describes the senators' views on the age of the Earth and the extinction of the dinosaurs.
We decided to fact-check the meme's claims and discovered a profound lack of evidence. We rated the claim Pants on Fire; read our full report to find out why.