Newt Gingrich defends calling Barack Obama "food stamp president"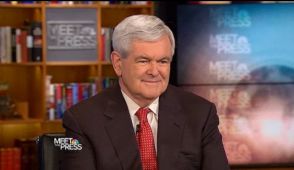 On the May 15, 2011, edition of NBC's Meet the Press, Republican presidential candidate Newt Gingrich defended his earlier characterization of President Barack Obama as "the most successful food stamp president in American history."
Host David Gregory first showed a clip of Gingrich's earlier comment, made at a Georgia Republican Party dinner.
"You want to be a country that creates food stamps, in which case frankly Obama's is an enormous success," Gingrich said in the recorded excerpt. "The most successful food stamp president in American history. Or do you want to be a country that creates paychecks?"

Gregory then asked Gingrich if that comment included overtones of racism.

Gingrich shot back, "Oh, come on, David!"

Gregory responded, "What did you mean? What was the point?"

Gingrich replied, "That's, that's bizarre. That -- this kind of automatic reference to racism, this is the president of the United States. The president of the United States has to be held accountable. Now, the idea that -- and what I said is factually true. Forty-seven million Americans are on food stamps. One out of every six Americans is on food stamps."

We're not going to address the racial implications but decided to check Gingrich's main comment. We see two points to investigate. First, are Gingrich's numbers accurate? And second, is it fair to blame Obama for today's high use of food stamps?

First, the numbers.

We'll start by noting that "food stamps" -- which provide qualifying, low-income Americans with vouchers to buy groceries -- have officially been known as the Supplemental Nutrition Assistance Program, or SNAP, since October 2008, although many people still use the informal name.

For the most recent month with available data -- February 2011 -- roughly 44.2 million people received SNAP benefits. That's a bit less than Gingrich had said, but it's in the ballpark. That also wasn't a fluke: February marked the third consecutive month that the number of recipients topped 44 million.

In fact, based on our look through the historical data, February's numbers appear to be the highest number of beneficiaries in any month since the program was established in 1969. As recently as October 2007, about 27 million Americans received SNAP benefits. That's more than a 60 percent increase in beneficiaries in three and a half years.

The 44 million accounts for about 14 percent of Americans -- slightly less than one out of every seven, rather than one out of six, as Gingrich said.
Now the second question: Is it fair to lay the blame on Obama?

Obviously, the rise in food stamps is a direct consequence of the serious recession that began in December 2007 -- more than a year before Obama took office. It's hard to determine how much blame Obama deserves compared to his predecessor, President George W. Bush, but the experts we spoke to, conservative and liberal, agree that Obama inherited a serious economic situation.

Part of the reason it's tricky to divvy up blame is that there is typically a lag time before an upturn in the broader economy begins to show up in decreased SNAP usage. The monthly growth has slowed over the last three months, and if current trends continue, it could start declining in a month or two.

It's also impossible to know how high SNAP usage would have gone had the Republicans, rather than Obama, shaped policy in 2009 and 2010. However, the fact remains that SNAP usage has continued to climb every single month of the Obama presidency despite some signs of an economic recovery. So Gingrich's charge cannot simply be dismissed out of hand.

One last point: The number of food stamp beneficiaries had started to head upward under Bush, partly because of more aggressive efforts to get eligible Americans to apply for benefits, and partly because of changes in the rules that had the effect of broadening eligibility. The experts we spoke to agreed that both policies began under Bush but were retained by Obama.

The changes produced consistent increases in the number of average monthly beneficiaries. The number rose in seven out of the eight years of Bush's presidency -- most of which were years not considered recessionary. All told, the number of recipients rose by a cumulative 63 percent during Bush's eight-year presidency.

Where does this leave us? Gingrich was close on the numbers of Americans receiving SNAP benefits. In addition, the number of beneficiaries is at a record level, and it has risen every month of the Obama presidency. On the other hand, Gingrich oversimplifies when he suggests that Obama should be considered "the most successful food stamp president in American history," because much -- though probably not all -- of the reason for the increase was a combination of the economic problems Obama inherited and a longstanding upward trend from policy changes. On balance, we rate Gingrich's statement Half True.