Rick Santorum says government lets health insurers keep only 15 percent of their revenue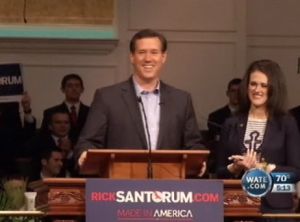 In a 40-minute speech to supporters near Knoxville ahead of Super Tuesday, presidential candidate Rick Santorum framed the health care debate in terms of government power versus individual choice.

President Barack Obama, he said on Feb. 29, 2012, "wants that power in the hands of government. He wants to control your insurance policies and your access and the reimbursements to doctors and hospitals and how much insurance companies -- not how much they'll make, how much they're allowed to keep of the money they collect.

"That's already in place by the way. The federal government has a regulation in place already that tells health insurance companies how much money they're allowed to keep of what they receive in revenues. Fifteen percent -- that's what they can keep. That's how much money they get to keep to run their businesses."

He wrapped up the topic saying, "they're going to micromanage everything because they don't believe in you."

We decided to check the claim that the federal government allows health insurance companies to keep just 15 percent of their revenues to use for operating expenses.

Medical loss ratio

Santorum didn't call it by this name, and we didn't hear back from his campaign for our story, but it appears he was referring to the medical loss ratio, a provision of the 2010 health care reform law signed by Obama and opposed by congressional Republicans.

The provision is similar to others already in place in several states. It "requires most insurance companies that cover individuals and small businesses to spend at least 80 percent of premium income on health care claims and quality improvement, leaving the remaining 20 percent for administration, marketing, and profit. The … threshold is higher for large group plans, which must spend at least 85 percent of premium dollars on health care and quality improvement," according to the Kaiser Family Foundation. There are other exceptions for small companies. (You can read Kaiser's full explainer on the medical loss ratio here.)

Insurance companies that exceed those limits are required to pay the money back in rebates to their customers, beginning in 2012.

With large group plans required to spend 85 percent of premium income on health care, what's left is the 15 percent to which Santorum referred.

According to John Rother at the National Coalition on Health Care, a coalition of trade associations, labor unions and advocacy groups that supports health care reform, the medical loss ratio "was enacted to put pressure on insurers to become more efficient" as well as to "make sure that consumers and businesses got a fair deal on their premiums."

Timothy Jost, a health law expert at Washington and Lee University in Lexington, Va., called it "a pro-consumer regulation."

The idea behind, he said, is that "when people purchase health insurance, they ought to have the money go to health care."

Revenue not affected

Santorum referred to health insurers' overall revenue -- "what they receive" -- but the provision applies only to revenue from premiums. In other words, of what you pay your insurer in premiums, 80 or 85 percent must be spent on your health care. It may not pay for television commercials or new office space.

But other sources of revenue may be used for those purposes.

"Many (insurance companies) have side businesses, offering IT services and other services that are sold to health providers," said Rother.

Added Jost: "Some insurers are heavily invested, and that doesn't figure in at all."

"It's not that they are limited to 15 percent of their income for all of their expenses. They're limited in their premium income," Jost said.

While they may not account for all revenue, Robert Zirkelbach, press secretary for the industry group America's Health Insurance Plans, pointed out that premiums comprise the majority of insurance companies' revenue.

Expenses not affected

Some insurers' expenses, such as quality improvement efforts, taxes, regulatory fees and patient safety, do not have to come out of the 15 percent.

Jost said some things that previously were considered administrative costs are now specifically exempted, namely quality improvement costs that include wellness programs and patient safety.

"It does not limit the insurers' ability to work with doctors and hospitals to improve quality. Those costs are not charged against the 15 or 20 percent limit," Rother said.

But Zirkelbach said the cap also encompasses services that affect consumers, including services to help patients navigate complicated delivery systems, efforts to modernize technology and programs to prevent fraud and abuse.

His group raised concerns about the medical loss ratio when it was being debated, citing fears it would disrupt the health insurance market and inhibit innovation.

A Government Accountability Office study found that the majority of established insurers would have already been in compliance with the medical loss ratio in 2010 if it had been in effect. Thus, most policy holders won't be getting a rebate this year, Jost said. But they're also likely avoiding premium rate increases that might have happened without the rule.

"It's … fair to say that many insurers are showing that they can meet this requirement without breaking a sweat," Rother said.

Our ruling

Santorum said the federal government allows health insurance companies to keep only 15 percent of their revenues to run their businesses.

His description of the medical loss ratio provision of the health reform law doesn't tell the whole story. The rule does require large group insurance plans to spend 85 percent of their premium income on real health care. For small group plans the rule is more generous. All health insurance companies are still free to spend other streams of revenue however they wish, and several types of expenses are specifically exempted from the 15 (or 20) percent limit.

Santorum's statement leaves out a good deal of important information. That pushes the needle to Half True.