Marco Rubio says talks with Cuba produced no commitment to democratic reforms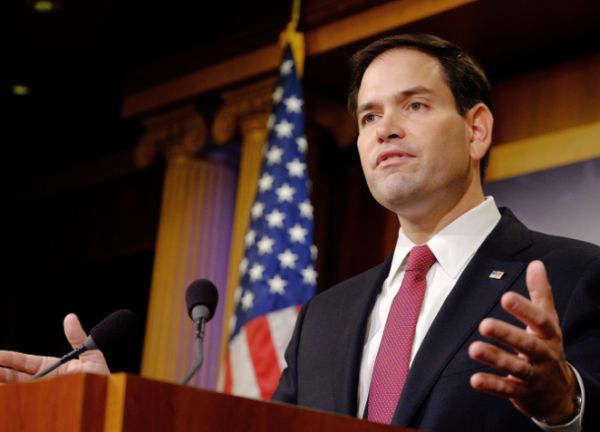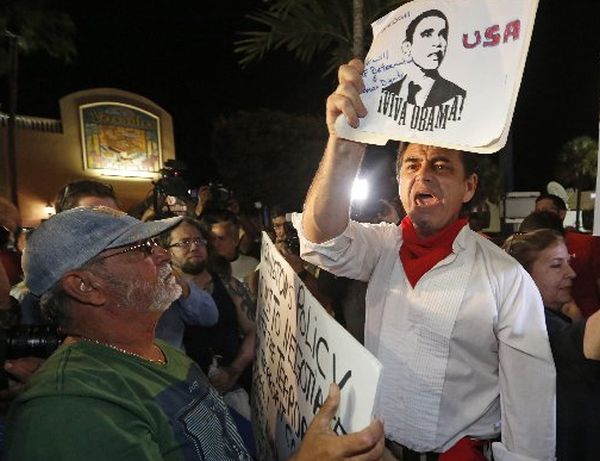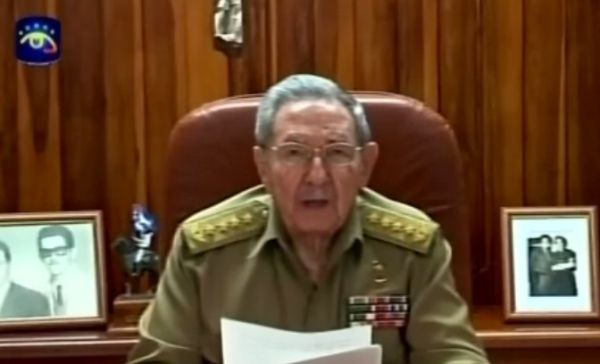 Sen. Marco Rubio -- a Republican born to Cuban emigres whose Florida constituency includes the nation's largest concentration of Cuban-Americans -- has taken the lead opposing President Barack Obama's overhaul of U.S.-Cuba relations. His main complaint: The United States isn't getting enough out of the deal, especially when it comes to democratic reforms.
On Dec. 17, 2014, Obama said the United States would be re-establishing diplomatic relations with Cuba for the first time in more than five decades, as well as easing longstanding travel and export restrictions. The move coincided with Cuba's release of jailed American contractor Alan Gross.
Rubio called the warming of relations "profoundly disappointing. It is a victory for the oppressive Cuban government, but a serious setback for the repressed Cuban people." To Rubio, the agreements between the two governments -- which had been worked out in secret over 18 months -- were one-sided, with the United States drawing the short end of the stick.
Here's more of what Rubio had to say at a press conference:
"The White House has conceded everything and gained little. They gained no commitment on the part of the Cuban regime to freedom of press or freedom of speech or elections. No binding commitment was made to truly open up the Internet. No commitment was made to allowing the establishment of political parties or to even begin the semblance of a transition to a democracy.
"And in exchange for all of these concessions, the only thing the Cuban government agreed to do is free 53 political prisoners who could wind up in jail tomorrow morning if they once again take up the cause of freedom and to allow the United Nations and the Red Cross to monitor conditions on the island, the same United Nations that did nothing when Cuba last year was caught helping North Korea evade United Nations sanctions."
We wondered whether Rubio is right that, under the agreement, Cuba doesn't have to "even begin the semblance of a transition to a democracy."
What's in the agreement?
After looking over the publicly available information, it seems like Rubio has a point.
If talks between the United States and Cuba resulted in any final document, it hasn't been released yet. Instead, we'll rely on what the White House has made public in its comments. (Rubio's office did not respond to an inquiry for this story.)
On the subject of "human rights and civil society," a White House summary focuses mostly on what the United States promises to do in fostering those goals in Cuba, not on what the Castro regime had promised to do.
The administration "will continue to implement U.S. programs aimed at promoting positive change in Cuba, and we will encourage reforms in our high level engagement with Cuban officials," the White House summary said. "Ultimately, it will be the Cuban people who drive economic and political reforms."
In his remarks announcing the change in policy, Obama seemed to acknowledge that the two countries disagree on human rights and democracy.
"Where we disagree, we will raise those differences directly -– as we will continue to do on issues related to democracy and human rights in Cuba," Obama said. "But I believe that we can do more to support the Cuban people and promote our values through engagement. After all, these 50 years have shown that isolation has not worked. It's time for a new approach."
This theme was reiterated during a conference call with reporters featuring unnamed "senior administration officials." They said that the United States' emphasis on human rights won't be decreasing, only pursued within a context of direct relations with the Cuban government.
The officials said the United States would seek to leverage other nations' efforts to promote democracy in Cuba, including at the Summit of the Americas in Panama next year. They said the difference now will be that the United States would conduct its democracy-building efforts -- which they said the Cuban government forcefully opposes -- within the context of normalized relations.
Meanwhile, Raul Castro, in a televised speech from Havana, promised only "dialogue," not concrete steps, on democracy and human rights. He said Cuba recognizes "that we have profound differences fundamentally in the subject of national sovereignty, democracy, human rights and domestic policy. I reaffirm our willingness to dialogue on all these topics."
Are there concrete steps?
So far, we see nothing about what the Castro regime needs to do to promote democracy. Is there anything specific in what's been announced?
The answer is: A bit.
During the conference call, officials said that the the Cuban government has made "sovereign decisions" to release 53 political prisoners whose cases were brought to Cuba's attention by the U.S. government."
In addition, the White House says the Cuban government said it would be taking steps to increase Internet connectivity for its citizens. The White House argues that, in conjunction with additional authorization for U.S. telecommunications companies to operate in Cuba, ordinary Cubans will be empowered by better Internet access.
Finally, officials announced that Cuba would increase its engagement with the United Nations and with the International Committee of the Red Cross about monitoring conditions within Cuba.
Indeed, Rubio mentioned these three steps in his press conference -- but even if these changes prove permanent (and there's no guarantee they will) they were outweighed, in his view, by the lost opportunity to leverage bigger pro-democracy reforms, such as the creation of political parties and a loosening of the Castro family's grip on the island's politics.
When we asked experts whether Rubio's description is on target, they said it was.
"It's accurate," said Eric Farnsworth, who worked in the Clinton White House's office of the special envoy for the Americas and now serves as vice president of the Council of the Americas.
"Rubio is about right," agreed Brock Tessman, associate director of the Center for the Study of Global Issues at the University of Georgia. "While these initial changes, particularly the introduction of open media technology, may eventually lead to more profound political changes, nothing in yesterday's agreement commits Raul Castro to concrete steps toward democratization."
Jonathan Benjamin-Alvarado, a political scientist at the University of Nebraska Omaha, concurred. He predicted that any concrete concessions on democracy and human rights would have to wait until -- or if -- Congress decides it's ready to lift the decades-old trade embargo.
"This is what Congress will argue must be dealt with for the embargo to be lifted," Benjamin-Alvarado said. He added, "I take Raul Castro's response to mean that he too understands the nature of how normalization must unfold and what conditions will have to be addressed."
Our ruling
Rubio said that in the U.S.-Cuba negotiations, "no commitment was made to allowing the establishment of political parties or to even begin the semblance of a transition to a democracy."
He's largely correct. Cuba did promise to release 53 political prisoners, take steps to open up the Internet and allow greater scrutiny by international organizations. But the secret talks led to no breakthroughs in structural reform to a political system dominated for more than half a century by the Castro brothers. Rather than producing pro-democratic results now, the agreement seeks to create the conditions for results later.
Rubio's statement is accurate but needs clarification or additional information, so we rate it Mostly True.