Yes, $1 million from Mitt Romney's failed White House bid is fueling his Senate run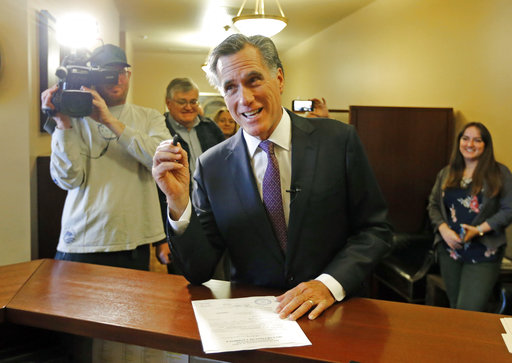 A Democratic candidate for Utah's U.S. Senate seat claimed Republican opponent Mitt Romney is using $1 million of leftover donations to his unsuccessful presidential run to finance his Senate bid.
"The former Governor of Massachusetts is taking yet another short cut to the Utah Senate Seat," Nickie Titus, campaign manager for Democrat Jenny Wilson, said in a press release. "Mitt certainly does things his way — moves to Utah from California (and) uses a million of his presidential campaign dollars to finance his Utah senate race."
It turns out Wilson's campaign is right: Romney is using $1 million from his failed presidential bid to fuel his Senate campaign. Experts told us this is common in politics, though the practice has come under criticism.
Campaign fund-shifting
Romney's failure to reach the White House in 2008 and 2012 is not without a silver lining. It elevated Romney's public stature, gave him staying power in Republican politics and left him with a substantial — and flexible — bankroll.
Campaign finance rules have long allowed a candidate to hold on to surplus campaign funds indefinitely, said Craig Holman, a government affairs lobbyist at the group Public Citizen, a progressive consumer rights advocacy group.
Under the Federal Election Campaign Act and Federal Election Commission rules, candidates can also make unlimited transfers of funds between campaigns, Holman said.
"It happens all the time," said Michael J. Malbin, the executive director of the Campaign Finance Institute, a campaign finance policy think tank. "House members take their bankrolls to run for the Senate, senators to run for president. As long as the money was raised for a federal office under federal contribution limits, it's okay."
Holman argued just because the practice is widespread doesn't mean it's fair. He said the policy can create an uneven playing field and permits candidates to use funds in a way that's contrary to donors' intentions.
"A donor may have supported Romney's presidential campaign against the Democratic nominee, but not support Romney's new campaign for Senate in the primary or general election," Holman said. "Yet, under the law, Romney has the authority to use those donors' funds without getting their approval."
Romney followed suit
At the beginning of 2018, Romney for President, Inc., the nonprofit organization that supported Romney's failed 2012 presidential bid, had roughly $1.3 million cash on hand. On Feb. 5, the organization transferred $1 million to Romney for Utah, Inc., according to an FEC filing.
To the chagrin of Romney's opponents, the transfer from Romney's presidential campaign to his Senate run comprises donations made mostly by non-Utah residents, according to the Salt Lake Tribune.
"The $1 million is indicative of what we're seeing from Mitt Romney. He's bringing in national money to make this a national-profile race," Wilson told the Tribune. "I'm a Utahn running for Utahns."
The April 15, 2018, FEC filing, which covered the first three months of the year, shows the organization also made smaller disbursements for consulting work, email services and bank fees. At the end of the reporting period, Romney for President, Inc., had $222,755 cash on hand.
Our ruling
Wilson's campaign said Romney is using "a million of his presidential campaign dollars to finance his Utah senate race."
The nonprofit organization that collected money for Romney's 2012 campaign transferred $1 million to Romney's bid for Utah's Senate seat.
We rate this True.