Bernie Sanders set off a firestorm over prisoners voting, but his facts are straight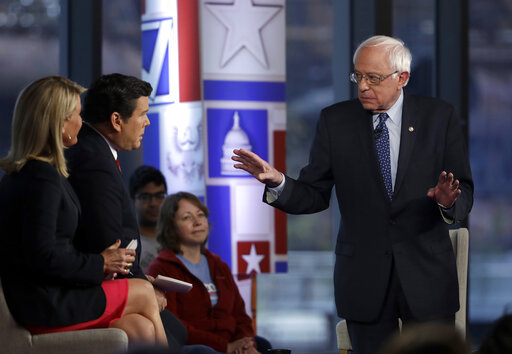 In comments that flooded national headlines, Sen. Bernie Sanders, I-Vt., said Monday night that he believes all prisoners — including "terrible people" like the Boston Marathon bomber — should be allowed to vote. He said people serving time, no matter how serious their offense, deserve enfranchisement.
"I think the right to vote is inherent to our democracy," Sanders said. "Yes, even for terrible people, because once you start chipping away and you say that person committed a terrible crime, not gonna let him vote, or that person did that, not gonna let that person vote — you're running down a slippery slope."
The debate over whether released felons should vote was at the center of recent election in Florida. "When they get out of jail, they certainly should have the right to vote," Sanders said this week. "I do believe that even if they are in jail, they're paying their price to society, but that should not take away their inherent American right to participate in our democracy."
Sanders said this ideal has been the reality in Vermont since the state's founding. "In my own state of Vermont, from the very first days of our state's history, what our Constitution says is that everybody can vote," he said. "That is true. So people in jail can vote."
It's certainly true that all of Vermont's prisoners currently enjoy the right to vote, but has that been true since day 1 of the state's founding? The Sanders camp said it could not immediately reply to questions about the candidate's claim.
Vermont is one of just two states, the other being Maine, where prisoners currently have the right to vote. The Burlington Free Press described Vermont's prison voting system in an article following on Sanders' remarks. Even prisoners being held out-of-state in Mississippi are given the opportunity to cast ballots in their most recent "voluntary" address back home.
Dylan Lynch, a policy associate from the National Conference on State Legislatures, noted that four other states introduced legislation this year that would allow people to vote while incarcerated for a felony. In Connecticut, the measure failed, but in Louisiana, Massachusetts and New Jersey, bills are still pending.
It's also true that Vermont has allowed incarcerated people to vote since its founding. Vermont Secretary of State Jim Condos confirmed that incarcerated Vermonters have "never had their right to vote taken away during incarceration."
In the 1790s, the Vermont Legislature tried to outlaw inmate voting, but it was overruled in a 1799 decision by the Council of Censors, a "now-defunct fourth branch of government that met every seven years to decide constitutional questions," according to a 2008 Associated Press story. Vermont's 1793 Constitution was interpreted to mean that the loss of voting rights could only occur in response to voter fraud. That case was cited as precedent as recently as the 1980s, in the most recent attempt to outlaw inmate voting in Vermont.
Vermont's current Constitution states that every person who is 18 years old and a citizen of the United States, "having resided in this State for the period established by the General Assembly and who is of a quiet and peaceable behavior … shall be entitled to all the privileges of a voter of this state."
Sean Morales-Doyle, a lawyer with the Brennan Center for Justice, a non-partisan public policy institute, said there are certain phrases about voting that are common in state Constitutions, but that being of "quiet and peaceable behavior" is not one of them, making it difficult to know exactly what it means. But he said specific laws around inmate voting, as opposed to the language in state constitutions, often decided whether prisoners can cast ballots.
Morales-Doyle said the timing of when disenfranchisement for prisoners was codified in states' laws is far from random. Before the passage of the 15th Amendment guaranteeing men the right to vote regardless of race, Morales-Doyle said very few states bothered to disenfranchise prisoners. But after the amendment passed, he said there was a wave of states that passed laws or amendments to take away prisoners' right to vote.
He said the fact that 48 states still don't allow incarcerated people to vote is unquestionably a relic of Jim Crow-era laws. But, Morales-Doyle said, after Florida's 2018 vote to enfranchise felons who have completed their sentences, there has been an increased interest in efforts to return voting rights to people across the criminal justice system.
In Vermont, though, even having total enfranchisement for prisoners still leaves a narrower field of voters than there once was. Peter Teachout, a professor at Vermont Law School, said from 1777 to 1824, the state was "so hungry for voters" that even non-U.S. citizens had the right to vote in Vermont. (Vermont's capital city voted last year to allow non-citizens to vote once again, a charter change now being debated in the state Legislature.)
The question that cannot be answered is whether Vermont's prisoners actually employed their Constitutional rights throughout history. Condos said the state doesn't track how many incarcerated Vermonters vote. Rather, they appear on the voter checklist in the same manner as all other voters. Condos said there's very little evidence to suggest inmates in Vermont institutions were historically able to exercise that right.
"That doesn't mean it's not the case, only that we have yet to find any evidence of it," Condos said. "Voting is the bedrock of our democracy, and we have worked hard to ensure that we're breaking down barriers for eligible voters to register and cast their ballots."
Our ruling
Sanders said: "In my own state of Vermont, from the very first days of our state's history, what our Constitution says is that everybody can vote. That is true. So people in jail can vote."
It's true that Vermont felons can vote from prison today, and we can't find anything to suggest that hasn't always been the case in the state. Though it seems quite possible that the efforts being made today to allow them to cast ballots hasn't always been made.
The Vermont Constitution requires people to be of "quiet and peaceable behavior," but otherwise places no restrictions on who can vote. And Sanders said prisoners "can" vote, not that they always have voted.
We rate this claim True.