Evers misstates schools bill as he vetoes it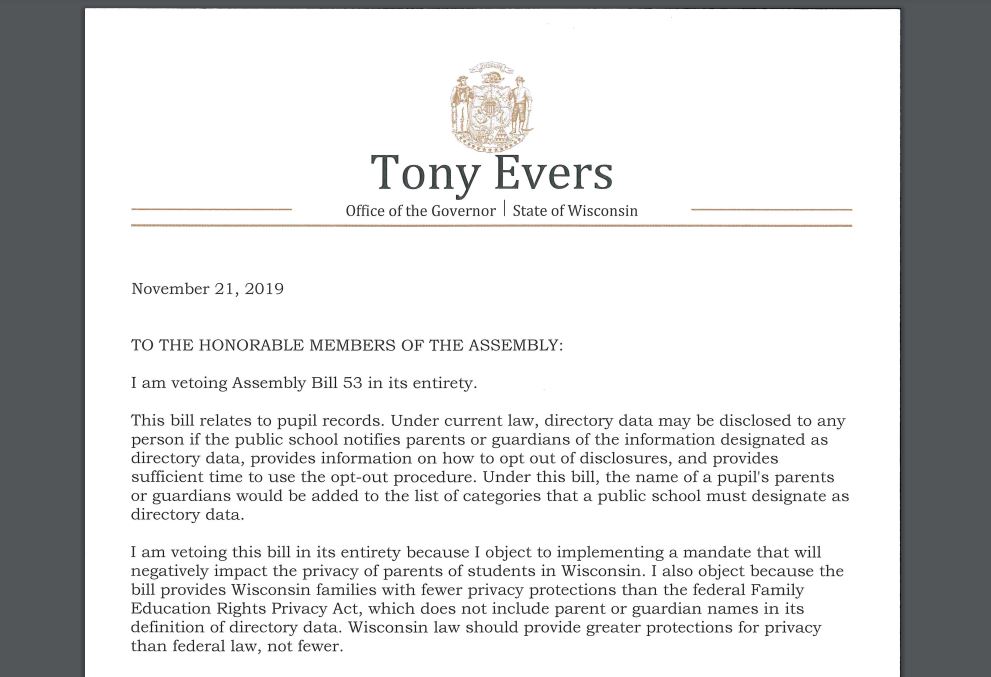 Tucked into the back end of a news release highlighting 13 bills Gov. Tony Evers signed into law, a single line noted Evers also vetoed an obscure Republican-sponsored schools bill.
A veto is not that surprising, given that the governor and Republican-led Legislature have been at loggerheads over just about everything since Evers took office. And the bill and veto failed to garner any media attention.
Evers, who spent almost a decade as state schools superintendent, objected to how the bill addressed student records in his Nov. 21, 2019, veto message.
"Under this bill, the name of a pupil's parents or guardians would be added to the list of categories that a public school must designate as directory data," Evers wrote. "I am vetoing this bill in its entirety because I object to implementing a mandate that will negatively impact the privacy of parents of students in Wisconsin."
In other words, he's arguing the bill would require public release of parent names.
There's just one problem: The bill didn't do that.
What the bill changed
The bill in question originated with state Rep. Mark Born, R-Beaver Dam.
According to Born's staff, while attending a task force meeting with school administrators in Dodge County, the lawmaker learned of a 2018 situation where police were called to a student's home for a potentially suicidal parent. Police contacted the school trying to ensure the student wouldn't be dropped off by a bus during the incident, but district officials said they weren't allowed to release information on which student was related to the parent in question.
Under current state law, districts can designate specific "directory data" that is releasable to the public. These are the categories: a pupil's name, address, telephone listing, date and place of birth, major field of study, participation in officially recognized activities and sports, weight and height (for those on a sports team), dates of attendance, photographs, degrees and awards received and the name of the school most recently attended.
That list doesn't include the name of the students' parent or guardian.
So Born proposed a bill, later passed by the Republican Assembly and Senate, that added "the name of the pupil's parents or guardians" to the preceding list.
The bill did not affect the way directory data is used or released — just what is included in the data set.
Put this next part in the wonky-but-significant category.
Evers vs. reality
State statute does not require any of the directory data be released, giving two groups power to limit it.
The school district decides which of those categories it will designate as directory data for that district.
Parents and guardians then have up to two weeks after the district decision to decide if they want information about their student to be publicly available, or if they must approve any release in advance.
A Wisconsin Department of Public Instruction handbook on student records references this as well, saying, "The district may choose some, none or all of the data as directory data."
Nothing matches the mandate claimed by Evers in his veto message.
The lead sponsors of the bill blasted Evers in a news release after the veto came down.
"His lack of understanding of the legislation is quite apparent, and it makes us question whether or not he's even reading the bills that his staff puts in front of him," Born said.
What makes Evers' veto message especially unusual is that it starts out by describing the parental opt-out accurately: "Under current law, directory data may be disclosed to any person if the public school notifies parents or guardians of the information designated as directory data, provides information on how to opt out of disclosures, and provides sufficient time to use the opt-out procedure."
But the next two sentences then refer to the bill as mandating this information be released.
"The Governor must have forgotten about that between his opening paragraph explaining the ability to do so and his conclusion where he used it as an excuse to veto it," state Sen. Luther Olsen, R-Ripon and the lead Senate sponsor, said in the news release.
Eleven days after the veto and callouts from Republican legislators, Evers' office on Dec. 2, 2019, shared an "errata" with PolitiFact Wisconsin that retracted the two references to a mandate. It was dated Nov. 29, 2019, but as of Dec. 3, 2019, had not yet been published among the press releases on Evers' website that announced the original veto or with the official legislative bill history.
Evers spokeswoman Melissa Baldauff said Evers' legal team looked into the matter and issued the errata as a result of the inquiry by PolitiFact Wisconsin.
"We used an errata here for the same reason that the courts do: to correct an error so that there isn't any confusion regarding the meaning or intent of the document," Baldauff said in an email. "It is a process frequently used to correct legal documents after publication. The Wisconsin Court of Appeals, in particular, frequently issues erratas."
Baldauff declined to detail how the mistake occurred but said Evers and his staff read the law, and "the intent of his veto is not changed by the errata."
Our ruling
While vetoing a pupil records law, Evers said the law would have mandated that schools release the names of students' parents or guardians. He stated that the mandate was his main reason for vetoing the measure.
But there is no mandate — something Evers' office eventually admitted 11 days later.
State statute is clear that the district can choose which student information is released, and even after that parents or guardians can choose to opt out of releasing any student information.
It's an admittedly obscure, in-the-weeds kind of law, but it takes on a larger significance since the governor — or a staffer working on his behalf — either fundamentally misunderstood how the law works or intentionally misstated it to support his veto.
We rate Evers' claim False.