Sen. Scott Fitzgerald misfires with claim on gun background checks and Second Amendment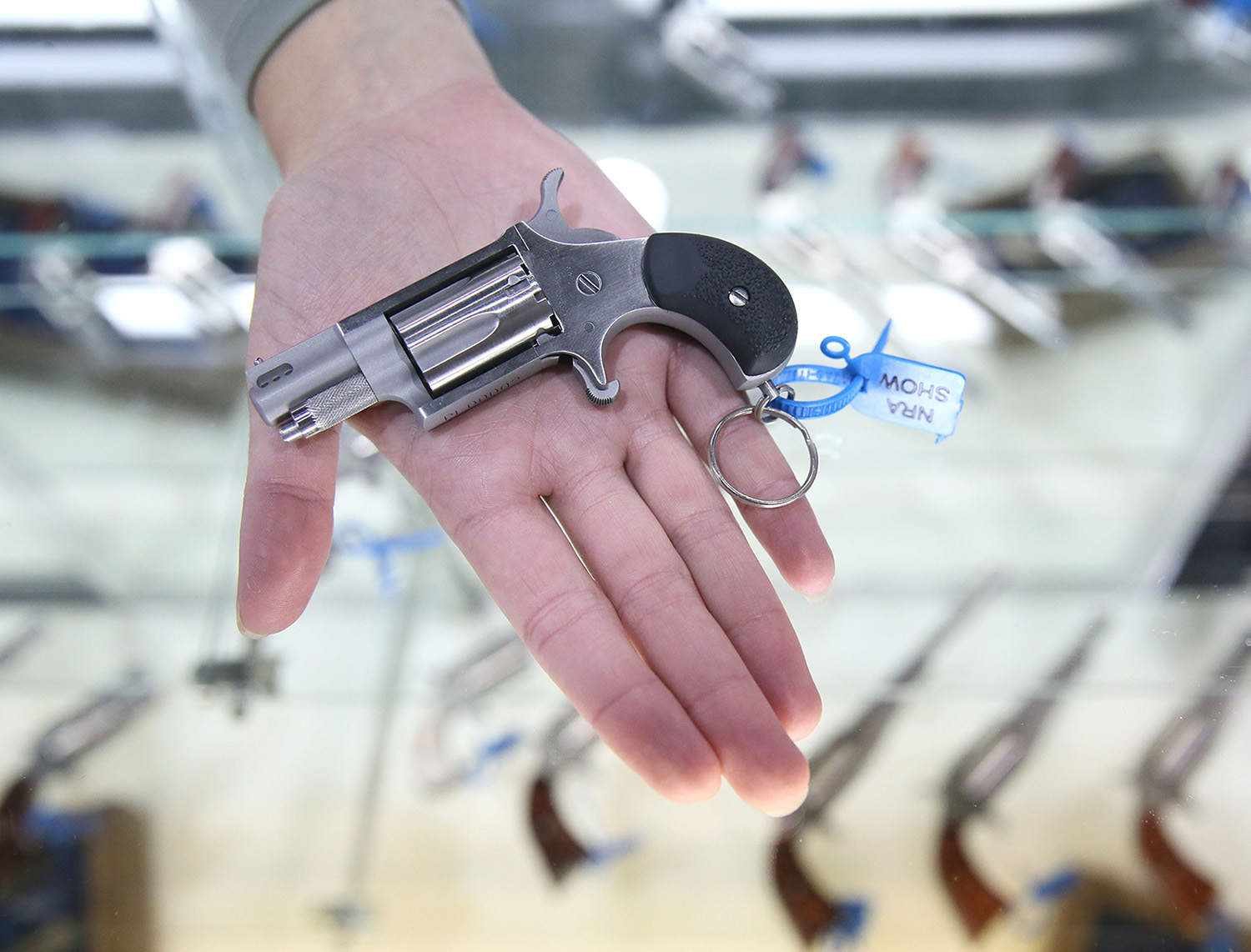 Editor's Note: This item was updated to clarify that firearms dealers are required to fill out and reatain ATF Form 4473 for all types of gun purchases.
Gun control is a contentious topic in Wisconsin's divided government, with Democratic Gov. Tony Evers planning to force the issue by calling the Republican-controlled Legislature into a special session.
The debate here and elsewhere typically centers on two types of legislation, both of which have been implemented in many other states:
Red flag laws — These allow judges to temporarily remove firearms from people acting dangerously.
Universal background checks — These measures require background checks for sales by private parties, in addition to gun dealers, which are already required by federal law.
Senate Majority Leader Scott Fitzgerald was asked to weigh in on the topic in a Sept. 22, 2019, appearance on WISN-TV's "UpFront." He said he didn't see any momentum for red flag laws, then pivoted, unprompted, to the other gun control flashpoint.
"Universal background checks, too," said the Juneau Republican, who recently announced he is running for a seat in the U.S. House of Representatives. "I mean, any time you're going to ask somebody to submit the serial numbers to their guns to a state or federal official, it's going to violate the Second Amendment."
This raises some questions worth examining. People can disagree on whether universal background checks are a good idea (polling shows most Wisconsinites think so), but we should at least be able to agree on what they are.
So, do background checks really involve submitting serial numbers to the government?
And would that violate the Second Amendment?
How background checks work
Fitzgerald's office did not reply to our requests for evidence of his claim and more details on his position.
But his response in the TV interview suggests universal background checks are tantamount to a gun registry — where the government keeps a record of which guns each person owns. It's a common argument from opponents of universal background checks, who see it as a step toward confiscation.
But it's an over-simplification of a nuanced issue.
There's no, well, universal version of universal background checks, but the basic concept is that private sellers are subject to the same general requirements as licensed gun dealers, including background checks on the would-be purchaser and keeping records of the sale.
Wisconsin is one of 29 states that currently do not require background checks or record-keeping on private gun sales. At the federal level, the U.S. Bureau of Alcohol, Tobacco, Firearms and Explosives does not regulate private sales as it does those involving licensed firearm dealers.
Some states — including California, Colorado, Delaware, District of Columbia, New York, Oregon, Vermont and Washington — require all private sales be conducted through firearm dealers, who then retain sales records, according to the Giffords Law Center to Prevent Gun Violence, a research and advocacy organization. They call that the "most comprehensive policy option."
Other states give private sellers the option of going through law enforcement directly for the background check. The record-keeping requirements vary, with some states leaving that to the individual selling the gun and others requiring transfers be reported to local law enforcement.
RELATED: Can you buy a gun in Wisconsin after a felony or restraining order?
In Wisconsin, any universal background check would have to be integrated with the current system for gun dealer sales, which splits background check responsibilities based on the type of gun.
The state Department of Justice handles background checks for handgun sales, while long gun sales go through the National Criminal Background Check Systems, run by the FBI.
What information is submitted to the government
Fitzgerald says he objects to universal background checks because of the new requirements they would place on private gun sales, so let's examine how those could look.
If Wisconsin implemented a comprehensive universal background check system, routing all sales through dealers, the flow of information to authorities would be the same as it is now for dealer sales.
For long gun sales, dealers fill out ATF form 4473 — which includes the gun make and serial number — and submit it to the FBI's criminal background system. The FBI conducts the background check but is required by federal law to destroy identifying information on the purchaser and gun within 24 hours.
The dealer is then required to keep a copy of the 4473 form for at least 20 years. After that point, or if the dealer goes out of business, the form is turned over to the ATF. But federal law forbids the ATF from storing these records in a searchable format or otherwise using them "to establish any system for the registration of firearms." The records are retained using decades-old microfilm technology, making gun tracing a painstaking, manual process.
For handguns, Wisconsin dealers still fill out and retain the form 4473, but background checks are done by the Wisconsin Department of Justice. State law requires dealers to submit the name, date of birth, gender, Social Security number and other identifying information to the Wisconsin DOJ. But the agency does not receive or store serial numbers or any other firearm information, said spokeswoman Gillian Drummond.
So under a comprehensive system, serial numbers would — eventually — make it to a government agency. But it is typically decades before that happens, and the agency is then prohibited from turning those into a database.
If Wisconsin opted for a less comprehensive system, less information would go to the government. For example, if the state DOJ were tasked with all background checks for private sales and private sellers were required to maintain their own records (as in Illinois), no serial numbers would be submitted to any government entity for any private gun sales.
Would a gun registry violate the Second Amendment?
All of this brings us to the last element of Fitzgerald's claim — that submitting serial numbers to government officials violates the Second Amendment.
Courts have said that isn't true.
Six states and the District of Columbia already require registration of some or all firearms, according to the Giffords Law Center.
"These state laws have been in place for decades and have not been overturned on the grounds that they violate an individual's Second Amendment rights," said Daniel Webster, director of the Johns Hopkins Center for Gun Policy and Research. "Nothing in any Supreme Court ruling to date would suggest that a government requirement that gun owners provide serial numbers for the guns they purchase or own to government officials violates the Second Amendment."
For example, a challenge to the Washington, D.C. registration requirement in 2015 was largely upheld by a federal appeals court. The ruling stripped away some elements of the law but left untouched the basic requirement that guns be registered.
Our ruling
Fitzgerald says universal background checks would involve asking people to submit their guns' serial numbers to the government, which would violate the Second Amendment.
The serial numbers that are submitted for background checks don't end up in government hands for years or decades. And then the federal agency is barred from fashioning them into a database.
What's more, there is no evidence such a requirement would violate the Second Amendment, since several states have gun registries that have not been struck down by the courts — and a similar provision was upheld by federal courts in a Washington, D.C. case.
We define Mostly False as "a statement that contains an element of truth but ignores critical facts that would give a different impression." That fits here.