Stand up for the facts!
Our only agenda is to publish the truth so you can be an informed participant in democracy.
We need your help.
I would like to contribute
Fact-checking the Florida primary candidates for governor
Florida's candidates for governor are competing in a state reeling from mass shootings and environmental problems, and ground zero for the nation's debate over immigration.
On Aug. 28, Florida voters head to the polls to choose a Democrat and a Republican to compete in November. They are vying to replace term-limited Gov. Rick Scott, a Republican challenging U.S. Sen. Bill Nelson, Florida's lone Democratic statewide politician. More than 1.8 million of Florida's 13 million registered voters had already voted by mail or early as of Monday morning.
President Donald Trump narrowly won the state in 2016, and many candidates are seeking to either align themselves for or against Trump -- and for or against Scott's legacy.
The primaries are the first statewide electoral test of the influence of both Trump's presidency and the mass shooting on Marjory Stoneman Douglas high school in Parkland.
We have fact-checked about two dozen statements in the governor's primaries. Here's a look at both the Republican and the Democratic contests.
Republican primary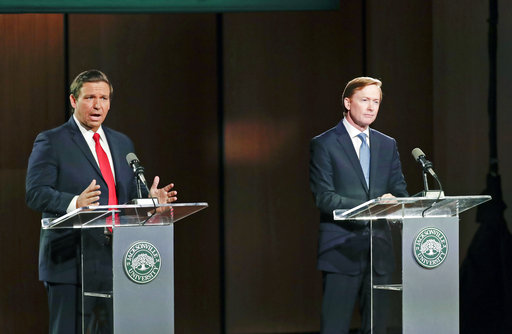 For the GOP, Adam Putnam was the early frontrunner. He parlayed his family's roots in citrus farming into a two-decade political career that included time in Congress. As state agriculture commissioner, he oversees the state's gun permit program.
In December, Trump shook up the race when he tweeted praise of U.S. Rep. Ron DeSantis, a Harvard law graduate and Navy JAG officer who served in Iraq. Trump later tweeted his endorsement and rallied for DeSantis in Tampa. DeSantis first won a northeastern Florida seat in Congress in 2012 and later joined the conservative Freedom Caucus. Trump's support appeared to help DeSantis leap ahead in the polls, though a recent poll showed a tight race.
While DeSantis has highlighted his support from Trump, Putnam has portrayed himself as more knowledgeable about Florida issues. They have many similar conservative positions, but they've argued about the details of their records on immigration, taxes, Social Security and the state's algae bloom crisis.
The Republican victor will top the state ticket Nov. 6 when Floridians will also elect the other members of the Cabinet, including the attorney general. Republicans are hoping to maintain party control of all four Cabinet positions and the Legislature as well as oust Nelson in a swing state with slightly more Democratic registered voters than Republicans.
Fact-checks
Putnam: Says Ron DeSantis "voted in an agricultural bill to give food stamps to illegal immigrants." Pants on Fire
Putnam: "Congressman DeSantis voted to cut Social Security and Medicare" and "voted to increase the retirement age." Half True
Putnam: "Congressman DeSantis sponsored legislation to increase sales taxes by 23 percent, hurting families, destroying jobs, devastating tourism." Mostly False
DeSantis: Says Putnam "opposed bringing troops, putting troops on our southern border using the National Guard." Half True
DeSantis: "The bulk of the problem with the opioid epidemic is the fentanyl and all the synthetic drugs coming across the southern border." Half True
DeSantis: In one year, the United Nations "did 24 resolutions and 20 of them were against Israel." False
Democratic primary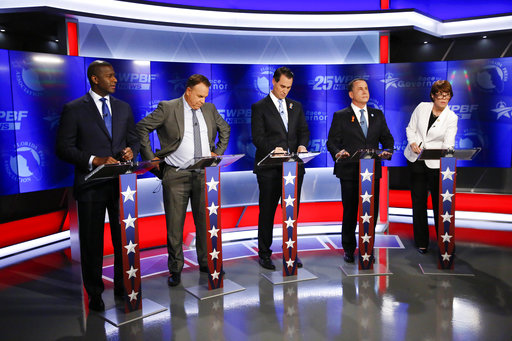 In the home stretch, the crowded Democratic battle has largely focused on former U.S. Rep. Gwen Graham and former Miami Beach mayor Philip Levine.
The daughter of former governor and U.S. Senator Bob Graham, Gwen Graham was a rising Democratic star when she unseated a Republican incumbent in 2014, a tough year for Democrats. But redistricting indicated she would be a one-term congresswoman, leading her to jump into the governor's race.
Graham has taken some heat from the left for sometimes siding with Republicans, including authorizing the Keystone pipeline construction, which President Barack Obama vetoed. She was a reliable Democratic vote on other issues, such as health care and abortion. Her supporters say that the centrist label may help her in a general election.
Levine is a self-made businessman who grew his fortunes through a cruise marketing company. He served as mayor of Miami Beach between 2013 and 2017 and has touted his efforts to combat sea level rise and climate change which included a controversial plan to raise roads.
Both Graham and Levine have been critical of Scott and Trump and have argued in favor of more gun control.
Graham has generally led in the polls this summer, according to a Real Clear Politics average; however a recent poll showed she is in a dead heat with Levine.
Gillum, an African-American who has emphasized his working class roots, has drawn the backing of U.S. Sen. Bernie Sanders and the progressive wing of the party in a state that Sanders overwhelmingly lost in the 2016 primary.
Also running are Palm Beach County businessman Jeff Greene and Orlando businessman Chris King.
The Democrat who wins will face an uphill battle: the last Democrat to win a Florida governor's race was 1994.
Fact-checks
Graham: "So far this year, more students have been killed in schools than soldiers in combat zones." Mostly True
Graham: "When a sinkhole began dumping toxic water in Florida's aquifer, Rick Scott tried to cover it up." Mostly False
Levine: Says Florida "workers are paid $8.10 an hour, and our current governor (Rick Scott) runs ads bragging about it." Mostly False
Gillum: Under Philip Levine, Miami Beach "passed a resolution to ban assault rifles, which was not enforceable and never enforced. He passed a resolution to raise the minimum wage, which actually no one got the benefit of because it was not enforced." Mostly True
Collective super PAC: Says Gwen Graham "voted against President Obama 52 percent of the time." Half True
Unite Here Florida PAC: "Gwen Graham owns a $14 million stake in her family's company that's behind the American Dream Mall. ... While Graham and her family will make millions, Florida will be stuck with poverty wage jobs, endangered wildlife and massive traffic congestion." Half True
Spot a claim in the general election we should fact-check? Email [email protected].
President Donald Trump, Tweet, Dec. 22, 2017
President Donald Trump, Tweet, June 22, 2018
Real Clear Politics, Republican and Democrat primary polls in Florida, 2018
Florida Division of Elections, Active voters by party, July 30, 2018
Tampa Bay Times, "Philip Levine is basing his run for governor on his climate change record — which is complicated," May 24, 2018
Tampa Bay Times, "How Adam Putnam turned his agriculture roots into a political machine," Aug. 16, 2018
Tampa Bay Times, "Poll: Ron DeSantis vs. Adam Putnam could be photo finish," Aug. 21, 2018
Tampa Bay Times, "Poll: Dead heat between Philip Levine and Gwen Graham," Aug. 22, 2018
See individual fact-checks for additional sources
Browse the Truth-O-Meter
More by Amy Sherman