Stand up for the facts!
Our only agenda is to publish the truth so you can be an informed participant in democracy.
We need your help.
I would like to contribute
Boosters say Sacramento's MLS stadium will be an economic game-changer. Economists aren't so sure.
Sacramento leaders are bullish that the city's newly-awarded Major League Soccer franchise and stadium will be an economic win for the region.
Mayor Darrell Steinberg even predicted on Tuesday that the stadium and surrounding Railyards development will lead to "a billion dollars worth of return," noting the city approved a $33 million subsidy package in April for the project's infrastructure and fee waivers.
"We're not just talking about a soccer stadium," Steinberg said on Capital Public Radio's Insight program. "We're talking about a $400 million civic center courthouse, we're talking about a major Kaiser hospital and health facility. We're talking about housing. We're talking about making those central shops a public market or another destination."
During his announcement that Sacramento Republic FC would become the league's 29th franchise, MLS Commissioner Don Garber added: "The MLS stadium and surrounding entertainment and business district will be a centerpiece for economic development and a year-round destination for the community."
This sunny outlook isn't new. In 2015, a report commissioned by the project's supporters found the stadium could generate $1.25 billion in economic impact for the region over 30 years. It also said more than 1,700 jobs would be created during stadium construction and up to 220 jobs would be generated for ongoing stadium operations.
Optimism aside, we wanted to know whether economists agreed with these predictions. Will Sacramento's stadium really be the game-changer boosters claim?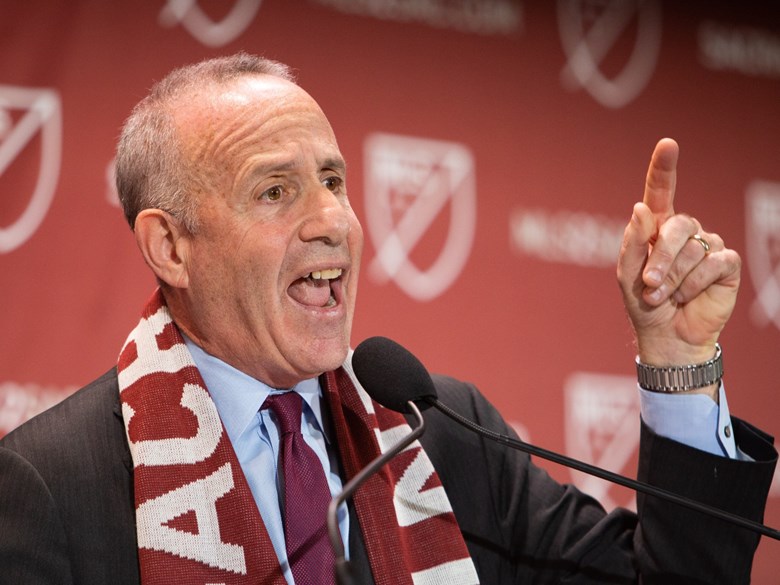 Sacramento Mayor Darrell Steinberg speaks after MLS awards Sacramento the league's 29th franchise. Andrew Nixon / Capital Public Radio
Mixed opinions
We spoke with four economists and research experts and found mixed views. The fact that Sacramento's $252 million stadium will be paid for mostly by private dollars was a positive note, though several said that alone would not determine the project's overall impact.
Each cautioned that stadium projects can have the effect of concentrating spending in one part of a city, rather than generating new revenue.
Two, however, said the stadium would also attract tourists and their money and could be a recruiting tool for Sacramento-based companies to entice millennials or younger workers to the Capital City.
"It's going to, in my view, over the long haul, generate the kind of visibility, exposure, and momentum that would help attract other events to the region," said Patrick Rishe, a sports business economist at Washington University in St. Louis. He cited "U.S. men's or women's national teams soccer matches, which can be a nice spike to the region."
A second said the stadium would have a mostly positive effect, but cautioned it would be "like a mid-sized business" moving to Sacramento.
"It's not going to have an enormous future economic impact, not in a game-changing type characteristic," said Jeff Michael, executive director of the Center for Business and Policy Research at the University of the Pacific in Stockton.
He said Amazon opening new warehouses in Sacramento and companies such as Fortune 500 health insurer Centene, which plans to open a new campus north of downtown Sacramento and bring thousands of new jobs, will have a much larger influence.
"This announcement is nice," Michael said of the MLS stadium. "But it's no match for what Sacramento has seen in recent years."
Still, he added, sports franchises offer some benefits that can't be quantified. Referring to the other businesses that have moved to town: "none of those had a block party."
The soccer franchise's lead investor is billionaire Ron Burkle, who also owns the Pittsburgh Penguins hockey team. Along with paying for stadium construction, the franchise plans to develop a 17-acre entertainment and shopping district next to the stadium.
It will be the second major league sports facility to open in Sacramento in the past decade. The city partnered with the Sacramento Kings and agreed to pay a much larger subsidy — $255 million — for the team's new $566 million downtown NBA arena in 2016. Since opening, new restaurants and bars, a hotel and retail shops have opened nearby.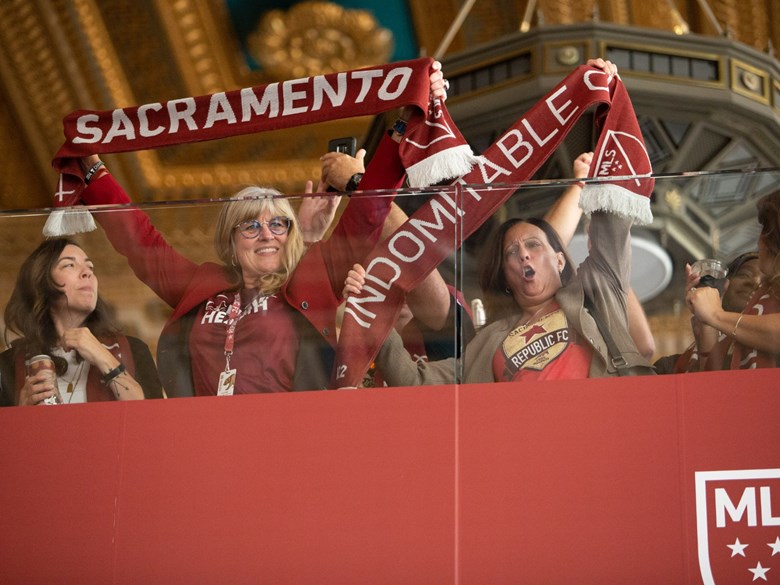 Fans gather for the MLS franchise announcement in Sacramento. Andrew Nixon / Capital Public Radio
Not a win for Sacramento
Despite claims by supporters about the soccer stadium's economic impact, some researchers told us there's simply no evidence that sports stadiums anywhere boost a region's economy, with one calling the predictions of a billion dollar impact in Sacramento "propaganda."
That's how Brad Humphreys, a professor at the College of Business and Economics at West Virginia University, described the findings in the report commissioned by Sacramento's stadium backers. Capitol Public Finance, which produced the report, did not respond to a request for comment.
Humphreys co-authored a 2008 summary of research on the economic impact of sports stadiums. It reviewed more than 40 academic studies, spanning nearly two decades, that examined public subsidies for professional sports teams.
"There now exists almost 20 years of research on the economic impact of professional sports franchises and facilities on the local economy," he wrote in the summary, reporting that studies published in peer-reviewed economic journals show there is "almost no evidence that professional sports franchises and facilities have a measurable economic impact on the economy."
Reached by phone, Humphreys said the fact that Sacramento's stadium is mostly privately financed "is a good thing. That's in the win column."
But, he said, whether the stadium has a positive economic impact isn't tied to how it's financed. He said many of the arguments for a stadium, such as the idea that it could be a recruitment tool sound nice, but there's "not a shred of evidence backing it up."
Same economic activity 'as a supermarket'
Another expert pointed to the lack of development near MLS stadiums in Chester, PA, Washington, D.C. and Harrison, N.J., where the same promises were made about an economic boost, but nothing has changed.
"Those MLS stadiums that do have adjacent economic activity are riding the coattails of those trends, not causing them," Rick Eckstein, a professor of sociology at Villanova University, who studies sports stadiums, wrote in an email. "True, it can rev up these existing businesses, but it won't be the genesis of them. A stadium generates about the same economic activity as a small-medium supermarket. And local residents would probably rather have a supermarket."
The claims about Sacramento's stadium are predictions right now, and there's disagreement from the experts about how much, if at all, it will boost the region's economy. It's too early to score them as true or false. But we'll stay on the ball, and track the stadium's development and economic impact on the region.
Sacramento Mayor Darrell Steinberg, interview on CapRadio Insight, Oct. 22, 2019
Don Garber, MLS news conference, Oct. 21, 2010
Patrick Rishe, sports business economist, Washington University in St. Louis, interview on CapRadio Insight, Oct. 21, 2019
Brad Humphreys, professor of economics, College of Business and Economics, West Virginia University, phone interview Oct. 22, 2019
Jeff Michael, executive director of the Center for Business and Policy Research at the University of the Pacific, phone interview Oct. 21, 2019
Rick Eckstein, professor of sociology, Villanova University, email exchange, Oct. 21, 2019
CapRadio, Sacramento's Railyards District Prepares For Potential MLS Announcement, Oct. 17, 2019
PolitiFact Rhode Island, R.I. GOP official Steven Frias says research finds no economic benefit from having sports franchise, March 7, 2015
Downtown Sacramento Partnership, $1.25 Billion Economic Impact Anticipated from New Downtown MLS Stadium, accessed October 2019
Econ Journal Watch, Do Economists Reach a Conclusion on Subsidies for Sports Franchises, Stadiums, and Mega-Events?, September 2008
Browse the Truth-O-Meter
More by Chris Nichols