Stand up for the facts!
Our only agenda is to publish the truth so you can be an informed participant in democracy.
We need your help.
I would like to contribute
'Died Suddenly' repeats debunked COVID-19 vaccine claims, promotes conspiracy theory
If Your Time is short
"Died Suddenly," a new anti-vaccine movie, recirculates debunked claims and promotes unsubstantiated conspiracy theories about COVID-19 vaccines.

The film incorporates news clips and headlines about people whose deaths were unrelated to COVID-19 or COVID-19 vaccines.

Some embalmers have reported finding abnormal clots when embalming bodies since the COVID-19 pandemic began, but the clots were found among both the unvaccinated and the vaccinated. And embalmers do not receive medical training that would qualify them to determine connections between COVID-19 vaccine and blood clots.
The new anti-vaccine movie "Died Suddenly" begins with an ominous warning: "This film is not suitable for children."
Another warning to viewers would have been warranted, too — that the film's claims are unsubstantiated and linked to conspiracy theories.
"Died Suddenly" was produced by Stew Peters, a far-right radio show host with a history of spreading conspiracy theories about COVID-19. A previous Peters film, "Watch the Water," made the Pants on Fire claim that the coronavirus is a synthetic snake venom spread via COVID-19 vaccines and drinking water.
The new film, released Nov. 21, revives several debunked claims and repackages them to allege that COVID-19 vaccines are part of a depopulation scheme by global elites who want to establish a global regime.
Social media users spread the film's misinformation widely, posting screenshots and clips from it. The posts were flagged as part of Facebook's efforts to combat false news and misinformation on its News Feed. (Read more about our partnership with Meta, which owns Facebook and Instagram.)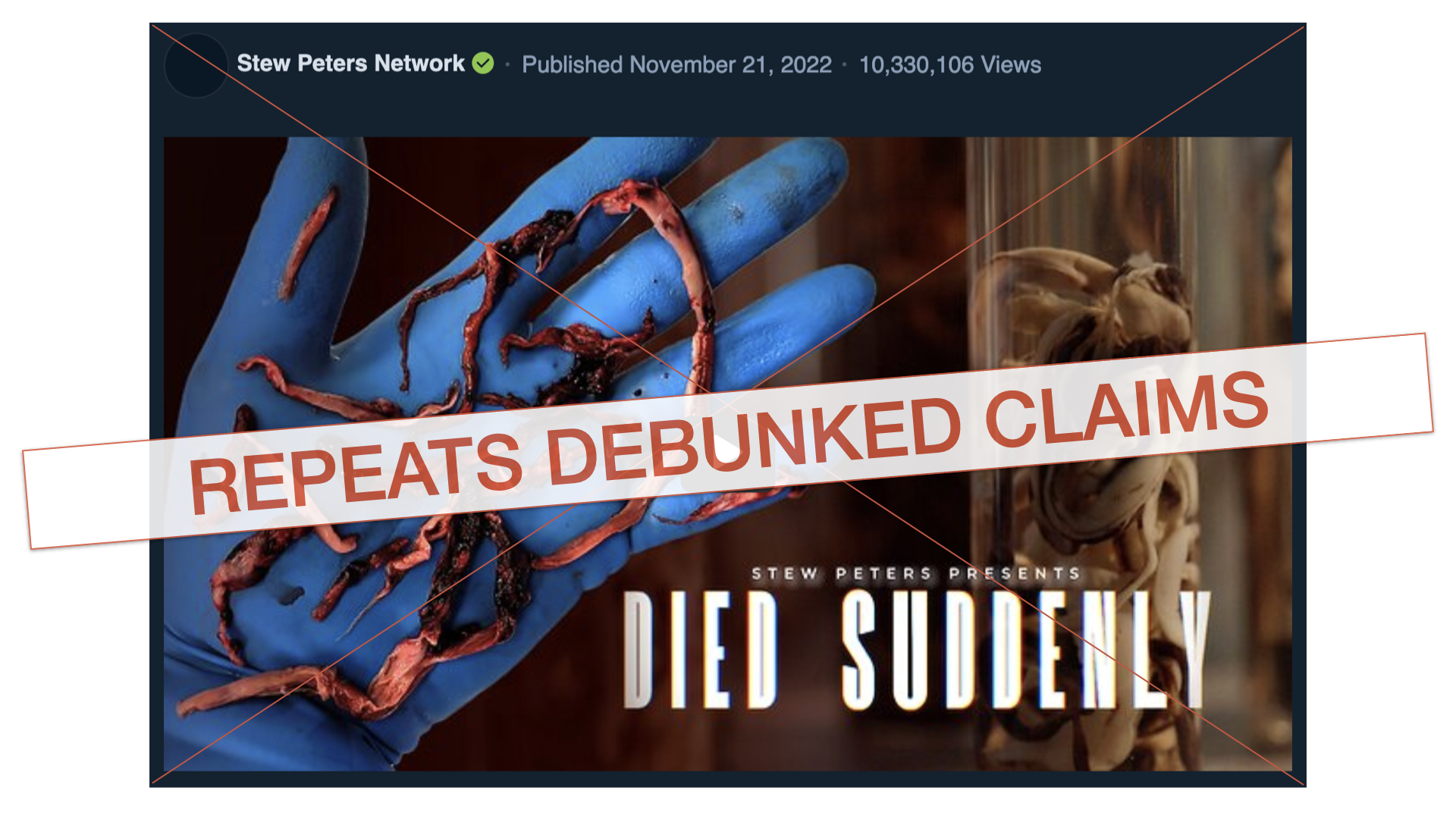 (Screenshot from Rumble.)
Katie McCarthy, an associate investigative researcher for the Anti-Defamation League's Center on Extremism, said the film is dangerous because it takes "bits and pieces of truth and twists them to promote a misleading narrative."
A woman featured in the film who said she'd been embalming bodies for more than a decade described long, allegedly abnormal clots and concluded, "I have never seen anything like this until the vaccination." An anonymous narrator said, "We know something different is going on. We don't know exactly what's going on. But the timing of it is just hand in hand — we're connecting dots here. And it certainly appears that there's some relationship to the vaccines and these obstructions that we're seeing."
The element of truth is that some COVID-19 vaccines have been linked to blood clots and that some embalmers have reported abnormal clots when embalming bodies. But that doesn't tell the whole story.
Earlier this year, experts told PolitiFact that some embalmers had noticed a greater incidence of blood clots in COVID-related deaths among both the unvaccinated and the vaccinated.
Dr. Yazan Abou-Ismail, a hematologist and an assistant professor of medicine at the University of Utah, said he's heard some embalmers' claims but doesn't know of any well-designed, scientific studies that evaluated the circumstances or cause of the clots. That makes it "hard to make any meaningful sense" of the reported findings.
The AstraZeneca and Johnson & Johnson COVID-19 vaccines have been linked to a higher risk for a rare syndrome called vaccine-induced thrombotic thrombocytopenia or VITT, a serious condition that is a combination of a blood clot and low platelets. Abou-Ismail called the condition "astoundingly rare" and said it is now recognizable and treatable.
The risk of clots has been studied, and doctors still say the vaccines are safe. Abou-Ismail emphasized that "the risk of getting a blood clot from COVID infection far, far, far exceeds that of anything happening as a result of the vaccine."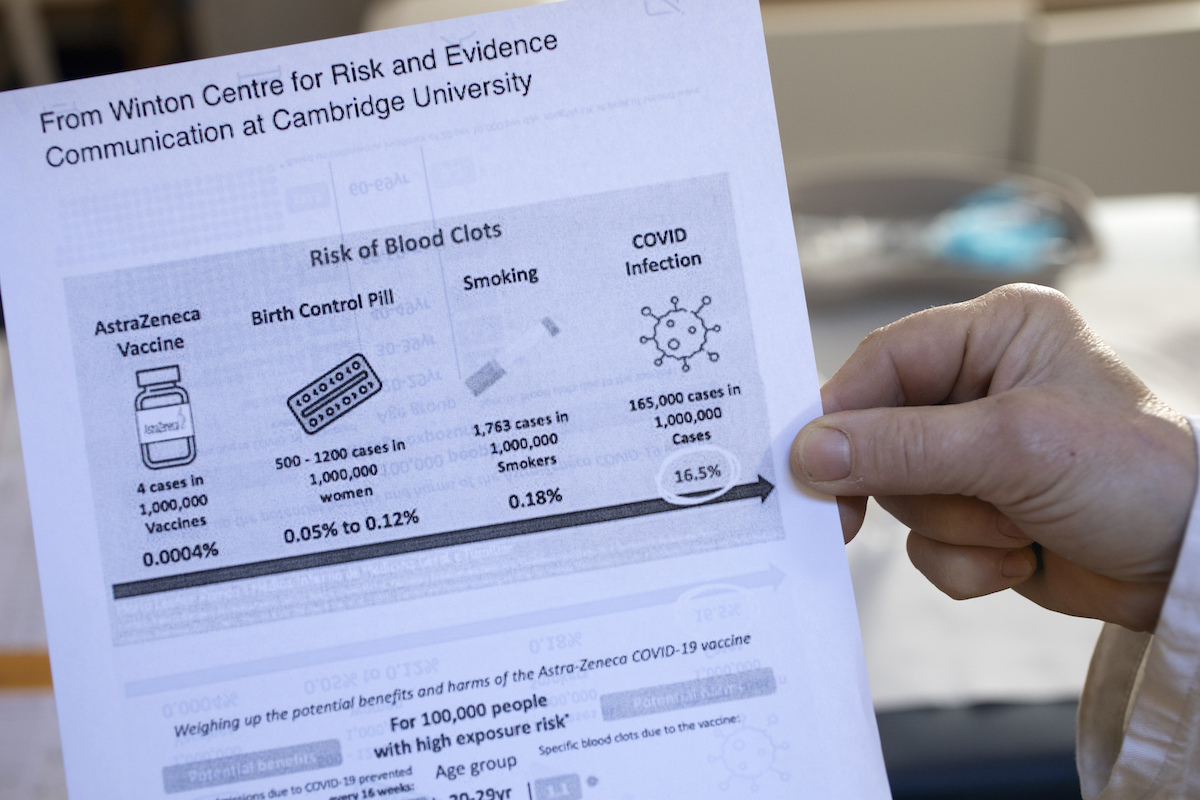 A general practitioner shows the information sheet about the risk of blood clots that is given to people who are injected with the AstraZeneca vaccine against COVID-19 on April 14, 2021, during a campaign in Amsterdam, Netherlands. (AP)
The film's 'evidence' does not withstand scrutiny
"Died Suddenly" has many red flags indicating that it was promoting harmful conspiracy theories, McCarthy said.
The "evidence" in the film quickly falls apart under scrutiny, she said. For example, the movie showed video clips of people who collapsed or died unexpectedly and implied those people died because of COVID-19 vaccines. But many of those examples were clearly not linked to COVID-19 or vaccines:
One of the people featured in a montage was Colette Baine, a high school senior who died unexpectedly in August 2022. Neither local news reports nor Baine's obituary linked her death to COVID-19 vaccines. Baine had epilepsy, which is believed to have caused her death. In September, her classmates wore purple and held a moment of silence to raise awareness about epilepsy.

The film highlighted an article titled, "My kind, compassionate son died unexpectedly. This is what I want you to know about grief." That HuffPost article was written by a woman whose son was killed in a car accident.
Another clip showed a woman fainting on a train platform and falling under a moving train. Newsweek reported that the woman had survived and was undergoing treatment for hearing and nutrition issues. It was unclear what caused her to lose consciousness.
McCarthy said the film also relies heavily on statements from one embalmer to promote its core claim that the vaccines are causing abnormal blood clots. That embalmer, Richard Hirschman, has promoted his baseless claims about clots and COVID-19 vaccines on shows like InfoWars, a conspiracy-oriented site run and hosted by Alex Jones.
Jessica Koth, a spokesperson for the National Funeral Directors Association. said although medical examiners, physicians or scientists are qualified to conduct research and determine connections between COVID-19 vaccines and blood clots found in bodies, embalmers are not.
Ben Schmidt, a licensed funeral director and embalmer who has written mortuary science textbooks, echoed Koth's point.
"We receive no medical training that allows us to identify unusual clots," Schmidt said. Something that looks unusual to one embalmer "may be a very common sight to another."
The postmortem clots shown in the film weren't unusual, Schmidt added. After death, gravity pulls the moisture in blood toward the ground, leaving behind proteins that can coagulate.
"This is common during refrigeration," he said. "Formaldehyde has a dehydrating and coagulating effect on blood as part of its cross-linking reaction. That can also account for what would appear as postmortem clots."
Schmidt also noted that it's "almost unheard of" for embalmers to know the vaccine history of those being embalmed.
"Died Suddenly" also included footage presented as "evidence" that couldn't possibly have been linked to COVID-19 vaccines. About 53 minutes in, the movie includes footage showing the removal of a pulmonary embolism as proof that the COVID-19 vaccines cause blood clots. But that footage was taken from an educational video posted online in April 2019, before the COVID-19 vaccines existed, social media users pointed out.
The anti-vax film DIED SUDDENLY claims the COVID vaccine is causing blood clots that were "never seen" before 2021.

I took a look at the footage they used to prove this and I found a problem.

WATCH FOR YOURSELF!#DiedSuddenly pic.twitter.com/LhtR41mgWO

— The Real Truther (@thereal_truther) November 26, 2022
The film spreads previously debunked claims, conspiracy theories
"Died Suddenly" brought several other inaccurate claims back into the limelight. For example:
That a 40% increase in deaths identified by a life insurance company was from COVID-19 vaccines. We found no evidence supporting that claim. Research shows that COVID-19 is likely responsible for the increase.

That the COVID-19 vaccines were linked to an increase in miscarriages and stillbirths. Research shows no increased risk of spontaneous abortion or miscarriage after COVID-19 vaccination.
Underpinning those claims is The Great Reset conspiracy theory, which holds that elites who intend to establish a totalitarian global regime are using the coronavirus to depopulate the earth and reorganize society.
PolitiFact has repeatedly debunked Great Reset-linked claims.
One woman featured in the film claimed the COVID-19 vaccines were bioweapons meant to "depopulate and control the population of the world." A U.K.-based funeral director said outright: "This is The Great Reset."
McCarthy of the Anti-Defamation League said The Great Reset theory emerged in June 2020 after the World Economic Forum, an international nongovernmental organization, announced a pandemic economic recovery initiative with the same name.
Conspiracy theorists have long been suspicious of the World Economic Forum, so "they immediately latched onto it as 'proof' that the pandemic was 'orchestrated' by the elites," McCarthy said.
RELATED: No clear evidence that COVID vaccines are responsible for strange blood clots observed by embalmers
RELATED: No, COVID-19 vaccines aren't responsible for an increase in deaths
RELATED: Stew Peters film 'Watch the Water' ridiculously claims COVID-19 is snake venom. That's Pants on Fire
Died Suddenly, accessed Nov. 22, 2023
Email interview with Katie McCarthy, an associate investigative researcher for the Anti-Defamation League's Center On Extremism, Nov. 23, 2022
Email interview with Ben Schmidt, a licensed funeral director and embalmer and mortuary sciences textbook author, Nov. 23, 2022
Interview with Yazan Abou-Ismail, hematologist and assistant professor of medicine at the University of Utah, Nov. 23, 2022
Email interview with Jessica Koth, a spokesperson for the National Funeral Directors Association, Nov. 23, 2022
Email statement from Dr. Mitesh J. Borad, an associate professor of medicine at Mayo Clinic College of Medicine and Science, Nov. 23, 2022
PubMed.gov, Understanding thrombosis with thrombocytopenia syndrome after COVID-19 vaccination, Nov. 9, 2022
Loudoun Times-Mirror, Community rallies to support grieving family of Purcellville student, Aug. 30, 2022
Obituary for Colette Renee Baine, accessed Nov. 23, 2022
The Kansas City Star, Todd Wilkerson just got his dream job teaching at KU. He died suddenly at age 38, Oct. 16, 2022
Huffpost, My kind, compassionate son died unexpectedly. This is what I want you to know about grief, Oct. 6, 2022
WPRI, Hundreds attend vigil for 2 Barrington teachers who died suddenly, Oct. 12, 2022
WRPI.com, Hundreds attend vigil for 2 Barrington teachers who died suddenly, Oct. 12, 2022
Health Feedback, Mike Adams' flawed analysis of a clot sent by embalmer Richard Hirschman doesn't demonstrate any link between blood clots and COVID-19 vaccines, Sept. 12, 2022
Raven Plume Consulting, COVID-19 and blood clots — true or clickbait? accessed Nov. 23, 2022
Wiley Online Library, Risk of venous thromboembolism after COVID-19 vaccination, April 10, 2022
Newsweek, Young mom waiting on platform faints and falls head first under moving train — and survives, April 19, 2022
The McGill Office for Science and Society, The anti-vaccine documentary Died Suddenly wants you to feel, not think, Nov. 25, 2022
U.S. Centers for Disease Control and Prevention, Overview of COVID-19 vaccines, accessed Nov. 28, 2022
InfoWars, Global medical bombshell: Scientists prove COVID vaccine causes blood clots live on air, June 13, 2022
AFP Fact Check, US embalmer baselessly links clots to COVID-19 vaccines, Sept. 19, 2022
PolitiFact, Bill Gates didn't say he wanted to use vaccines to reduce the population, Oct. 11, 2021
PolitiFact, No clear evidence that COVID vaccines are responsible for strange blood clots observed by embalmers, Feb. 9, 2022
PolitiFact, No, COVID-19 vaccines aren't responsible for an increase in deaths, Feb. 11, 2022
TED, Innovating to zero!, February 2010
Anti-Defamation League, 'The Great Reset' conspiracy flourishes amid continued pandemic, Dec. 29, 2020
Anti-Defamation League, New World Order, June 26, 2017
The Middlebury Institute of International Studies at Monterey, The New World Order: The historical origins of a dangerous modern conspiracy theory, May 30, 2022
Lead Stories, Fact check: Movie 'Died Suddenly' does NOT demonstrate that COVID-19 vaccines cause sudden death, Nov. 22, 2022
The Associated Press, Vaccines didn't cause increase in deaths and life insurance payouts, Jan. 10, 2022
Health Feedback, Photos of blood clots removed during embalming don't show any link with COVID-19 vaccines; blood clotting risk is much higher after COVID-19 than vaccination, Nov. 2, 2022
USA Today, Fact check: Biden's 'new world order' reference tied to Ukraine, not conspiracy theory, April 1, 2022
BBC, What is the Great Reset - and how did it get hijacked by conspiracy theories?, June 24, 2021
PolitiFact, Stew Peters film 'Watch the Water' ridiculously claims COVID-19 is snake venom. That's Pants on Fire, April 19, 2022
University of Utah Health, Blood clotting, COVID-19 and vaccines, Sept. 16, 2022
U.S. Centers for Disease Control and Prevention, Reported adverse events, accessed Nov. 28, 2022
Johns Hopkins Medicine, COVID vaccine side effects, Nov. 9, 2021
LoudounNow, Woodgrove High School rallies, raises funds in memory of classmate, Oct. 6, 2022
PolitiFact, CDC study on COVID-19 vaccination and spontaneous abortions did not contain major error, Nov. 12, 2021
PolitiFact, Vancouver hospital did not see a surge in stillbirths among women vaccinated for COVID-19, Dec. 13, 2021
PolitiFact, It's not true that nearly half of pregnant women in Pfizer's COVID-19 vaccine trial miscarried, Aug. 29, 2022
YouTube, Pulmonary embolectomy DVT saddle pulmonary embolism, April 1, 2019
The Real Truther tweet, Nov. 26, 2022
World Economic Forum, The Great Reset initiative, accessed Nov. 29, 2022
Browse the Truth-O-Meter
More by Madison Czopek