Get PolitiFact in your inbox.
Are we closer to nuclear Armageddon than any time since 1962, as Biden suggested?
If Your Time is short
Experts largely agreed that the U.S. and Russia have not been this close to nuclear warfare since the 1962 Cuban Missile Crisis.

But there have been other conflicts since 1962 that raised global nuclear risk.
It's not every day that an American president warns of nuclear disaster and draws on Biblical imagery to do so. But President Joe Biden did just that Oct. 6 when he told Democratic donors the threat of "Armageddon" is higher than it has been in decades.
"We have not faced the prospect of Armageddon since Kennedy and the Cuban Missile Crisis," Biden said at the New York event. "We've got a guy I know fairly well; his name is Vladimir Putin. I spent a fair amount of time with him. He is not joking when he talks about the potential use of tactical and nuclear weapons, or biological or chemical weapons, because his military is, you might say, significantly underperforming."
The Cuban Missile Crisis in 1962 was a roughly two-week period when the Soviet Union moved nuclear missiles to Cuba, not much more than 100 miles from U.S. territory. Before President John F. Kennedy and Communist Party First Secretary Nikita Khrushchev calmed tensions, millions of American adults and children had well-founded fears that they could die in a nuclear exchange between the superpowers.
It wasn't immediately clear whether Biden was warning that Russia might use nuclear weapons, breaking an international taboo that has held for 77 years, or whether he was saying that such a nuclear strike by Russia would spiral into a nuclear free-for-all and global destruction. Experts have said that the use of "tactical," or battlefield-based, nuclear weapons would not necessarily set off a civilization-destroying conflagration, though it would cause many more limited problems.
Either way, Biden's willingness to broach the subject of "Armageddon" set off alarm bells. The New Testament describes Armageddon as the place of final battle between good and evil. The word is often used to describe a final conflict that would end the world.
Russian President Vladimir Putin has made several statements about the amount of force he is willing to use and has suggested that nuclear weapons are not off the table.
"If the territorial integrity of our country is threatened, we will without doubt use all available means to protect Russia and our people — this is not a bluff," Putin said Sept. 21.
During a Sept. 30 ceremony in which Putin moved to annex four regions of Ukraine into Russia, Putin said Russia would "protect our land using all our forces and means at our disposal." The annexations followed elections that international observers widely derided as shams.
Experts in nuclear policy told PolitiFact that they thought Biden had a point about the nuclear risk level as it pertains to U.S.-Russia relations. Although the Cuban Missile Crisis is the best-known potential nuclear faceoff in the two countries' Cold War history, experts added that a number of other conflicts have created heightened global nuclear risk, not all of which were publicly known in real time.
The White House did not respond to PolitiFact's request to elaborate on Biden's comments.
Risk of nuclear conflict with Russia is increasing
Sebastien Philippe, an associate research scholar with the Program on Science and Global Security at Princeton University, said that "the world is closest to the prospect of nuclear use, escalation and war that it has been in decades." He said Russia could use nuclear weapons in a variety of ways in the conflict, but even the most modest option "would likely broaden the conflict and increase the prospects of further nuclear escalation."
Even before Russia invaded Ukraine, relations between the U.S. and Russia had soured, potentially putting the two nations on a collision course, said Lynn Rusten, vice president of the Nuclear Threat Initiative's Global Nuclear Policy Program. During the Obama administration, Rusten served as the senior director for arms control and nonproliferation on the White House National Security Council.
Putin's move toward "nuclear saber-rattling" suggests that Russia's current leadership is dangerous, making a nuclear exchange at least conceivable, Rusten said.
Richard Betts, a war and peace studies professor at Columbia University, said there hasn't been such a significant near-war crisis with Moscow since 1962.
"Lack of such crises reflected the stabilization of the cold war and the recognition by all sensible policymakers on both sides that it's in neither side's interest to raise the risk of mutual annihilation," Betts said.
Betts added that Putin's recent threats may be only a bluff, seeking to leverage what tools he has when his military is struggling on the battlefield and when Russia is relatively isolated diplomatically. Still, Betts said, the certainty that Putin is only bluffing "is not high enough to be grounds for confidence."
Shannon Bugos, a senior policy analyst at the Arms Control Association, said that although she might have used different words to describe the situation than Biden did, the president's words "certainly convey the U.S. assessment that the threat is very serious — and I would very much agree with that assessment."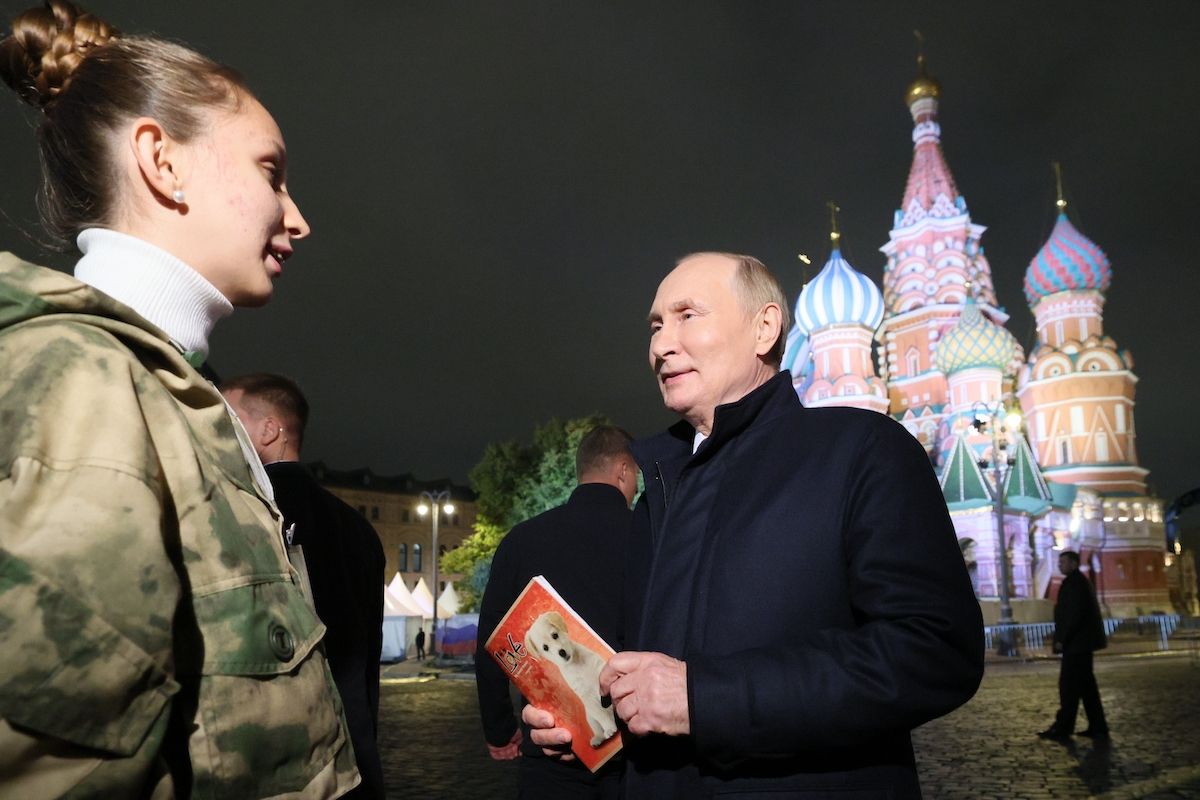 Russian President Vladimir Putin speaks to Bogdana Neshcheret, a poet from Donetsk region, before celebrations marking the incorporation of regions of Ukraine to join Russia in Moscow, Sept. 30, 2022. The signing of the treaties making the four annexed regions part of Russia follows the completion of the Kremlin-orchestrated "referendums." (AP)
Risks of nuclear warfare since 1962
It's worth noting that a spike in nuclear tensions is not unprecedented since 1962.
Conditions that led to moments of heightened nuclear risk include:
There has also been periodic saber-rattling by North Korea, the nuclear-armed hermit state that has tested missiles that could reach as far as Guam, a U.S. territory.
"It seems totally plausible to me that today's risks are at least in the ballpark of those in the 1969 crisis, the 1973 crisis and the 2001-02 crisis," said Brendan Green, a University of Cincinnati professor who studies military doctrine and international affairs.
Green said he would caution against using the term "Armageddon," since it implies the end of civilization, which would not be an inevitability even if Putin did decide to go nuclear against Ukraine.
"It is first and foremost, a nuclear threat against Ukraine," Green said. "Even if Russia used nuclear weapons inside Ukraine, the threat of 'Armageddon' would depend entirely on an aggressive response by the U.S./NATO that spiraled out of control."
So far, key western nations, while keeping a close eye on Putin's threats, have not heightened their own nuclear forces, Bugos said.
The Defense Department is monitoring the situation with Russia, and officials maintain that they see no reason to change the United States' nuclear posture in response, she said. Officials with NATO, the military alliance between the U.S. and western Europe, reached similar conclusions.
PolitiFact researcher Caryn Baird contributed to this report.
RELATED: What are 'tactical' nuclear weapons? And what do they mean for Russia, Ukraine and the world?
Interview with Lynn Rusten, vice president of the Global Nuclear Policy Program at Nuclear Threat Initiative and the former senior director for arms control and nonproliferation on the White House National Security Council under the Obama administration, Oct. 7, 2022
Interview with Shannon Bugos, a senior policy analyst with the Arms Control Association, Oct. 7, 2022
Email interview with Richard K. Betts, professor of war and peace studies at Columbia University, Oct. 7, 2022
Email interview with Brendan Green, professor of political science at the University of Cincinnati, Oct. 7, 2022
Email interview with Sébastien Philippe, an associate research scholar with the Program on Science and Global Security at Princeton University, Oct. 7, 2022
The New York Times, Biden calls the 'prospect of Armageddon' the highest since the Cuban missile crisis, Oct. 6, 2022
Reuters, Biden cites Cuban Missile Crisis in describing Putin's nuclear threat, Oct. 6, 2022
Reuters, Putin escalates Ukraine war, issues nuclear threat to West, Sept. 21, 2022
PBS News, Putin vows to defend illegally seized regions in Ukraine by 'all available means,' Sept. 30, 2022
Politico EU, Putin vows to use all means to defend annexed territories in Ukraine, Sept. 30, 2022
History, The Yom Kippur War brings United States and USSR to brink of conflict, Oct. 10, 2021
The National Security Archive, The Sino-Soviet border conflict, 1969: U.S. reactions and diplomatic maneuvers, June 12, 2001
The Washington Post, Report: India, Pakistan were near nuclear war in '99, May 15, 2002
Smithsonian Magazine, The 1983 military drill that nearly sparked nuclear war with the Soviets, April 27, 2022
Brookings, How the 1999 Kargil conflict redefined US-India ties, July 24, 2019
NPR, Fears of India-Pakistan nuclear war raged in 2002, Dec. 18, 2008
Brookings, Four Crises and a Peace Process - Chapter 1, Nov. 26, 2007
Stimson, US crisis management in South Asia's twin peaks crisis, September 2006
U.S. Department of Defense, Pentagon Press Secretary Brigadier General Pat Ryder and Deputy Assistant Secretary of Defense Laura K. Cooper hold a press briefing, Oct. 4, 2022
Reuters, NATO seen no changes in Russia's nuclear posture, alliance official says, Oct. 4, 2022
Politico, Pentagon: No sign Putin is planning to use nukes after Biden's 'Armageddon' comment, Oct. 7, 2022
Politico, POLITICO Playbook: Biden warns of nuclear 'Armageddon,' Oct. 7, 2022
Axios, White House: Biden's 'Armageddon' warning not based on any new intel, Oct. 7, 2022
The White House, Remarks by President Biden at Democratic Senatorial Campaign Committee reception, Oct. 6, 2022
NPR, North Korea has confirmed that it tested a missile capable of striking Guam, Jan. 31, 2022
Vox, 39 years ago today, one man saved us from world-ending nuclear war, Sept. 26, 2022
Catholic Answers, What is the Battle of Armageddon? March 8, 2022
Bible Ref, Revelation 16:16 parallel verses, accessed Oct. 10, 2022
Browse the Truth-O-Meter
More by Madison Czopek