Fired CNN 'Journalist of the Year' recipient was not Jim Acosta, or any other CNN reporter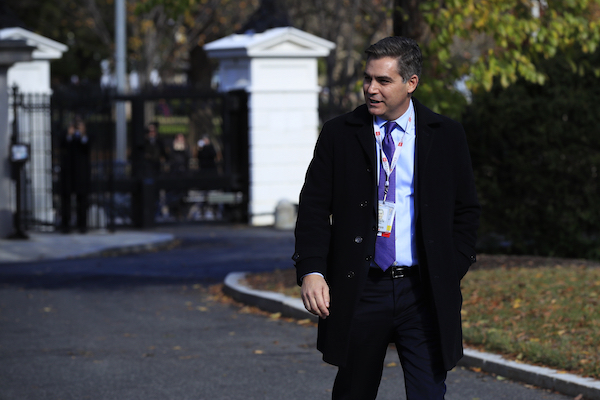 A Facebook post is trying to trick you into a click by placing the headline "CNN Journalist Of The Year Fired For Creating Fake News Stories" next to an image of CNN's Jim Acosta.
Don't do it.
The person fired wasn't Acosta, CNN's White House correspondent who made waves in November after a testy exchange with President Donald Trump. The person at the center of the story isn't even a CNN journalist.
The post was flagged as part of Facebook's efforts to combat false news and misinformation on its News Feed. (Read more about our partnership with Facebook.)
Here's what happened
Claas Relotius, an award-winning reporter and editor for Der Spiegel, the biggest weekly news magazine in Germany, resigned Dec. 17 after the organization found he falsified articles on a "grand scale and even invented characters, deceiving both readers and his colleagues," the newspaper announced.
Der Spiegel said Relotius confessed he had made up material in at least 14 articles since 2011.
In 2014, CNN named Relotius the Journalist of the Year and Print Journalist of the Year. The awards were for German-language journalism and decided by an independent jury. The last awards were given in 2015, CNN reported.
In a statement to the Associated Press, CNN International said the independent panel of judges who awarded Relotius the awards decided unanimously to remove them following revelations about his fraud.
The story about the incident on the website The Federalist Papers isn't inaccurate. But it includes a purposively deceptive image of a top CNN correspondent to bait readers on Facebook into clicking on the story itself. Readers seeing the post caught the deception, but only after clicking on the item.
"Carolyn McKnight Langdon Wow, the hypocrisy.... Isn't putting the face of Acosta on this article link (about a German reporter) equal to the kinds of Truth spinning shenanigans CNN is often accused of?"

"Ellie Merritt How much more misleading can you get? Had I not seen the Federalist banner, I would have sworn this was another misleading CNN article. Shame on you."
"Chris Domenico Dang it....ya got me. I kept telling myself "don't click, it's not what you think", yet I clicked. Hat's off to you...."
Our ruling
A story from The Federalist Papers with the headline "CNN Journalist Of The Year Fired For Creating Fake News Stories," is being shared on social media with a photo of CNN reporter Jim Acosta.
The post is misleading clickbait. Acosta has nothing to do with the story, and the journalist fired doesn't work for CNN. Readers caught on to the gimmick if they read the full story.
Overall, we rate this claim Half True.