Stand up for the facts!
Our only agenda is to publish the truth so you can be an informed participant in democracy.
We need your help.
I would like to contribute
"Whether in Illinois or Washington, Barack Obama has bridged partisanship to bring about significant reform."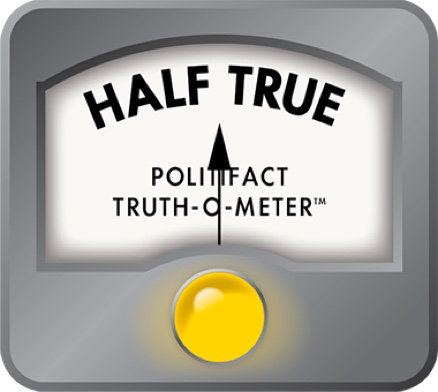 In her speech at the Democratic Convention on Aug. 25, 2008, Speaker of the House Nancy Pelosi, D-Calif., portrayed Barack Obama as a leader capable of breaking through the partisan gridlock of Washington.
"Whether in Illinois or Washington, Barack Obama has bridged partisanship to bring about significant reform," Pelosi said.
This has been a common theme in the Obama campaign, and we have looked at this from several angles in the last year.
The short answer is that Obama does, in fact, have some history of success in reaching across the political aisle, but he's also got a record of reliably voting in line with the Democratic Party.
A year ago, we checked a statement on the Obama campaign Web site almost identical to Pelosi's claim at the convention: "During his tenure in Washington and in the Illinois state Senate, Barack Obama has accumulated a record of bipartisan success" and ruled it Half True .
Let's start with Obama's record in the Illinois Senate.
Obama was a key player in passage of the Gift Ban Act, which was the first major overhaul of Illinois' ethics legislation in 25 years. The law prohibits legislators, state officers and employees, as well as judges, from soliciting or receiving gifts from a person with interests affected by the state government.
In his speech at the Democratic National Convention, Illinois state Sen. Emil Jones Jr. cited Obama's efforts in shepherding this legislation, noting that it was a difficult bipartisan task to get legislators to vote on regulating gifts they receive.
Kirk Dillard, a Republican in the Illinois state Senate, worked with Obama on the ethics bill and was impressed enough to appear in an Obama presidential campaign TV ad even though he's endorsing GOP Sen. John McCain.
"Sen. Obama worked on some of the deepest issues we had and was successful in a bipartisan way," Dillard said in the ad. "Republican legislators respected Sen. Obama. His negotiation skills and an ability to understand both sides would serve the country well."
Dillard said in an interview he made the ad primarily because of his work with Obama on ethics reform, but also mentioned his cooperation on changes in the state's death penalty laws. "Sen. Obama, even on a topic more suited for liberals, worked extremely well with conservatives," he said. Obama collaborated with another Republican, Rep. Sandra Pihos, on legislation expanding the state's KidCare and FamilyCare health insurance programs.
Still, by most indications Obama compiled a Democratic voting record in Springfield. In 2001, he received a 100 percent rating from the Illinois Planned Parenthood Council and in 2002 received a grade of "A" from Illinois Citizens for Handgun Control. He consistently received high scores from the Illinois AFL-CIO.
Since arriving in Washington in 2005, Obama has also voted consistently with his party while also attempting to work with Republicans on several high-profile issues.
Obama worked with Republican Richard Lugar of Indiana on several energy bills and on Jan. 11, 2007, President Bush signed their bill to expand U.S. cooperation to destroy conventional weapons.
Obama and Republican Tom Coburn of Oklahoma successfully pushed through Congress legislation creating a database to track federal grants and contracts. Open-government advocates said the legislation would help provide more public access to the so-called earmarking process, where individual lawmakers secure funding for particular projects.
But the picture isn't all rosy. Perhaps signaling battles to come, Sen. John McCain accused Obama in February 2006 of partisan posturing over ethics reform. Obama had taken his party's lead on the issue, and he had asked McCain to support his version of a bill.
"I failed to interpret your previous assurances as typical rhetorical gloss routinely used in politics to make self-interested partisan posturing appear more noble," McCain wrote in a letter to Obama. "Again, sorry for the confusion, but please be assured, I won't make that same mistake again."
In June, McCain sought to poke holes in Obama's claims of bipartisanship, noting that he, McCain, was the one who in the spring of 2005 joined the so-called Gang of 14, a small bipartisan group that resolved a bitter partisan dispute over three conservative judicial nominees named by President George W. Bush.
As part of the compromise, the Democrats agreed not to support furthering the filibuster of the judicial nominees and the Republicans agreed not follow through on the threat of the "nuclear option," which would have effectively killed the practice of filibustering.
We examined this claim , and ruled that McCain was correct that Obama did not participate.
For his part, Obama said he didn't participate because he felt like the Republicans got everything they wanted. "I don't think it was a particularly good compromise," Obama told the St. Petersburg Times on May 21, 2008.
A review of Obama's votes as a senator also doesn't bolster his argument of bipartisanship.
Congressional Quarterly does vote studies each year and found that in the Bush era, Obama voted his party's position 96 percent of the time on votes where Republicans and Democrats were divided.
Bottom line, while it's clear that Obama has had some bipartisan success, when it comes to voting on key pieces of legislation, Obama's record is almost in lockstep with the Democratic Party. Therefore, we can only give Pelosi's claim a Half True.
National Journal, Obama: Most Liberal Senator in 2007, Jan. 31, 2008
Americans for Democratic Action, ADA's 2006 Congressional Voting Record, February 2007
Americans for Democratic Action, ADA's 2007 Congressional Voting Record, February 2008
Voteview.com, 110th Senate Rank Ordering, Jan. 2, 2008
Project Vote Smart, "Vote studies: Barack Obama"
Congressional Quarterly Vote Study on Party Unity
Browse the Truth-O-Meter
More by Robert Farley
Support independent fact-checking.
Become a member!
In a world of wild talk and fake news, help us stand up for the facts.