Stand up for the facts!
Our only agenda is to publish the truth so you can be an informed participant in democracy.
We need your help.
I would like to contribute
The DNC says McCain flip-flopped on whether the Iraq War would be easy.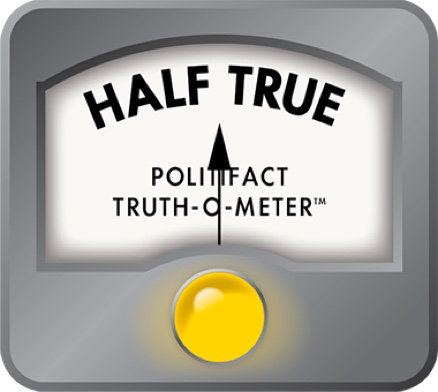 Cherry-picked quotes distort McCain's comments
A video released last week by the Democratic National Committee uses a series of public statements from John McCain in an attempt to suggest that he flip-flopped on whether the Iraq War would be easy.
The video begins with an Aug. 2006 press conference in Columbus Ohio, aired on CNN, in which McCain states: "...It grieves me so much that we had not told the American people how tough and difficult this task would be. And it has contributed enormously to the frustration that Americans feel today because they were led to believe that this would be some kind of day at the beach."
Then comes a clip of McCain from a Sept. 24, 2002 episode of Larry King Live on CNN: "And I believe that the success will be fairly easy."
And this one: "I believe we can win an overwhelming victory in a very short period of time." That one comes from a CNN Late Edition appearance five days later on Sept. 29, 2002.
A press release from the Democratic National Committee that accompanies the video states that "in the run up to the war, John McCain parroted the Bush administration's misleading rhetoric. Just like President Bush, McCain said the war would be easy and that we'd be greeted as liberators. Only in the throes of the presidential campaign did he try to have it both ways by complaining that the American people 'were led to believe this could be some kind of day at the beach.' John McCain never admits that, just like President Bush, he said victory would be easy."
The DNC quotes aren't taken out of context, but they don't quite capture McCain's full point of view on the struggle in Iraq. McCain's campaign did not respond to PolitiFact, but as luck would have it, Tim Russert raised this very issue with McCain in a Jan. 10, 2007 interview on MSNBC.
Russert: "Go back, Senator, to 2002 -- the administration saying we'd be greeted as liberators, John McCain saying that you thought success would be fairly easy."
McCain: "Well, it was easy. It was easy. I said we -- a military operation would be easy. It was easy. We were greeted as liberators. Look at the films when we rolled into Baghdad. And then there was a period of time where we allowed looting, when the whole country literally evolved into chaos. I went over there. I saw what was happening. I came back, and I made a speech to the Council on Foreign Relations and said exactly, tragically, what was going to happen unless we got control of the situation. It was easy, by the way."
Russert: "But certainly securing the peace and instilling a democracy in Iraq has been far more challenging --"
McCain: "Absolutely. Just as I said it would be."
Russert: "But not nearly as much as the administration had suggested to the American people?"
McCain: "Well, the mistake and failure...it's well-documented of what happened. We went in there, we won an easy military victory. They did greet us as liberators. The recent testimony of Saddam Hussein's own words indicate what kind of brutality they were subjected to. And then all of a sudden the looting started, understandably. We didn't have control of Anbar province. We didn't have control -- eventually, there was a steady deterioration which led us to the terrible situation that we are in today. And all along, it was because we did not have the classic counterinsurgency strategy which is clear, hold and build. We cleared and would leave. As I've said in other hearings, we were playing a game of Whack-a-Mole."
McCain has been a consistently strong supporter of the war. But at the same time, he has often been a critic of the way the war effort has been carried out by the Bush administration.
As far back as mid 2003, shortly after the invasion of Iraq, McCain was warning that the United States needed to send more troops to Iraq and more money to Iraq reconstruction efforts, or else face a deep and long-lasting insurgency. (see Politifact "McCain Trying to Have it Both Ways on Iraq" and "One man sacrificed for his country…")
Yes, McCain predicted it would be an easy war and that Americans would be greeted by the Iraqis as liberators. And yes, neither has proven true over the long run. But Hussein's regime was toppled relatively quickly and McCain advocated early on that the U.S. needed more troops and resources to prevent just such an entrenched insurgency as has come to pass. And so, in that context, we rate the DNC's comment just Half True.
Democratic National Committee, Press release, "McCain's Iraq Record Doesn't Match His Rhetoric," Feb. 13, 2008

CNN, Transcript of Larry King Live, Sept. 24, 2002

MSNBC, McCain in Columbus Ohio, Press Conference Aug. 22, 2006

CNN, Transcript of CNN Late Edition, Sept. 29, 2002

Tim Russert interview of McCain on MSNBC, Jan. 10, 2007.

Interview with McCain on Hardball on MSNBC, March 24, 2003

"Surprising New Criticism of Bush's Handling of Iraq from Senator McCain" from the program The Situation Room on CNN, Aug. 22, 2006
Browse the Truth-O-Meter
More by Robert Farley
Support independent fact-checking.
Become a member!
In a world of wild talk and fake news, help us stand up for the facts.