Get PolitiFact in your inbox.
On whether the government should bail out insurance giant AIG.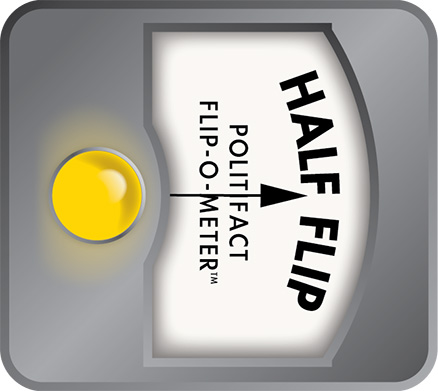 McCain neither endorsed nor condemned the bailout
For many, the scope and complexity of this week's financial market meltdown was punched home when the Federal Reserve on Sept. 16 launched an $85-billion bailout of insurance giant American International Group.
 
The intervention came just two weeks after the Treasury took over the government-chartered mortgage giants Fannie Mae and Freddie Mac and was driven by the fact AIG provided insurance to myriad investors who bought securities tied to the mortgage market.  Had the firm failed and been unable to pay claims on the investors' losses, it would have unleashed a calamitous ripple effect through global financial markets.
 
All of which didn't exactly mollify fiscal conservatives who've long been leery of any government intervention in private business. The move puzzled Republicans in Congress, because a few days earlier the Bush administration had refused to bail out the investment bank Lehman Brothers, which filed for bankruptcy. Moreover, the Fed and the Treasury Department had previously rebuffed AIG's appeal for a $40 billion bridge loan to avert a downgrade of its credit due to investment losses.
 
On the campaign trail, John McCain stuck firm to his anti-interventionist principles before the bailout was announced. Appearing on NBC's Today show, McCain said AIG should be left on its own. "We cannot have the taxpayers bail out AIG or anybody else," he said.
 
The GOP presidential candidate echoed those remarks on CNBC's Squawk Box the same day, when he responded to a question about whether, if he were in the Fed's position, he would let the firm fail. "I think you have to," McCain replied, adding he knew efforts were afoot to raise enough capital to keep AIG in business.
 
But the day after the bailout was announced, McCain sounded more resigned than resolute, stating that the government had been "forced" into taking action.
 
"Today, the government was forced to commit $85-billion to stop the collapse of AIG," McCain said in a Sept. 17 statement. "These actions stem from failed regulation, reckless management and a casino culture on Wall Street that has crippled one of the most important companies in America. …The focus of any such action should be to protect the millions of Americans who hold insurance policies, retirement plans and other accounts with AIG. We must not bail out the management and speculators who created this mess. They had months of warnings following the Bear Stearns debacle, and they failed to act. We should never again allow the United States to be in this position. We need strong and effective regulation, a return to job-creating growth and a restoration of ethics and the social contract between businesses and America."
That certainly doesn't sound like a reversal to us. It's true that McCain could have issued a statement denouncing the bailout as the wrong decision, so it's fair to conclude that by saying the government was "forced to commit $85-billion to stop the collapse of AIG" he's agreeing that it needed to be done. But this is far from an endorsement of the idea and reads more like a grudging acknowledgment.
In Cedar Rapids, Iowa, on Sept. 18, McCain was a bit more clear: "When AIG was bailed out, I didn't like it, but I understood it needed to be done to protect hard working Americans with insurance policies and annuities."
Obama seized on McCain's statement as evidence of a flip-flop. Speaking in Espanola, N.M., on Sept. 18, Obama said, "On Tuesday, he said the government should stand by and allow one of the nation's largest insurers to collapse, putting the well-being of millions of Americans at risk. But by Wednesday, he changed his mind."
 
Obama's depiction strikes us as over the top. Based on his remarks, McCain seemed willing to swallow some pragmatic trade-offs, given the remarkable circumstances in the markets. And McCain in his statement added that the intervention should not apply to "the management and speculators who created this mess."
 
Yet it's debatable whether the government really was forced to take action. It could have allowed another giant corporate bankruptcy that would have accelerated a repricing of credit that's hitting corporations and individuals alike. Moreover, the government's action sets a precedent for more costly government bailouts, particularly if some large regional banks or the giant thrift Washington Mutual get sucked down by the crisis. In truth, the decision, for the moment, is being widely viewed as economically prudent and politically wise. Because McCain stopped short of endorsing the bailout even as he declined to criticize it, we rule this one a Half Flip.
Glen Johnson, "McCain says government 'forced' to bail out AIG," Associated Press, Sept. 17, 2008

New York Times, "Fed's $85 Billion Loan Rescues Insurer," by Edmund L. Andrews, Michael J. de la Merced, Mary Williams Walsh, Sept. 16, 2008

John McCain, Statement on financial markets and AIG, Sept. 17, 2008

Today show, McCain remarks , Sept. 16, 2008
Browse the Truth-O-Meter
More by Adriel Bettelheim
Support independent fact-checking.
Become a member!
In a world of wild talk and fake news, help us stand up for the facts.