Stand up for facts and support PolitiFact.
Now is your chance to go on the record as supporting trusted, factual information by joining PolitiFact's Truth Squad. Contributions or gifts to PolitiFact, which is part of the 501(c)(3) nonprofit Poynter Institute, are tax deductible.
I would like to contribute
"John McCain fought to rein in Fannie and Freddie...but Democrats blocked the reforms."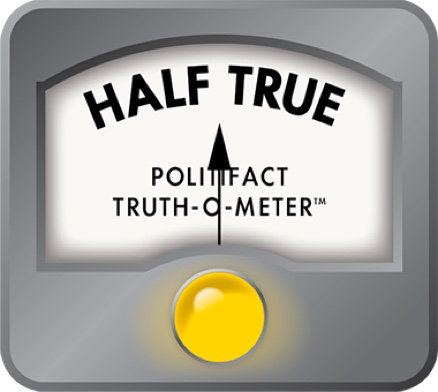 Fannie, Freddie and John, at odds in 2006
Seeking to portray Sen. John McCain as prescient on the financial crisis, McCain's campaign unveiled a new advertisement saying he had spotted problems with Fannie Mae and Freddie Mac two years ago.
"John McCain fought to rein in Fannie and Freddie ... but Democrats blocked the reforms," McCain's new ad says.
As evidence, the ad points to McCain's support of a bill in 2006 to strengthen oversight of Fannie and Freddie, and Democrats' opposition to that bill. Those points merit caveats, but first, some context.
Fannie and Freddie, private corporations created and sponsored by Congress to lower the cost of mortgage capital, quintupled in size between 1995 and 2004, as they pioneered the practice of selling bundled mortgages in the form of securities.
Federal officials in both the Bill Clinton and George W. Bush administrations sought greater authority to regulate them, but were largely stymied by Congress. In early September 2008, with home values plummeting, the government seized control of Fannie and Freddie to prevent them from failing, a move that could cost U.S. taxpayers tens of billions of dollars.
McCain has taken heat for recent revelations that Freddie Mac paid a lobbying firm co-owned by his campaign manager, Rick Davis, $15,000 a month from 2005 through August 2008. But the campaign has called attention — in advertisements like this one — to McCain's support for tighter oversight of the companies.
McCain did indeed co-sponsor the Federal Housing Enterprise Regulatory Reform Act of 2005, a bill that would have enhanced oversight of Freddie and Fannie. Sen. Chuck Hagel, R-Neb., introduced the bill in January 2005 and immediately garnered co-sponsorship from two other Republican senators.
McCain signed on in May 2006 after a damning federal report on accounting practices at Fannie Mae was released. "If Congress does not act, American taxpayers will continue to be exposed to the enormous risk that Fannie Mae and Freddie Mac pose to the housing market, the overall financial system, and the economy as a whole," he said in a statement .
The National Association of Home Builders opposed the bill, as did the National Association of Realtors. Senate Democrats said they supported some form of stricter oversight, but would not support a provision of Hagel's bill that would limit the size of the company's portfolios. Negotiations stalled and the bill never made it to the floor.
Does McCain's support for that bill amount to fighting to rein in Freddie and Fannie? Sort of. Others had been fighting for Fannie-and-Freddie reform for more than a decade, and McCain signed onto the bill a year-and-a-half after it was introduced. And he reportedly didn't do too much for the bill beyond co-sponsoring it and issuing a statement.
The McCain campaign has also noted that in 2003 he was one of five Republican senators to co-sponsor a prior bill to tighten oversight of Fannie and Freddie. Still, if he "fought" for reform, it wasn't exactly guns-a-blazin'.
Did Democrats block the reforms? More or less. They preferred a pared-down bill, and so did not support Hagel's.
McCain overstates his role in pushing for Fannie and Freddie reform, and slightly oversimplifies the dynamic at work in the Senate. We give his claim a Half True.
YouTube.com, Rein , Sept. 30, 2008, accessed Sept. 30, 2008
Washington Post, How Washington Failed to Rein in Fannie, Freddie , Sept. 14, 2008, accessed Sept. 30, 2008
New York Times, Taking on the Mortgage Giants , Sept. 25, 2008
McCain.senate.gov, McCain Statement on the Co-sponsorship of the Federal Housing Enterprise Regulatory Reform Act of 2005 , accessed Sept. 30, 2008
Mortgage Banking: Nov. 1, 2006: OFHEO: Congress must act to pass GSE reform
Mortgage Line, GSE Effort Continuing in Senate Committee, Dec. 15, 2006
PolitiFact.com, McCain's 'warning' on Fannie & Freddie , Sept. 17, 2008, accessed Sept. 30, 2008
Browse the Truth-O-Meter
More by Alexander Lane
Support independent fact-checking.
Become a member!
In a world of wild talk and fake news, help us stand up for the facts.