Stand up for facts and support PolitiFact.
Now is your chance to go on the record as supporting trusted, factual information by joining PolitiFact's Truth Squad. Contributions or gifts to PolitiFact, which is part of the 501(c)(3) nonprofit Poynter Institute, are tax deductible.
I would like to contribute
The Rev. Rick Warren "has called Christians who advance a social gospel Marxists."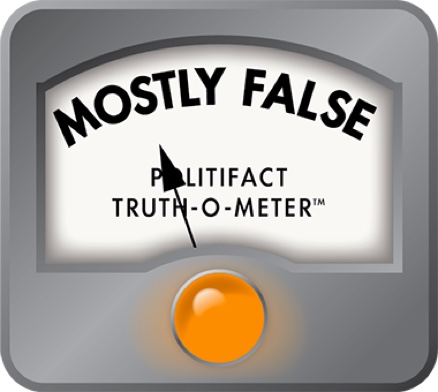 Group says Warren called some Christians Marxist
President-elect Obama's selection of evangelical Rev. Rick Warren to deliver the invocation at his inauguration drew sharp rebuke from some of Obama's liberal supporters due to Warren's hard line against abortion and gay marriage.

Warren, senior pastor of the evangelical Saddleback Church in Southern California and author of the bestselling The Purpose Driven Life , is viewed in many circles as a social moderate, but he is on the outs with many liberal groups due to his outspoken support for California's recently passed Proposition 8, which amended the state constitution to ban same-sex marriages.

Among the groups that expressed "grave disappointment" over Obama's inclusion of Warren at the inauguration was People for the American Way, a liberal advocacy group.

In a news release issued on Dec. 17, the organization warned that despite an "affable personality and his church's engagement on issues like AIDS in Africa," Warren has "promoted legalized discrimination and denigrated the lives and relationships of millions of Americans."

The organization attributes several recent statements to Warren to back its contention that Warren is more of an extremist than many people know.

"He has recently compared marriage by loving and committed same-sex couples to incest and pedophilia," the release states. And, "He has called Christians who advance a social gospel Marxists."

We looked at the contention that Warren "has recently compared marriage by loving and committed same-sex couples to incest and pedophilia" when U.S. Rep. Barney Frank, D-Mass., made similar comments (see PolitiFact statement "Warren on gay marriage and incest").

Here, we'll look at the claim that Warren "has called Christians who advance a social gospel Marxists."
The statements come from an interview of Warren in mid December by Beliefnet editor in chief Steven Waldman.

In the interview, Warren sought to provide historical perspective for the split between main-line Protestants and evangelicals a century ago. As with the incest comment, the Warren comments in question come in the middle of a fairly long quote to make a larger point, so bear with the lengthy excerpt, because we think context is critical.

 "Along about the beginning of the 20th century there were some Protestant theologians who started using the term 'social gospel,' " Warren said. "And what they meant by that was, 'We don't really need to care about Jesus' personal salvation any more. We don't really have to care about redemption, the cross, repentance. All we need to do is redeem the social structures of society and if we make those social structures better, the world will become a better place.' Really, in many ways, it was just Marxism in Christian clothing. And it was in vogue at the time. If we redeem society then man will automatically get better. It didn't deal with the heart. And so they said, we don't need this personal religion stuff. So Protestants split into two wings. The main-line Protestants — Methodists, Episcopalians and Presbyterians — said, 'We're going to take the body, and we're going to care about poverty and disease and charity and social justice and racial justice. And the evangelicals and fundamentalists ... said 'We're going to take the soul and we're going to care about personal morality and pornography and protecting the family and personal moral issues and personal salvation.' Who's right? Well, in my opinion, they're both right. And part of my desire as a leader is to bring these two wings back together."
Warren did liken the social agenda of some early 20th century Protestant theologians to "Marxism in Christian clothing." But Warren is referring to the ideas and agendas of theologians at a time when socialism and Marxism were part of the national dialogue. To put Warren's comment in the present tense — saying Warren "has called Christians who advance a social gospel Marxists" — is a serious distortion of his comment.

And we note that Warren concludes his thoughts by saying he believes both positions are right, and that he'd like to bring both wings together. We rate the People for the American Way's characterization of Warren's comments Barely True.
Editor's note: This statement was rated Barely True when it was published. On July 27, 2011, we changed the name for the rating to Mostly False.
Browse the Truth-O-Meter
More by Robert Farley
Support independent fact-checking.
Become a member!
In a world of wild talk and fake news, help us stand up for the facts.