Get PolitiFact in your inbox.
A new Rasmussen poll shows people "oppose (Sotomayor's) confirmation. Only 37 percent support it."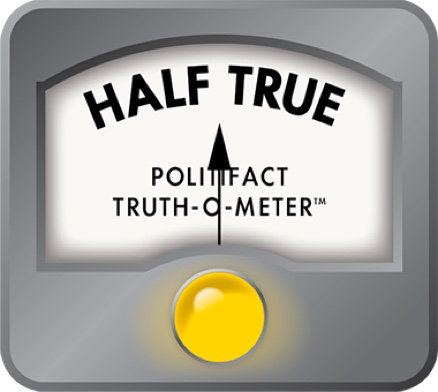 Poll on Sonia Sotomayor support shows even divide
The day before the Supreme Court nomination hearing for Sonia Sotomayor began, Sen. Jon Kyl said President Barack Obama's nominee was losing the support of the American public.
"It's interesting that I just reviewed the Rasmussen poll, most recent poll about American public opinion about Judge Sotomayor. They oppose her confirmation. Only 37 percent support it," the Arizona Republican said during an appearance on This Week with George Stephanopolous.
Stephanopolous seemed surprised by that, and said he wasn't familiar with the poll. We wanted to check the poll for ourselves and see what it said.
The Rasmussen Reports poll was conducted June 29-30, 2009, and was a national survey of 1,000 likely voters.
The poll asked this question: "The United States Senate has the constitutional authority to confirm all Supreme Court nominees. Based upon what you know at this time, should the United States confirm Sonia Sotomayor as a Supreme Court Justice?"
The results were very close. Thirty-seven percent said yes, the Senate should confirm, 39 percent said no, and 23 percent said "not sure."
And it's important to note that the margin of error on the poll was 3 percentage points. So the 37-39 split is within the margin of error, and could be considered a statistical tie.
As a side note, the same poll showed that most respondents expected Sotomayor to be confirmed, with 58 percent saying it was "very likely" and another 26 percent saying it was "somewhat likely."
And a Gallup poll, conducted after the Rasmussen poll but released the day after Kyl made his remarks, found that 53 percent favored Sotomayor's nomination, with 33 percent opposed and 13 percent having no opinion.
Kyl specifically cited the Rasmussen poll, though, and he got the number who favored confirmation right. But his comment leaves the impression that a solid majority opposes Sotomayor's nomination. Sotomayor fans could use the same data to say that "only" 39 percent oppose her nomination. In fact, the polling data reads more like a tie, with a significant percentage of people not having a firm opinion. We rate Kyl's statement Half True.
Rasmussen Reports, Sotomayor Survey , June 29-30, 2009
"This Week with George Stephanopoulos," July 13, 2009
PollingReport.com, Supreme Court polls , accessed July 13, 2009
Gallup Poll, Support for Sotomayor Confirmation Holds Steady at 53 percent , July 13, 2009
Browse the Truth-O-Meter
More by Angie Drobnic Holan
Support independent fact-checking.
Become a member!
In a world of wild talk and fake news, help us stand up for the facts.