Get PolitiFact in your inbox.
About 750,000 people die in China each year from auto emissions.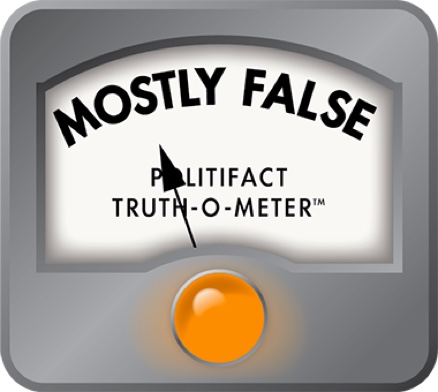 Car pollution in China doesn't cause as many deaths as Nany Pelosi claims
House Speaker Nancy Pelosi has long considered herself a human rights activist and an environmental advocate. So during a recent trip to China, Pelosi discussed how the issues overlap during a meeting with the country's president, Hu Jintao.

She recounted the meeting for television host Charlie Rose on the Oct. 5, 2009, edition of his show. "I took a little bit of a different approach this time in terms of talking about environmental justice because . . . 750,000 people, approximately, die in China each year from auto emissions. The Gobi Desert is encroaching on the rest of China. There are sandstorms in Beijing. They know that . . . there's something that has to be done about climate change and environmental protection and that — and so my pitch to them is there has to be environmental justice. As you develop and as you compete, you can't leave people behind."

We wondered if the death toll from auto emissions could possibly be as high as Pelosi claims.

But first, some background. Most scientists believe that increased concentrations of carbon dioxide and other greenhouse gases, such as nitrous oxide, are due in part to the number of cars on the road that do not burn fuel efficiently. Our cars release greenhouse gases that trap heat from the sun and have caused the Earth to warm. There's also evidence that the heat-trapping qualities of greenhouse gases lead to an increase of particulate matter and carcinogens in the atmosphere — bad news for those with asthma and other respiratory illnesses.

We called Pelosi's office and they pointed us to 2007 news reports about a World Bank analysis that focused on the cost of pollution in China.

According to the Financial Times, the Chinese government asked the World Bank to exclude information about how many people die each year as the result of air and water pollution. (For its part, the World Bank says the numbers were left out due to "some uncertainties about calculation methods and its application.")

"Missing from this report are the research project's findings that high air-pollution levels in Chinese cities (are) leading to the premature deaths of 350,000-400,000 people each year," the July 2, 2007, Financial Times story said. "A further 300,000 people die prematurely each year from exposure to poor air indoors, according to advisers, but little discussion of this issue survived in the report because it was outside the ambit of the Chinese ministries which sponsored the research."

On top of that, 60,000 premature deaths were related to poor-quality water that resulted in diarrhea, and stomach, liver and bladder cancers, according to the story.

So, Pelosi is relying on a news story's summary of World Bank data that was not officially published but that was obtained by the Financial Times. According to the news story, on the high end, there are 760,000 deaths annually from water and air pollution, not just auto emissions, as Pelosi said on the Charlie Rose Show.

We took a look at the report, and found that it provided a lot of compelling evidence that Chinese citizens suffer a great deal from air and water pollution and that smog and dirty water in that country lead to many premature deaths. But it offered no overall numbers, nor did it focus specifically on auto emissions.

"Energy consumption, especially coal consumption, is the main source of air pollutants," the report said, noting that medical evidence suggests "outdoor air pollution is a contributing cause of morbidity and mortality."

To get another perspective, we called Mark Jacobson, a civil and environmental engineering professor at Stanford University, who has studied death rates due to carbon dioxide pollution. In 2008, he found that for each increase of 1 degree Celsius caused by carbon dioxide, the resulting air pollution would lead annually to about 1,000 additional deaths in the United States, and 20,000 worldwide.

That's on top of the approximately 2 million air pollution-related deaths worldwide, he explained, citing numbers from the World Health Organization.

"Home heating and cooking are really the biggest source of deaths," Jacobson said, explaining that, particularly in China, India and other developing countries, cooking is often done with animal dung, wood or coal. "There's a lot of smoke, no ventilation."

Indeed, most pollution-related deaths — about 1.6 million of the 2 million overall, according to the WHO — are the result of poor indoor air quality.

According to WHO's numbers, that leaves only about 400,000 deaths annually that stem from outdoor pollution — worldwide. Furthermore, outdoor air pollution isn't limited to auto emissions. Much of it comes from agricultural operations, electricity generation and industries that rely heavily on fossil fuels, Jacobson said.

So to summarize: Pelosi said that about 750,000 people in China die annually from auto emissions. But she was basing her claim on news reports that relied on data that was never actually published.  (When we inquired, the World Bank declined to directly address the statistics.) So even if the World Bank data is correct, Pelosi misinterpreted it by saying that all those deaths are related to auto emissions.
On top of that, the World Health Organization estimates that most pollution-related deaths are the result of indoor pollutants (those coal and wood fires we mentioned above), not outdoor ones. So while Pelosi is correct that air pollution is harmful and may be responsible for many deaths in China, she's wrong to say that auto emissions are specifically responsible for 750,000 of them annually. We rate her claim Barely True.
Editor's note: This statement was rated Barely True when it was published. On July 27, 2011, we changed the name for the rating to Mostly False.
Browse the Truth-O-Meter
More by Catharine Richert
Support independent fact-checking.
Become a member!
In a world of wild talk and fake news, help us stand up for the facts.