Facts are under assault in 2020.
We can't fight back misinformation about the election and COVID-19 without you. Support trusted, factual information with a tax deductible contribution to PolitiFact
I would like to contribute
"Congress can tell [the Supreme Court] which cases they ought to hear. We have that authority."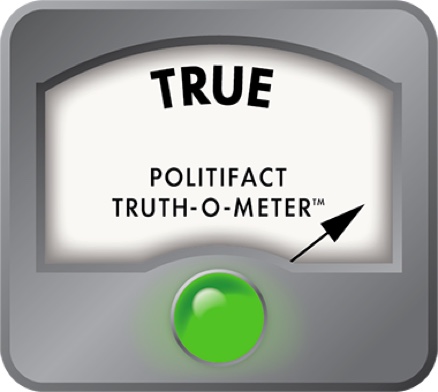 Specter says Congress can tell the Supreme Court what to consider
With Washington bracing for President Barack Obama to announce his next Supreme Court nominee, Sen. Arlen Specter, a leading Democrat on his chamber's Judiciary Committee, has been sharing his views on the upcoming debate.
During an interview on MSNBC's The Daily Rundown, Specter told hosts Chuck Todd and Savannah Guthrie that he thinks the court has been avoiding tough cases, such as the constitutionality of the terrorist surveillance program. Specter said he's even considering conditioning his vote for the nominee based on whether he or she will take up such cases.
"The Supreme Court has a very light backlog," he said. "They leave a lot of splits among the circuits, a lot of uncertainty. And I think they ought to work a lot harder. . . . Congress can tell them which cases they ought to hear. We have that authority. And I think Congress ought to exercise it."
The last time we checked, there were strict barriers between the three branches of government, so we were curious about Specter's comment.
Specter's comment is a bit cryptic; it reads as if he's saying that Congress can tell the court that it must hear a specific case. His office did not respond to our request for comment, but the experts we spoke with said that he's referring to Article III of the Constitution, which gives Congress the authority to establish appellate jurisdiction.
"In all the other Cases before mentioned, the supreme Court shall have appellate Jurisdiction, both as to Law and Fact, with such Exceptions, and under such Regulations as the Congress shall make," the Article states.
In plain English, all that means is that Congress can tell the Court what genre of cases it must hear. For instance, it must hear appeals on voting issues. Here's what section 5 the Voting Rights Act of 1965 said about states that seek to establish voting qualifications or prerequisites:
"Any action under this section shall be heard and determined by a court of three judges in accordance with the provisions of section 2284 of title 28 of the United States Code and any appeal shall lie to the Supreme Court."
So, appeals on decisions made by the special three-judge court regarding changes in voting qualifications must be heard by the Supreme Court.
Appeals to the campaign finance rules set out in the Bipartisan Campaign Reform Act of 2002 -- commonly known as the McCain-Feingold Act named for the two senators who wrote it -- face a similar trajectory: Complaints are first heard by a three-judge court, and are ultimately decided by appeal directly to the Supreme Court of the United States. The law also requires the Supreme Court to hear these cases in an expedited fashion.
In fact, for much of the last century, many cases fell within the Supreme Court's mandatory jurisdiction, according to the legal scholars we spoke with. But in 1988, Congress passed a bill that abolished requirements that the Supreme Court hear most appeals cases (although it did preserve mandatory jurisdiction over some types of appeals cases, including voting rights cases). The idea was to save the Court precious time that it was otherwise wasting on appeals that had little significance.
So, is Specter correct?
"It is up to Congress to identify which cases should go to the Court via appeal," Mark Tushnet, a professor at Harvard Law School, wrote to us in an e-mail. "So, basically, Senator Specter's right."
"Congress can't look around and say, 'Here's one particular case you have to decide on the merits,'" Tushnet added. "They do have to act in general terms."
Specter claimed that Congress can tell the Supreme Court which cases it must hear. According to the Constitution, Congress has the authority to do just that: it can write legislation that gives the court appellate jurisdiction over certain cases, as it did when it passed the Voting Rights Act. However, our experts said Congress cannot tell the Court that is must hear a specific case. We find Specter's claim True.
The Daily Rundown, interview with Arlen Specter, April 21, 2010, episode

The White House, The Judicial Branch, accessed April 21, 2010

The U.S. Constitution, Article III, accessed April 21, 2010

Congress' Power to Set the Supreme Court's Jurisdiction: Trends, Dangers, and Recent Developments, Robert Heberle, accessed April 21, 2010

Department of Justice, About Section 5 of the Voting Rights Act, accessed April 23, 2010
The
New York Times
,
The Court is Expected to Gain Wide Freedom in Selecting Cases
, by Stuart Taylor Jr., June 9, 1988.
The Federal Judicial Center,
The Supreme Court of the United States and the Federal Judiciary
, accessed April, 23, 2010
Phone Interview, Michael Bailey, professor, Georgetown Public Policy Institute, April 23, 2010
E-mail Interview, David Garrow, professor and senior fellow, University of Cambridge, April 23, 2010
Phone Interview, Lucas A. "Scot" Powe, professor, The University of Texas at Austin, April 23, 2010
E-mail Interview, Erwin Chemerinsky, Dean of the University of California, Irvine School of Law, April 23, 2010
E-mail Interview, Mark Tushnet, professor, Harvard Law School, April 23, 2010
Phone Interview, Tom Goldstein, partner with Akin, Gump, Strauss, Hauer and Feld, and founder of SCOTUSblog, April 23, 2010
Browse the Truth-O-Meter
More by Catharine Richert
Support independent fact-checking.
Become a member!
In a world of wild talk and fake news, help us stand up for the facts.