Stand up for the facts!
Our only agenda is to publish the truth so you can be an informed participant in democracy.
We need your help.
I would like to contribute
"You lie!" (in response to President Obama saying health reform would not insure illegal immigrants.)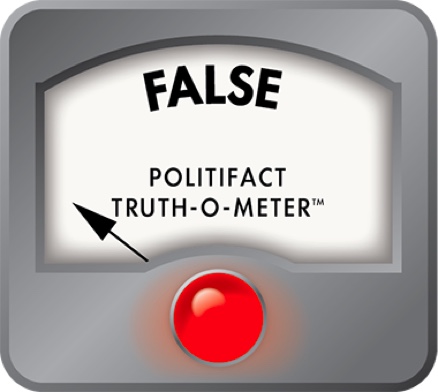 Joe Wilson of South Carolina said Obama lied, but he didn't
We suspect it's rare that the president gets heckled during a speech to a joint session of Congress, but Rep. Joe Wilson didn't hold back.
"You lie!" shouted the South Carolina Republican. This was in response to President Barack Obama's statements on illegal immigrants.
"There are also those who claim that our reform effort will insure illegal immigrants," Obama said. "This, too, is false — the reforms I'm proposing would not apply to those who are here illegally."
So who's right here? Wilson or Obama?
Incidentally, Wilson apologized for the outburst after the speech, but said he still disagreed with Obama's statement.
We've been monitoring claims about health care reform and illegal immigrants for some time now. Most notably, a chain e-mail claimed that page 50 of the House bill gave free health care to illegal immigrants. That page didn't say that. Rather, it included a generic nondiscrimination clause that said insurers may not discriminate with regard to "personal characteristics extraneous to the provision of high quality health care or related services." So we rated the chain e-mail's claim Pants on Fire .
We read all 1,000-plus pages of the health care bill and were struck by the fact that it is largely silent on health care for illegal immigrants. Keep in mind that experts estimated there were 6.8 million uninsured illegal immigrants in the United States in 2007, out of a total of 11.9 million illegal immigrants. Right now, there are laws on the books that require hospitals to treat severely ill people who arrive at the hospital, regardless of immigration status, and we didn't see anything that would change those laws, either.
Most illegal immigrants are also now excluded from Medicaid, the government-run health care for the poor. We didn't see anything that would change that.
One place where the bill does mention immigration status is for "affordability credits." These are tax credits for people of modest means need to buy health insurance. The credits would help them buy insurance on a national health insurance exchange. The bill specifically says that people in the United States illegally are not eligible for tax credits, on page 132, section 242.
Still, given all that, we have heard from people who said that other aspects of reform could benefit illegal immigrants.
One of the most detailed responses was from the anti-immigration group Federation for American Immigration Reform, called FAIR. You can read their statement on the matter on their Web site.
Primarily, they argue that illegal immigrants would be permitted to purchase insurance on the national health insurance exchange because the bill does not include a mechanism for verifying citizenship. So illegal immigrants would have the chance to purchase insurance in the public option, a government-run health care plan that would offer basic coverage at a low price.
FAIR also argues for more robust verification measures for the affordability credit and making sure that illegal immigrant parents won't be able to receive coverage if their citizen children are eligible.
FAIR has a point that illegal immigrants would likely be able to buy insurance on the national health insurance exchange. We don't see anything in the bills that would hinder that. A Congressional Research Service report issued Aug. 25, 2009, confirmed our observation. The House bill "does not contain any restrictions on noncitzens participating in the Exchange — whether the noncitizens are legally or illegally present, or in the United States temporarily or permanently," the report said.
But it's worth pointing out that illegal immigrants participating in the exchange would be paying for their insurance like everyone else. That's similar to the current system — we're not aware of any particular restrictions that stop illegal immigrants from buying private insurance now. Under health care reform, illegal immigrants would be able to buy private insurance or the public option.
When we look at all of this evidence, it seems that health reform leaves in place the status quo on illegal immigration, and certainly does not provide any new benefits particularly for illegal immigrants. We hope to look at this issue more in the days ahead, because some hospitals are concerned about recouping their costs for treating illegal immigrants, and we're curious to know more about that problem and how it might or might not be solved by reform.
The best argument that we find that health reform would help illegal immigrants is that some might be able to purchase the public option — if it passes, and it might not — on the new health insurance exchange. They would purchase that at full cost. Obama said, "The reforms I'm proposing would not apply to those who are here illegally," which Wilson said was a "lie." Actually, Obama can make a pretty thorough case that reform doesn't apply to those here illegally. We don't find the public option argument enough to make the case that Obama "lied." We rate Wilson's statement False.
Pew Hispanic Center, A Portrait of Unauthorized Immigrants in the United States , April 14, 2009
Interview with Jeffrey Passel of the Pew Hispanic Center
PolitiFact.com, E-mail 'analysis' of health bill needs a check-up , July 30, 2009
Federation for American Immigration Reform, House Health Reform Bill Will Allow Illegal Aliens to Receive Taxpayer-Funded Health Care , accessed Sept. 9, 2009
Congressional Research Service via OpenCRS, Treatment of Noncitizens in H.R. 3200 , Aug. 25, 2009
USA Today, Rising health care costs put focus on illegal immigrants , Jan. 22, 2008
Washington Post, Hospital Executives Worry About the 'What-Ifs' of Reform , Aug. 30, 2009
Browse the Truth-O-Meter
More by Angie Drobnic Holan
Support independent fact-checking.
Become a member!
In a world of wild talk and fake news, help us stand up for the facts.