Stand up for the facts!
Our only agenda is to publish the truth so you can be an informed participant in democracy.
We need your help.
I would like to contribute
"The Congressional Budget Office estimates that for every $1 we spend on unemployment benefits, $1.90 is put into our economy."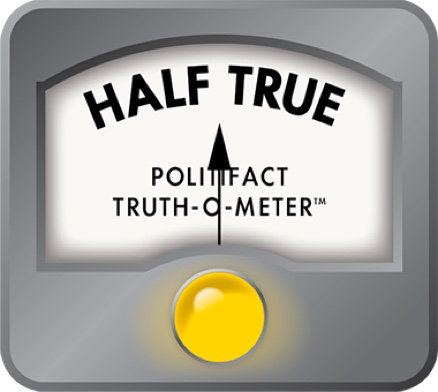 Langevin says each dollar spent on unemployment benefits puts $1.90 into the economy
We all know that unemployment benefits help people in need, but most of us don't think of them as a boost to the economy. After all, it costs the government money to cut those checks, and it's not obvious how that expense comes back to benefit taxpayers.

So it caught our attention when U.S. Rep. James Langevin declared during an online chat on ProJo.com that the economy reaps big benefits for every dollar paid out in unemployment benefits.

"Extending these benefits not only helps those who are in difficult straits because they lost jobs through no fault of their own, but it is also one of the best ways to stimulate our economy. The Congressional Budget Office estimates that for every $1 we spend on unemployment benefits, $1.90 is put into our economy," he said.

Unemployment benefits turn every dollar into $1.90?

It's not Rumpelstiltskinesque, but even Wall Street scam artist Bernie Madoff wasn't promising that kind of investment return.

Hoping to find a way to tap into this grow-your-bankroll phenomenon without risking jail time, we started asking questions.

Our first stop was the source cited by Langevin, the January 2010 report from the nonpartisan Congressional Budget Office called "Policies for Increasing Economic Growth and Employment in 2010 and 2011." It looked at a variety of strategies for increasing employment and raising the gross domestic product (GDP), which is the market value of all goods and services that reach the consumer.

That's where we discovered that Langevin wasn't telling the full story. The $1.90 figure is the budget office's high estimate. The report includes a much lower estimate as well: 70 cents.

If it cost us $1 to add only 70 cents to the GDP, does that mean we risk losing 30 cents for every dollar we spend on unemployment?

As we discovered from talking to a couple of economists, that's not what the numbers mean and spending money on unemployment benefits in the current economic situation isn't as dumb as the numbers might look to those of us who struggle to balance our checkbooks.

Here's why.

When you give $1 to people who have lost their jobs and they have run out of savings, those dollars get spent. So Mary gives it to Mike down the street to buy some of his fruits and vegetables. Mike, who relies on customers like Mary, might put 25 cents in the bank but use the rest to buy seed and fertilizer from Tom's store in town. Tom might save a dime of the 75 cents he got from Mike but use the remaining 60 cents for a new pair of glasses.

When economists calculate the gross domestic product, they add up all those transactions (excluding the amount set aside in savings and money that ends up overseas if you buy foreign goods). In this limited example, Mary's $1 has added $2.35 ($1 plus 75 cents plus 60 cents) to the gross domestic product. Yes, it's still just $1, but by passing it along it has helped three people.

This may seem like a strange way of looking at things until you imagine the opposite situation, where the economy goes bad and we stop paying unemployment benefits.

When Mary can't afford to buy anything, Mike loses business, which affects his ability to pay Tom. As the impact ripples through the economy on a larger scale, unemployment spreads. Tax revenues evaporate. Governments must cut services, raise taxes and/or borrow money. That can mean more unemployment, less non-tax money for people to spend and higher government debt, like the kind you would incur if you decided to pay more unemployment benefits.

The Congressional Budget Office report looked at a variety of strategies to boost the economy -- or to keep things from getting worse -- such as investing in infrastructure, reducing income taxes in 2011 or cutting payroll taxes for companies that hire new people. Increasing aid to the unemployed offered the biggest bang for the buck, according to its estimates.

David Weil, a professor of economics at Brown University who explained the CBO numbers to us, stressed that this isn't always a good idea. It doesn't work when the economy is robust and unemployment is low.

"If the CBO re-ran this analysis at a boom time, those numbers would be much smaller and they might be zero," he said, "and spending all that money would give you inflation and not higher output." The strategy works best when the people who are receiving the unemployment checks have to spend every government dollar they receive, and spend it on things that help underemployed workers and underutilized factories. That keeps the system flowing.

It's true that the government has to borrow money (adding to the national debt) to make this work, Weil said. "Someday your kids or grandkids are going to be paying back that debt. We don't know whether it's going to look like the 1950s and '60s, when we grew out of the debt from World War II in a relatively painless fashion, or whether it's going to look like Greece."

All of this is not without controversy. Other economists have their doubts about the ability to reliably gauge this so-called "multiplier effect," doubts that PolitiFact.com discussed when it examined a similar statement by New Hampshire Sen. Jeanne Shaheen.

Nonetheless, the idea of converting $1 into $1.90 worth of economic growth, especially over the six-year period from 2010 through 2015, isn't as completely magical or illogical as it might seem. But, as with most things economic, there's a lot of uncertainty in the estimated benefit, an uncertainty that Langevin didn't convey.

His spokeswoman, Joy Fox, said, "I would change his statement going forward to 'up to $1.90' or 'between 70 cents and $1.90 goes back into the economy.' "

She also cited other studies where economists have offered very specific numbers that are closer to the $1.90 CBO estimate. For example, Mark Zandi, chief economist for Moody's Analytics and a former adviser to John McCain during his 2008 presidential run, puts the benefit at $1.61.

We're always wary of numbers that sound very precise when a lot of estimates and assumptions go into generating them. Langevin should be too, which is why, for the sake of full disclosure, we wish he had given voters a better sense that $1.90 was just the highest estimated benefit for every $1 that is being spent on their behalf.

So the Truth-O-Meter gives him a Half True.
ProJo.com, "Transcript of projo.com candidate chat with Rep. Langevin," July 12, 2010

Congressional Budget Office, "Policies for Increasing Economic Growth and Employment in 2010 and 2011," January 2010

Interview, David Weil, professor of economics, Brown University, Aug. 2, 2010

Interview, Heather Boushey, Center for American Progress, July 28, 2010

PolitiFact.com, "Lawmaker claims unemployment benefits boost economic growth," July 20, 2010

Interview and email, Joy Fox, spokeswoman, Rep. James Langevin, Aug. 2, 2010
Browse the Truth-O-Meter
More by C. Eugene Emery Jr.
Support independent fact-checking.
Become a member!
In a world of wild talk and fake news, help us stand up for the facts.