Stand up for the facts!
Our only agenda is to publish the truth so you can be an informed participant in democracy.
We need your help.
I would like to contribute
"We are amassing most of our military strength in a country where fewer than 100 members of al Qaeda remain."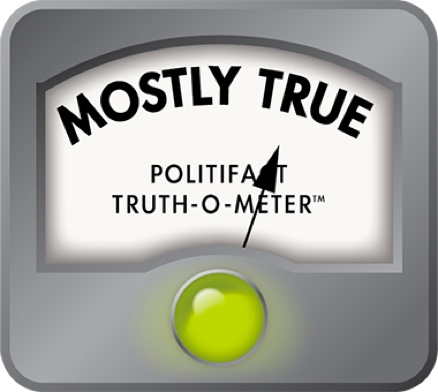 Dennigan says U.S. is amassing its military strength to fight fewer than 100 al Qaeda in Afghanistan
As Washington debates the effectiveness of President Obama's counterinsurgency plan in Afghanistan, one congressional hopeful here has blasted the strategy.

Elizabeth "Betsy" Dennigan, one of several candidates challenging U.S. Rep. James Langevin for his District 2 seat, criticizes the move to add troops in Afghanistan and questions Langevin's judgment in recently voting in favor of $33 billion in supplemental funding.

Her take: "Our massive, expensive presence in Afghanistan undermines our efforts to eliminate safe havens for al Qaeda in Pakistan and to fight these determined terrorists globally."

That's her opinion and she's entitled to that. But then she cited a fact that got our attention: "We are amassing most of our military strength in a country where fewer than 100 members of al Qaeda remain," she wrote.

The latest numbers from the Department of Defense indicate there are about 100,000 troops deployed to Afghanistan, up from about 87,000 earlier this year. As of last week, there were 62,000 troops in Iraq, down sharply from recent months. But that's just the tally of those serving in the two major offensives.

In total, the Pentagon reports that there are approximately 1.4 million active-duty U.S. military personnel.

The 100,000 troops serving in Afghanistan represent less than 10 percent of total military forces -- hardly "most of our military strength."

But as of March when the most recent calculation was done, the total U.S. deployment overseas numbered roughly 300,000. Given the changes in troop levels, that number is now closer to 200,000, including those in combat and non-combat situations. A very rough calculation would therefore suggest that the troops deployed to Afghanistan do account for around  half of those. So Dennigan is slightly off the mark when she uses the phrase "most."

The more interesting statistic in her statement is that there are fewer than 100 members of al Qaeda left in Afghanistan.

The question of al Qaeda's strength has been debated for years in political circles, until earlier this summer when CIA Director Leon Panetta, in an appearance on ABC's "This Week," settled some of the mystery by offering his best estimate of al Qaeda's presence.

The number, he said, is "relatively small."

"At most, we're looking at maybe 50 to 100, maybe less," Panetta said. "It's in that vicinity. There's no question that the main location of al Qaeda is in tribal areas of Pakistan."

The CIA director's assessment was so unusual that it quickly made the rounds on the Internet, generating millions of hits and political buzz aplenty. That's how the Dennigan campaign said they found the statistic, and why they felt comfortable repeating it.

 "He's the CIA director. He's the guy who would have the most information," said Dennigan spokesman Tim McLaughlin.

Is there a way to know for sure whether Panetta's numbers are correct? No. At least not without a higher security clearance than we'll ever get.  

But for now it is the most up to date and official pronouncement we can locate. So unless and until we find a more accurate figure, we'll rely on Panetta's estimate and assume that Dennigan is right on that point. We rate this as Mostly True.
Elizabeth Dennigan for Congress website, "Dennigan Denounces Incumbents War votes," press release, July 28, 2010

U.S. Department of Defense, "Personnel and Military Casualty Statistics", March 31, 2010

ABC News, "This Week" Transcript: Panetta, June 27, 2010

Interview, Tim McLaughlin, Dennigan campaign spokesman, Aug. 12, 2010

Interview and emails, Department of Defense press officer, Lt. Col. Elizabeth Robbins, Aug. 11-12, 2010
Browse the Truth-O-Meter
More by Cynthia Needham
Support independent fact-checking.
Become a member!
In a world of wild talk and fake news, help us stand up for the facts.