Stand up for the facts!
Our only agenda is to publish the truth so you can be an informed participant in democracy.
We need your help.
I would like to contribute
"Rhode Island is one of only six states" to use E-Verify.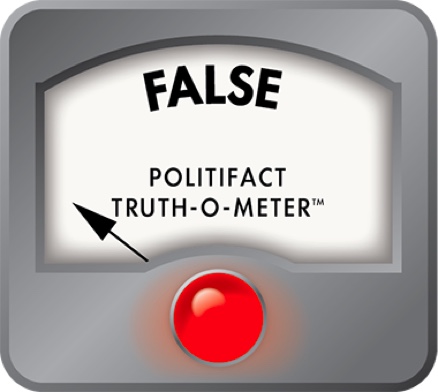 Chafee says only six states use E-Verify
Governor-elect Lincoln Chafee wasted no time telling constituents that he will make good on a campaign pledge to repeal Governor Carcieri's 2008 executive order on immigration.

When it came to talking about one of the key components of that order, the use of the federal E-Verify system, he seemed a little vague on the details, however.

"Don't forget, Rhode Island is one of only six states to have -- I believe it's only six -- to have E-Verify. So there's 44 other states that don't have it," Chafee told reporters after an unrelated news conference Monday.

The point he was trying to make is that E-Verify is not a widely used program and one he believes may not be effective.

We wondered how many states actually require use of E-Verify. But first, a little background.

E-Verify is a free, federal database that compares information from a person's employment paperwork to Homeland Security and Social Security records. Employers who use the program can weed out immigrants not eligible to work in this country.

Once employers hire workers, they run their names through the E-Verify database. If the records match, the new employees are eligible to work. If they don't match, the database notifies the employers, who must then give the worker eight days to provide sufficient proof of eligibility.

What sounds like a foolproof system quickly came under fire. Critics complained that the database was inaccurate and demanded that it be improved before E-Verify was widely implemented.
Despite that criticism, companies increasing began using the program on a voluntary basis. One by one, some states too started mandating E-Verify checks. In 2008, Rhode Island became one of them when Governor Donald Carcieri announced a multi-part executive order intended to curb illegal immigration. One of the key elements of the order required the state's executive branch and companies doing business with the state to use E-Verify for new employees.
(The federal government began requiring use of E-Verify for government contractors in September 2009).
Just how many states require the use of E-Verify? Contrary to what Chafee told reporters, the number is 13 -- 26 percent -- according to data from the U.S. Customs and Immigration Services.

There are variations in how states employ E-Verify. Idaho, North Carolina and Virginia require E-Verify checks on state employees, while Colorado mandates that only state contractors use the system. Like Rhode Island, Georgia, Minnesota, Missouri, Nebraska and Oklahoma require both.

Finally, Arizona, Mississippi and Utah mandate that all employers statewide use the program.

(South Carolina requires employers to verify the legal status of their workers, either through E-Verify or by checking their drivers' licenses.)

While those statistics make clear that Chafee has his facts wrong, we were inclined to give him a little leeway on this one, for a couple of reasons.

First, he said he believed only six states used E-Verify, implying he didn't know for sure. And when Carcieri issued his well-publicized executive order, the number of states using E-Verify was closer to six. It has since increased.

When asked about the discrepancy, Chafee's transition office explained the governor elect's statement this way: there are six other states besides Rhode Island that have E-Verify laws that are similar to ours, spokesman Christian Vareika said.

So a state that actually has a more sweeping E-Verify policy than Rhode Island should not be included in the total because its program is more extensive? That logic escapes us.

Vareika stressed what he called Chafee's larger point. "The vast majority of states do not use E-Verify, so I think the heart of the matter remains true," he said.

But there is something else. This is not the first time Chafee has used the six-state figure. Back in June in a gubernatorial candidate forum, Chafee told the crowd: "I would not participate in E-Verify. Arizona, Colorado, Georgia, Mississippi, Rhode Island and South Carolina  - only six states participate. If it's so great, is that the kind of company we want? I don't think so."

Why he arbitrarily cited those six states, we're not sure.

We tend to give politicians a pass when they make one slip of the tongue. But not when they repeat incorrect information. In this case, after The Providence Journal quoted him on the "six states" in June, the candidate posted the story on his campaign website where it remained as of Nov. 18.

Chafee has repeatedly condemned Carcieri's executive order and promised to repeal it once he takes office. In challenging such a controversial policy, he owed it to constituents on both sides of the debate to do his homework on the current laws before speaking out.

We rate this False.
Governor Donald Carcieri's Illegal Immigration Control Order

U.S. Customs and Immigration Services data, emailed, Nov. 18, 2010

National Conference of State Legislatures data

Interview, Christian Vareika, spokeswoman for Governor Elect Lincoln Chafee's transition team, Nov. 18, 2010

The Providence Journal, "R.I. Gubernatorial Debate Centers on Illegal Immigration," June 25, 2010, Chafee for Governor website, media section, accessed Nov. 18, 2010

Browse the Truth-O-Meter
More by Cynthia Needham
Support independent fact-checking.
Become a member!
In a world of wild talk and fake news, help us stand up for the facts.