Stand up for the facts!
Our only agenda is to publish the truth so you can be an informed participant in democracy.
We need your help.
I would like to contribute
"Mark Sharpe has lowered property taxes by 17 percent."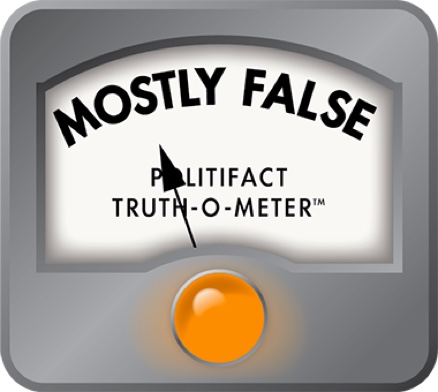 Hillsborough Commission candidate Mark Sharpe claims he cut property taxes 17 percent.
The District 7 at-large Republican primary race for Hillsborough County commissioner has focused a great deal on taxes, mostly a proposed sales tax increase.

That's because challenger Josh Burgin has consistently bashed incumbent Mark Sharpe for backing a ballot question that asks voters if they support raising the sales tax by 1 cent. The proceeds would pay for new commuter rail, expanded bus service and roads.

Sharpe has tried to shore up his image as a fiscal conservative, claiming in a July 20 mailer that he's a tax cutter. "Mark Sharpe has lowered property taxes by 17 percent," his piece claims.

His number seemed a bit generous to the skeptical eye, so PolitiFact Florida dusted off its copies of Hillsborough County's budget.

First, we parsed his word choice and immediately puckered. Sharpe claims he lowered property taxes. That struck us as overly boastful, since it takes a majority vote of commissioners to approve county spending plans.

Sharpe has voted on five final annual budgets, and each vote was unanimous. If property taxes were indeed cut, Sharpe can't take all the credit.

We also immediately seized on the assertion that he cut property taxes, period. We wondered if he meant that he supported cutting the tax rate. It's an important distinction.

Hillsborough commissioners regularly brag about the number of consecutive years they have lowered the tax rate. But, as the St. Petersburg Times has shown in the past, tax revenue soared in the early and middle part of this decade at a pace that far outstripped population growth and inflation. (See "The Money Vat" here.)

That's because the generally modest annual tax rate cuts didn't come close to offsetting the money brought in by escalating property values and a building boom. If you didn't own a house with a homestead exemption that capped annual tax increase in those years, your property tax bill skyrocketed.

Of course, the market has tanked since then. So perhaps it's possible that Sharpe can claim commissioners cut the tax rate — and taxes.

We checked with Sharpe's campaign, which said it got the base numbers from one of his aides. The aide provided the figures used and a percentage-change calculation. As suspected, his calculation was based on tax-rate figures, not actual tax bills or county tax revenues.

The aide compared only the portion of the tax rate that applies to all county property owners, not the extra amount tacked on in unincorporated areas for such things as police and fire protection. Fair enough, perhaps, as long as he was using consistent figures.

However, the aide used the wrong budget figure from the year before Sharpe took office. If he had used the correct starting number and year, his boss might have legitimately claimed a role in reducing the countywide property tax rate by 20 percent.

PolitiFact decided to start from scratch, comparing the combined rate for all property taxes commissioners control from the time Sharpe took office until now. Then we looked at how much money that brought in annually through the same time period.

Sharpe took office in November 2004. The county's fiscal year runs from October through September. That means Sharpe began working in fiscal year 2005, and his first budget vote in September 2005 set spending levels for fiscal year 2006.

When he took office, the county's overall tax rate was 13.0164 mills. That means that for every $1,000 of property owned, Hillsborough County taxes were roughly $13.02.

Commissioners voted each year since to lower the millage. It currently stands at 10.7614 mills. Do the math, and it turns out that the tax rate is indeed currently 17 percent lower than when Sharpe took office.
Yet there's still one problem with that. In 2007, the state legislature took action forcing most local governments across Florida to sharply roll back their property tax rates to compensate for their failure to do so aggressively in the boom years.

While the tax rate has fallen by 2.2550 mills while Sharpe has been in office, well more than half of that — nearly 1.5 mills — came in the budget that immediately followed the state order. In other words, it was a direct response to what the legislature did.

Legislators gave local governments the option of ignoring their edict if commissioners could muster a super-majority vote of five of the seven commissioners. While Hillsborough commissioners opted not to do that, the impetus for the 2007 tax cut further undermines Sharpe's assertion that he reduced taxes by 17 percent.

Then there is the question of whether, in fact, taxes have fallen that much. The county's combined property taxes brought in $610.8 million during Sharpe's first year in office, budget records show. They are projected to bring in $659.8 million this year.

That's an 8 percent increase. A good part of that is new construction. But it's also a reflection that tax rate cuts, combined with plummeting property values, still haven't quite offset the boom years that included the early part of Sharpe's tenure. It's why your tax bill may still be higher than when you purchased in 2005, despite politicians' claims of tax cuts.

With another modest tax reduction tentatively approved for next year and property values still falling, tax receipts are finally projected to be 4 percent less than when Sharpe got elected.

Sharpe told PolitiFact that it's difficult to capture all the nuances in a short sentence aimed at grabbing voters' attention. We understand that. But with a couple of slight word adjustments — Mark Sharpe supported a 17 percent cut in the tax rate — he could have easily earned a better rating.

There is obviously a grain of truth in Sharpe's claim. But he claimed full responsibility for cuts enabled by others and largely mandated by the state. And those cuts still have not produced an overall drop in tax revenues. So we must rate his claim Barely True. 
Editor's note: This statement was rated Barely True when it was published. On July 27, 2011, we changed the name for the rating to Mostly False.
Mailer, Mark Sharpe, Republican, incumbent for the District 7, at-large Hillsborough County Commission seat, July 2010. (via email)
Budget meeting transcript, Sept. 22, 2005.
Budget meeting transcript, Sept. 21, 2006.
Budget meeting transcript, Sept. 20, 2007.
Budget meeting transcript, Sept. 18, 2008.
Budget meeting transcript, Sept. 17, 2009.
St. Petersburg Times, "The Money Vat." April 15, 2007
County Administrator's recommended budget, Fiscal Year 2007, pages 58-59.
County Administrator's recommended budget, Fiscal Year 2011, pages 84-85.
Adopted Bienniel Budget, Fiscal Year 2008-2009, pages 70-85.
Hillsborough County millage history, Hillsborough County Business and Support Services Department.
Browse the Truth-O-Meter
More by Bill Varian
Support independent fact-checking.
Become a member!
In a world of wild talk and fake news, help us stand up for the facts.