Stand up for the facts!
Our only agenda is to publish the truth so you can be an informed participant in democracy.
We need your help.
I would like to contribute
Cities like Seattle have decided to ban food carts.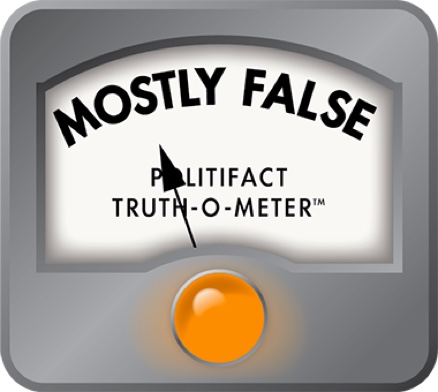 Portland city commissioner Randy Leonard says Seattle bans food carts
In an otherwise humdrum council discussion over dumpsters on sidewalks, city Commissioner Randy Leonard dropped this bomb: He plans to crack down on Portland's popular food carts by making sure they meet building code.

"Some cities such as Seattle have just taken the option of banning them; they don't allow them," he said at a recent City Council meeting. "We're trying to find a balance where they can be allowed, but in a safe way and in a way that complies with health safety laws, fire code and building code regulations."

PolitiFact Oregon has seen food trucks -- Korean tacos, anyone? -- in Seattle. Heck, here's an article called "Eight Great Street-Food Vendors in Seattle." So we weren't sure what Leonard meant by the word "banning."

We figured this would be easy enough to check, and in the process, explain a topic of interest to Portlanders and street food fans. What we learned is that Leonard was sort of -- but not quite -- right when talking about our sister city to the north.

It's important to keep in mind that food carts and the larger food trucks are different, even though folks tend to use the words interchangeably. In Portland, the city allows food carts on sidewalks so long as the carts are self-contained, of a certain size, don't compete with existing eateries and don't cause a sidewalk jam. Vendors need to get a yearly permit from the city and they're allowed to sell an assortment of foods, including burritos, soup, sandwiches and Thai noodles.

Rich Eisenhauer, the city's sidewalk management expert, says Portland used to issue about 30 to 35 food cart permits a decade ago; the number has dropped to about 18. Where did they go? Well, the sidewalk carts probably expanded into private parking lots -- and these are the eateries that Leonard is targeting. Food trucks, like the food carts, are licensed and inspected by Multnomah County. At last count, the county had permits on file for 609 food carts and trucks.  

Now, what about Seattle? Washington state law limits what's sold from sidewalk food carts -- to hot dogs, popcorn, snow cones, coffee, chestnuts, maybe buttered corn cobs  --  but there's no such restrictions on food trucks parked in private lots. However, unlike in Portland, food trucks don't stay in Seattle lots overnight. That's because of state health laws that require trucks to return to an approved commercial kitchen "commissary" every night to refrigerate food, wash dishes, and properly dispose of dirty grey water.

Leonard interprets that as a de-facto ban.

It should be noted that Seattle is trying to be more like Portland. The city has persuaded the county to consider more than just hot dogs when approving mobile food units, of which there are 137 in the city proper. Also, Seattle Councilwoman Sally Clark is readying legislation to allow food trucks to park on streets and sell directly to customers on the sidewalk.

"We're so good at (regulation) that we have hardly any street food scene here," said Gary Johnson, who is with the city's Department of Planning and Development.

Johnson said vendors in Seattle often travel certain routes throughout the week, settling in a different location every day. He doesn't expect that to change, given the county's health regulations. In Portland, we like our food trucks in fixed, predictable pods. Oregon state law allows mobile vendors to handle food and clean up in a commissary, or have sinks and other cleanup facilities on-site.  

And that's the problem. Food vendors get too comfortable when they don't have to move. Awnings go up and seats sprout. As the commissioner in charge of the Bureau of Development Services, Leonard didn't like that trucks were building decks and patios without proper permits. "We have taken a different view, and therein we have created these permanent establishments, which has caused a lot of angst with restaurant owners and code purists," he said.

So in Seattle fixed food pods aren't allowed and only certain food items can be sold from sidewalk food carts. But neither of those factors translate into a city ban on food carts, as Leonard said. Yet the statement contains some element of truth. We rate it Barely True.
Editor's note: This statement was rated Barely True when it was published. On July 27, 2011, we changed the name for the rating to Mostly False.
Portland City Council meeting, A.M. session, Dec. 1, 2010
Interview with Hilary Karasz, King County, Dec. 2, 2010
E-mail from Phil Wyman, King County, Dec. 6, 2010
Interview with Randy Leonard, Dec. 6, 2010
Interview with Dan Nolte, Councilwoman Sally Clark's office, Dec. 3, 2010
Interview with Gary Johnson, Seattle Department of Planning and Development, Dec. 3, 2010 and Dec. 7, 2010
Interview with Rich Eisenhauer, City of Portland, Dec. 3, 2010
E-mail from and interview with Benjamin Duncan, Multnomah County Health Department, Dec. 6, 2010 and Dec. 7, 2010
Browse the Truth-O-Meter
More by Janie Har
Support independent fact-checking.
Become a member!
In a world of wild talk and fake news, help us stand up for the facts.