Stand up for the facts!
Our only agenda is to publish the truth so you can be an informed participant in democracy.
We need your help.
I would like to contribute
"CEOs now earn 431 times what their workers earn."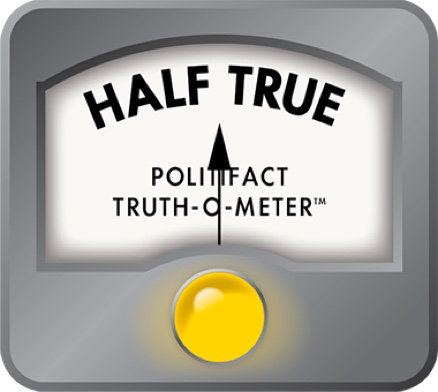 Bumper sticker says CEOs rake in the equivalent of a worker's yearly pay every two days
Most bumper stickers don't lend themselves to fact-checking. So many are simple statements of support for candidates or opinions. After all, how can you fact-check "I believe in whirled peas?"

But we came across one in downtown D.C. the other day that made us go, Hmm.

"CEOs now earn 431 times what their workers earn. Support unions."

431 times? Really?

It wasn't hard to find the source of the number at the heart of the bumper sticker's claim. For many years the liberal Institute for Policy Studies and the non-profit group United for a Fair Economy have produced ratios of CEO pay to worker pay.

On its website, United for a Fair Economy says it "raises awareness that concentrated wealth and power undermine the economy, corrupt democracy, deepen the racial divide and tear communities apart." We found a chart on the site that showed CEO pay at 431 times the average worker's pay. But the number was out of date: It was the number for 2004.

The car, a Volkswagen, looked like a more recent model than 2004, but maybe the bumper sticker was printed before the car rolled off the assembly line.

We wanted to look at fresher numbers, and we found them in a Sept. 1, 2010, annual compensation survey, now produced by the IPS alone but still using pretty much the same sources of data as earlier studies. This survey found the ratio had dropped to 263 times the average workers' pay by 2009.

IPS took CEO data from an Associated Press online survey for the S&P 500 companies that included salary, bonuses, perks, above-market interest on deferred compensation and the value of stock and option awards measure by their fair value on the day of the grant in its definition of total compensation.

Their data on worker pay came from the Labor Department's Bureau of Labor Statistics "Average Hourly Earnings of Production and Nonsupervisory Employees" and on the average weekly hours for those same workers. According to Gary Steinberg of BLS, that category includes everyone except those whose principal work is supervisory and covers 80 to 85 percent of all workers.

Other studies also have found a considerable gap between executive and worker pay. A Financial Times story from Aug. 30, 2010, noted: "S&P 500 chief executives last year received median pay packages of $7.5 million, according to executive compensation research firm Equilar. By comparison, official statistics show the average private sector employee was paid just over $40,000."

Recent legislation passed by critics of high corporate compensation has guaranteed that the ratio of corporate chieftain pay to worker pay will continue to be a high-profile issue. U.S. Sen. Chris Dodd and Rep. Barney Frank's financial reform law requires all United States corporations to report CEO pay compared to the median pay for all other employees. With the rules in the works, the business community has raised concerns about the difficulty of carrying them out.

Barbara H. Franklin, chairman of the National Association of Corporate Directors, noted in the NACD's comments to the Securities and Exchange Commission: "The median pay figure can be highly misleading for a global company operating in regions where there is a low cost of living and hence a lower level of wages. Indeed, there is simply no way to calculate this with any utility or accuracy. It would take global companies months and thousands of hours to come up with a completely useless number. We would urge the SEC to implement this provision with extreme care."

Do these types of comparisons make any difference? We turned to Graef Crystal, an expert in executive compensation and a frequent critic of CEO pay, for his views. "These numbers get thrown around a lot by people to prove whatever," he said. Some CEOs might be surprised by the numbers, he said, but generally what matters most to executives and those who set their pay is how they compare to their peers, he said. "They don't look down, and they don't look across at China."

In fact, he said, as proxy statements disclose details about pay that may now be opaque, it could ratchet up pay.

He also noted that there is a "significant correlation between sales volume and the pay of CEOs." Crystal has his own database of companies, which produced an average pay rate of $10.1 million in 2009, he said. But if you sort it by sales volume, the top 100 companies average $14.4 million, Expand it to the top 200, and the average drops to $11.7 million.

The S&P 500 is only part of a much larger universe of publicly traded firms. It is made up of 500 firms which have market capitalization (number of shares multiplied by stock price) of $10 million or more. In contrast there are nearly 6,000 publicly traded firms on the nation's two largest stock exchanges. So comparing the compensation of CEOs at only the select companies in the S&P 500 to the pay for all nonsupervisory production workers is not an apples-to-apples comparison.

Turning back to the bumper sticker, is it true that corporate executives earn 431 times as much as the average worker? Not any more, since the most recent study in the same series found the figure in 2009 was 263 times the average worker pay. But, having gone through the pain of removing outdated bumper stickers ourselves, we'll allow a little leeway for the figure's lack of currency. And, leaving aside the question of whether it is warranted or not, there is still a sizable gap between corporate executive pay and worker pay, although probably not as large as the gap between S&P 500 CEOs and the average of all nonsupervisory production workers, some of whom work at much smaller companies. So we're rating the bumper sticker Half True.
CLARIFICATION: An earlier version of this story said the bumper sticker was on a Volkswagen VR6, suggesting that was a VW model. It is an engine model on the car, so the reference to the VR6 has been deleted for clarity.
Browse the Truth-O-Meter
More by Martha M. Hamilton
Support independent fact-checking.
Become a member!
In a world of wild talk and fake news, help us stand up for the facts.