Stand up for the facts!
Our only agenda is to publish the truth so you can be an informed participant in democracy.
We need your help.
I would like to contribute
"Law enforcement in the state of Arizona supports" the state's new immigration law.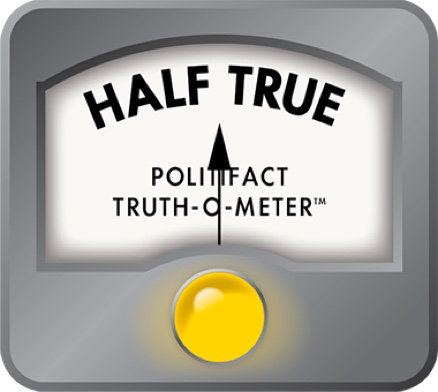 Jan Brewer says law enforcement supports Arizona's immigration law
Appearing on Fox News with Greta Van Susteren, Arizona Gov. Jan Brewer rejected President Barack Obama's claim that the White House had talked to police officers opposed to Arizona's controversial immigration law. She shook her head no and said, "Law enforcement in the state of Arizona supports Senate bill 1070," referring to the new law that directs police to question individuals if they reasonably suspect they are in the U.S. illegally.

Later in the interview, she said, "We have many organizations and groups of the officers on the ground that understand the problem, need another tool in order to address the problem and support it wholeheartedly. And everybody that I come across in law enforcement, other than a couple of sheriffs in a couple of areas--other than that, you know, the majority of law enforcement support the bill! So that's just a misrepresentation again on behalf of the federal government!"

She summed it up later by saying of Obama's comments, "the bottom line is that he's wrong" about law enforcement opposition to the bill.

Listening to the governor, you get the distinct impression that law enforcement opposition to the bill is either non-existent or negligible. But, is that accurate?

Brewer's office sent us a document listing those who favored and opposed the law, which the Obama administration is now challenging in federal court.

Supporters include groups representing police officers, such as the Phoenix Law Enforcement Association, and the Arizona Police Association, which describes itself as "an association of associations, not an association of individual members." Nonetheless, its website says that it "represents nearly 9,000 federal, state and local law officers in the state of Arizona." The governor's office notes that the two are the state's largest law enforcement groups.

The same document noted, however, that the 140-member Arizona Association of Chiefs of Police had spoken in opposition to the measure. The document also noted that Gregg Stanton, Arizona's deputy attorney general for legislation, policy, and strategic planning, had also opposed the law. Attorney General Terry Goddard, the state's top law enforcement official, is running for the Democratic nomination for governor and will likely face Brewer as an opponent. His office has opposed the law.
When the Obama administration filed suit July 6 to block the law from taking effect, it filed supporting declarations from the chiefs of police in Arizona's two largest cities, Phoenix and Tucson, and from the sheriff of Santa Cruz County, which includes Nogales, Arizona's largest town on the Mexico border. All three opposed the measure.

So, was Brewer right to claim law enforcement support for the measure? She has numbers on her side, because there are more rank and file officers than there are chiefs of police. But to minimize the opposition as "a couple of sheriffs in a couple of areas," doesn't convey the split in law enforcement when it comes to the law.

The police chiefs who filed declarations supporting the Obama administration's attempt to block it stressed their own concerns about illegal immigration. But when it came to the new law, they expressed worry that it will stop undocumented witnesses from coming forth in serious crimes, impose large new amounts of work on police forces without additional compensation, invite lawsuits against police departments and divert police from focusing on crimes such as kidnappings and illegal drug smuggling.

Brewer suggests unified support from police. Yes, there is support from two police groups, but there's also opposition from police chiefs. We find her claim Half True.



Fox News, On the Record with Greta Van Susteren, July 1, 2010
Arizona Governor's Office, Fact sheet on SB 1070, safe neighborhoods; immigration; law enforcement, July 6, 2010 provided by governor's office
Interview with Jan Strauss, executive director, Arizona Association of Chiefs of Police, July 6, 2010

Department of Justice lawsuit against Arizona law, Declaration of Tucson Police Chief Roberto Villasenor, June 25, 2010

Department of Justice lawsuit against Arizona law, Declaration of Santa Cruz County Sheriff Tony Estrada, June 28, 2010

Department of Justice lawsuit against Arizona law, Declaration of Phoenix Police Chief Jack Harris, June 25, 2010
Email response from Molly E. Edwards, press secretary, Office of the Attorney General
Browse the Truth-O-Meter
More by Martha M. Hamilton
Support independent fact-checking.
Become a member!
In a world of wild talk and fake news, help us stand up for the facts.